ORTHOPAEDIC SPORTS MEDICINE FELLOWSHIP
Hartford Area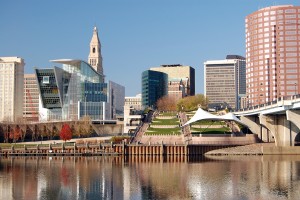 The Hartford area is located in central Connecticut. With its surrounding towns and cities, they provide an opportunity to conveniently live in an urban, suburban, or country setting. Theater, film, music, sports, and restaurants are all within easy reach. Around the city are towns that retain their New England heritage with town centers and many recreational areas. Many small and charming rural communities are close enough to allow for living in those areas as well.
Most settings have easy access to the full range of opportunities in the region. Hartford Stage is a Tony Award-winning regional theater. Hartford hosts Broadway road shows at the Bushnell Memorial Auditorium, which is also a venue for the symphony, ballet, and other cultural activities. The Wadsworth Atheneum is Hartford's art museum, with a large permanent collection and varied temporary exhibits. The city of New Britain offers the New Britain Museum of American Art which has many fine art pieces. For concerts and events, Hartford has the XL Center, the newly built Convention Center and the outdoor amphitheater XFinity Theatre. Music in more intimate settings can be found ranging from classical and experimental at the Hartt School of Music to jazz at several regional coffee houses.
Hartford provides many choices for sports fans. The Hartford Wolfpack bring professional hockey to the city, while the UConn Huskies provide excitement for basketball enthusiasts. The New Britain Rock Cats, our own AA team, bring baseball fun to the region. Each summer, Connecticut is home to major professional tennis and PGA golf events, the Connecticut Open and the Travelers Championship. Sports fans can schedule a tour of the ESPN studios. For outdoor enthusiasts, there are opportunities for canoeing or tubing on the local rivers, hiking, cross-country skiing, and fishing.
For the shopper in you, the Hartford area offers wonderfully sophisticated shopping experiences such as West Farms Mall, which is located minutes from UConn Health, West Hartford Center and Blue Back Square, located down Farmington Avenue in West Hartford. The Shoppes at Evergreen Walk are also located in nearby South Windsor and The Shoppes at Farmington Valley located in nearby Canton. Located just an hour away are outlets: Clinton Crossing, Tanger Outlet Center and Lee Prime Outlets.
For gourmets there is a wide range of cuisines and markets available. From standard American, French, Italian, or Chinese fare to Laotian, Thai, Vietnamese, Indian, Jamaican, Spanish, Portuguese, Japanese, and New York Deli, Hartford and its surrounding towns allows you to help yourself. Just driving down Farmington Avenue will allow you to experience the wide range of cuisines. Downtown Hartford also offers an array of fun spirit establishments for young professionals.
A short drive east from Hartford is the "Mystic-places" section of Connecticut. This area boasts aquariums, seaports, beaches and two casinos (one of which is the largest casino in the world) that offer exquisite dining, boutique shopping, and fabulous entertainment. Head north and you'll find yourself a short drive from Vermont where some of New England's best skiing and hiking is located.
Getting here is easy. With major highway, rail and airline access, Hartford is only 2 hours driving distance from Boston and New York City. Visit these sites below for more information on all that the Hartford area and New England have to offer:
www.ctvisit.com - Connecticut
www.farmington-ct.org - Town of Farmington
www.hartford.com - Hartford Area
www.metrohartford.com - Hartford Area
www.CTnow.com - Connecticut
www.ct.gov - Connecticut
www.ctwine.com - Connecticut Wine Trail
www.mohegansun.com - Mohegan Sun
www.foxwoods.com - Foxwoods
www.vermontvacation.com - Vermont
www.visitnh.gov - New Hampshire
www.berkshires.org - The Berkshire Mountains, Massachusetts
www.skivermont.com - Vermont
www.thebige.com - The Eastern States Expo & Convention Centers
www.mass-vacation.com - Massachusetts
www.capecodtravel.com - Cap Cod, Massachusetts
www.mvy.com - Martha's Vineyard, Massachusetts
www.nantucketchamber.org - Nantucket, Massachusetts
www.visitmaine.com - Maine
www.freeportusa.com - Freeport, Maine
www.visitrhodeisland.com - Rhode Island
www.blockislandinfo.com - Block Island, Rhode Island
www.gonewport.com - Newport, Rhode Island