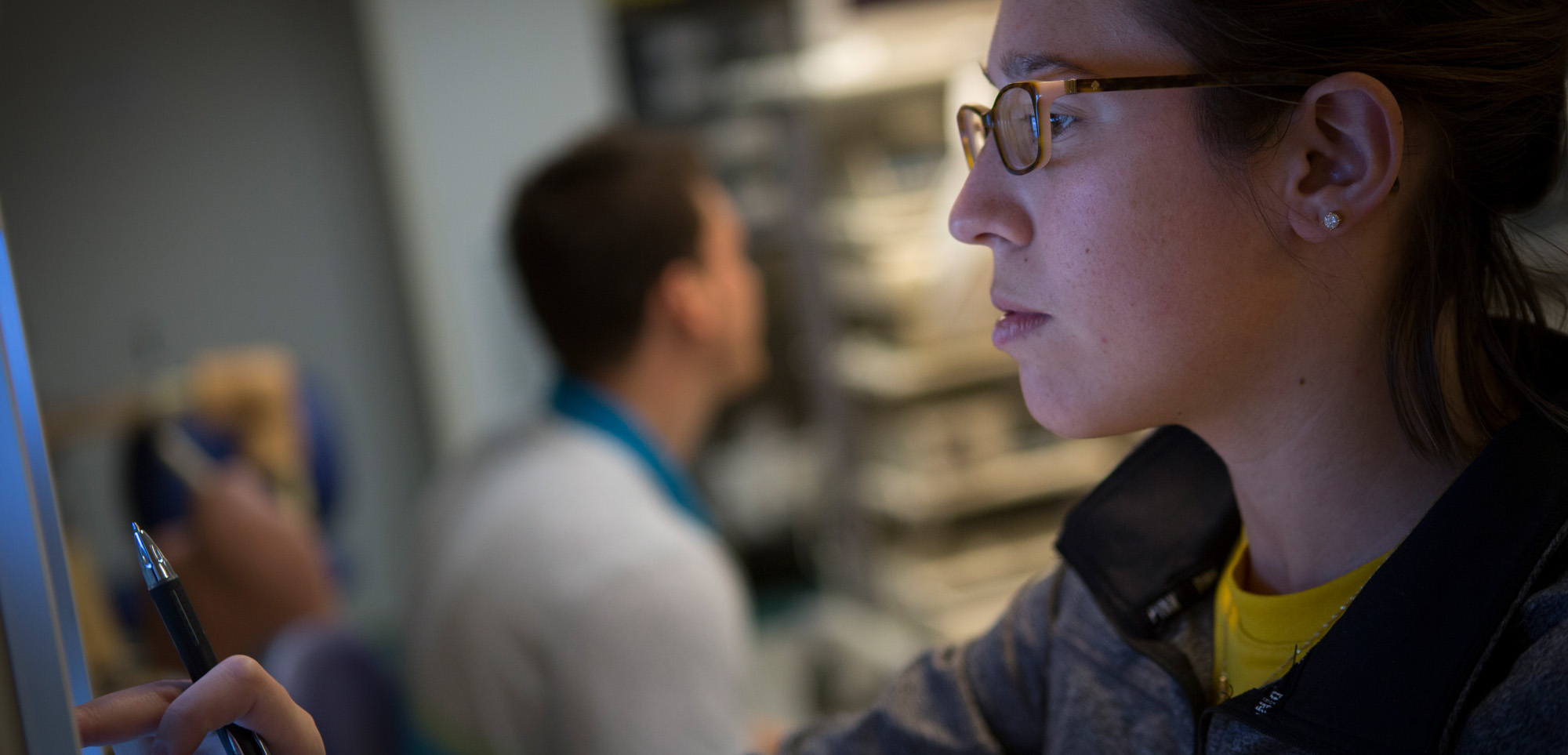 The ultimate goal of our residency program is to develop outstanding orthopaedic surgeons who provide excellent, compassionate patient care, understand the role of operative and non-operative care, and are well-versed in the literature.
Clinical rotations expose residents to all orthopaedic subspecialties through extensive, first-hand experience in the evaluation and management of patients. Our didactic program is one of the most comprehensive in the nation, marked by a weekly core curriculum lecture series delivered by attending faculty and visiting professors. Bi-monthly bioskills labs, research, and rotations are also part of the experience.
What Makes Us Great (Program Aims)
The University of Connecticut Orthopaedic Surgery Residency Program aims to develop competent and professional orthopedic surgeons, who are self-reflective with high moral and ethical standards. We provide exposure and opportunity in a wide variety of research activities including biomechanics, cell biology, outcomes, quality improvement, and patient safety. This can only be achieved through a family-centered program that supports camaraderie and a healthy work/life balance.
Our core faculty is committed to education, research and support the residency through 100% faculty-taught curriculum and a robust and evolving mentorship program. Residents meet twice a year with the program director/associate program director, their mentors and with their mentor groups of faculty and peers. Our program has flexibility to make changes for the benefit of resident educational experience and full compliance with all ACGME requirements.
Surgical training begins early with PGY-1 participation in Core (our weekly didactic curriculum), a 1 month Boot Camp and travel to an AO Trauma course. Residents have access to our Bioskills Lab outside normal curriculum. We have collegiality within and between hospitals with early operative experience and exposure to a wide breadth of practice types: academic, community, private practice.
Each of our four main teaching hospitals offers a wide range of weekly subspecialty conferences. Additionally, the following conferences are attended by all the residents in the program:
Core Curriculum – This conference serves as the cornerstone of the resident education program and takes place every Friday from 8:00-10:00 a.m. The curriculum is a rotating two year schedule of lectures and conferences that comprehensively review the clinical and basic science aspects of orthopaedic surgery.
Bioskills Lab – Twice each month, residents spend two hours in the Bioskills Laboratory after Core Curriculum. Attendings demonstrate and practice surgical techniques with residents on cadaveric specimens ranging from arthroscopic procedures to spine surgery. Other surgical procedures are also simulated and practiced in this space.
Anatomy Lab – Anatomic dissections are an essential element of our residency program. PGY-1 residents participate in the medical student anatomy courses each fall as laboratory preceptors.
Chairman's Conference – A monthly open forum to discuss an evidence-based medicine article. Time is also set aside to discuss important issues related to the program.
Journal Club – After an informal dinner, residents and faculty gather monthly to review articles from the most recent issues of Journal of Bone and Joint Surgery.
Hartford Orthopaedic Forum – Held at an off-site location, this monthly conference serves as the department's Grand Rounds and is open to the local orthopaedic community. The forum functions as an educational opportunity and provides residents with the chance to meet and network with surgeons in local and national orthopaedic community. Guest speakers are frequently nationally-renowned orthopaedic surgeons who participate in the forum lecture, then deliver a talk during the Core Curriculum session the next morning.
Our Bioskills Laboratory is a fully operational, six-station lab with full-time support staff. Residents use the lab to hone their technical skills and learn arthroscopic and other surgical procedures. During the dedicated Bioskills Lab twice a month, faculty members demonstrate and practice arthroscopy and open surgical skills with residents. Residents are able to repeat the demonstrated procedures on cadaveric shoulders, knees, hips, wrists, elbows, and ankles. Total joint arthroplasties and various fracture fixation techniques are also taught on cadaveric specimens.
The lab has full-size plasma screen monitors capable of projecting the arthroscopic views at the attending's teaching station and surgical procedures taking place in our outpatient surgical center. This provides residents with the opportunity to watch faculty perform surgeries as a group, discuss techniques utilized, and then immediately practice on cadaveric specimens. Residents are evaluated at the beginning and completion of their rotations. Residents continuously demonstrate significant improvement in their skills, confirming the importance of laboratory training.
Many of these courses and meetings are sponsored by the program. Residents may attend other courses during their residency and are encouraged to submit their research work for presentation at various scientific meetings.
On-Call Responsibilities and Vacation
Residents participate in both in-house and home call responsibilities and call schedules vary by hospital. Physician extenders participate in sharing on-call responsibilities, so that residents adhere to all ACGME mandated work hour restrictions.
Residents are provided with three weeks of vacation annually.
There are numerous opportunities to participate in both clinical and basic science research projects at UConn Health and affiliated hospitals. Our Biomechanics Laboratory includes multiple mechanical testing machines for use on the spine, various joints, and soft tissues.
Our clinical research unit staff guide residents through the development of their clinical research projects. Residents also complete a separate research project while at Connecticut Children's.
Current resident research project topics include:
Elbow anatomy
Humeral fracture plating
Clubfoot
Rotator cuff repair
Elbow mechanics in pitchers
ACL injuries in female athletes
Orthobiologics for treatment of fractures
Carpal tunnel syndrome
Adolescent scoliosis
Multiple anatomic studies: elbow, shoulder, ankle
Multiple biomechanical studies: long bones, implants, ankle and knee joint loading, etc.
The University provides multiple resources to supplement resident learning. Multiple libraries make gathering information very easy. We utilize a virtual learning environment called HuskyCT which uses the Blackboard platform to make information, lectures, and resources even easier to access and share.
The MSI's Harry R. Gossling Library is a state-of-the-art educational resource center for residents. In addition, each affiliated hospital offers a full-service library, including remote access to multiple online journals and electronic texts.
Our residents complete a series of rotations during each of their five years in the program. The schedule of rotations is as follows:
| | | |
| --- | --- | --- |
| Orthopaedic Bootcamp / Patient Safety | UConn Health | 5 Weeks |
| Orthopaedic Consults | UConn Health | 5 Weeks |
| General Orthopaedic Surgery | UConn Health & Saint Francis | 10 Weeks |
| Arthroplasty | UConn Health | 5 Weeks |
| Orthopaedic Trauma | Hartford Hospital | 5 Weeks |
| General Pediatric Surgery | Connecticut Children's | 4 Weeks |
| Plastic Surgery | Hartford Hospital | 8 Weeks |
| General Surgery | The Hospital of Central Connecticut | 4 Weeks |
| | | |
| --- | --- | --- |
| Orthopaedic Trauma | Hartford Hospital | 10 Weeks |
| Hand & Upper Extremity | UConn Health & Hartford Hospital | 10 Weeks |
| Arthroplasty & Spine | UConn Health | 10 Weeks |
| Arthroplasty | Saint Francis | 10 Weeks |
| Pediatric Orthopaedic Surgery | Connecticut Children's | 10 Weeks |
| | | |
| --- | --- | --- |
| General Orthopaedics - Sports Medicine | UConn Health & Hartford Hospital | 10 Weeks |
| Orthopaedic Trauma | Hartford Hospital | 10 Weeks |
| General Orthopaedics - Sports Medicine & Arthroplasty | Saint Francis | 10 Weeks |
| Pediatric Orthopaedic Surgery | Connecticut Children's | 10 Weeks |
| Foot & Ankle | UConn Health | 10 Weeks |
| | | |
| --- | --- | --- |
| Spine | UConn Health | 10 Weeks |
| Tumor & Adult Reconstruction | UConn Health & Hartford Hospital | 10 Weeks |
| Foot & Ankle Surgery | UConn Health | 10 Weeks |
| Orthopaedic Trauma & Hand Surgery | Saint Francis | 10 Weeks |
| Pediatric Orthopaedic Surgery | Connecticut Children's | 10 Weeks |
| | | |
| --- | --- | --- |
| Orthopaedic Hand & Administrative Chief Resident | UConn Health | 10 Weeks |
| Orthopaedic Sports Medicine | UConn Health | 10 Weeks |
| Orthopaedic Arthroscopy | UConn Health | 10 Weeks |
| Orthopaedic Trauma & Administrative Chief Resident | Hartford Hospital | 10 Weeks |
| Adult Reconstructive & Spine | Hartford Hospital | 10 Weeks |