Students interested in understanding the molecular mechanisms that underlie human disease will find a home in the Molecular Biology and Biochemistry (MBB) Graduate Program. From cancer to host-pathogen interactions, our students study the proteins and pathways involved with an eye toward improving disease diagnosis, prevention and treatment.
MBB students are affiliated with the Department of Molecular Biology and Biophysics, which provides a rigorous, yet supportive community of faculty, students and staff to guide them through the Ph.D. degree process. MBB students also belong to a wider student community as members of the Biomedical Science Graduate Program at UConn Health.
The primary goal of the MBB Graduate Program is to train students for the broad range of careers available in biomedical science. Whether the graduate pursues a career in academic research, biomedical industry, teaching, government or any of the other careers now available to Ph.D.s in biomedical science, we have attempted to prepare them with a solid base of knowledge, critical thinking skills and the confidence in their abilities to be successful. Graduates are expected to have demonstrated a high degree of competence in research, as judged by publications in first-rank journals. They will have developed essential skills in identifying important research problems, planning appropriate experimental approaches, and effectively communicating their research results and their significance both orally and in written form. The success of our students in these areas is exemplified by the number of first-author publications in quality scientific journals and awards received both internally at UConn Health and from national and international conferences and societies. For example, MBB students have won four out of the last six Lepow Awards; an award given annually to the top graduate student in the entire Biomedical Science Graduate Program at UConn Health following their third year of training.
Support for Ph.D. students engaged in full-time degree programs is provided on a competitive basis. Graduate student research assistantships for 2022-2023 provide a stipend of $34,000 per year, which includes a waiver of tuition/University fees and a heavily subsidized comprehensive health and dental insurance policy.
For information on our faculty and research projects available in the MBB program, please visit our areas of research page. For information on requirements for completion of the Ph.D. degree in the MBB program, please see the Graduate Program in Molecular Biology and Biochemistry Student Handbook. The handbook lists suggested courses, preliminary exam requirements, thesis exam requirements and other details about the program. For an overview of major Ph.D. program degree requirements and forms to be completed for each step, please see the Milestones Made Easy​ page. For more information on life away from the lab, please visit the Beyond the Lab page.
For any other questions about our graduate program, please feel free to contact:
Wendy Mok, Ph.D.
Director, Molecular Biology and Biochemistry Graduate Program
mok@uchc.edu
860-679-2203
Adam Schuyler, Ph.D.
Associate Director, Molecular Biology and Biochemistry Graduate Program
schuyler@uchc.edu
860-679-1496
Spotlight
Ph.D. candidate Angela Power (Mok Lab) was awarded the Biomedical Science Service Award in Mentorship at the Graduate Student Research Day. (Summer 2023)
DMD-Ph.D. candidate Patricia Hare (Mok Lab) was awarded the Lepow Award for outstanding 4th year student at the Graduate Student Research Day. (Summer 2023)
DMD-Ph.D. candidate Patricia Hare (Mok Lab) was awarded an NIH F30 grant from NIDCR to support her research and training. (Summer 2023)
Ph.D. candidate Travis LaGree (Mok Lab) was awarded an NIH F31 grant from NIDDK to support his doctoral research. (Summer 2023)
The 39th Annual Graduate Student Research Day was Thursday, July 14, 2022. Daniel Fairchild (Setlow/Bezsonova labs), Patricia Hare (Mok lab), and Emilie Korchak (Bezsonova lab) presented posters. Margaret Vos (Page lab) gave a talk and won the award for best oral presentation.
Congratulations to Dr. Wendy Mok, who received the 2022 Osborn Award for Excellence in Graduate Teaching in Biomedical Science at UConn Health.
Congratulations to our graduating students in 2022: Dr. Kerry McPherson (Korzhnev lab), Dr. Socheata Lim (Korzhnev lab), and Dr. Thomas Bregnard (Bezsonova lab).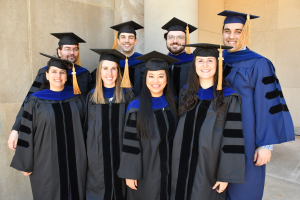 Gabrielle Valles (Bezsonova lab) is the recipient of the UConn Health Biomedical Science Graduate Student Leadership Award for 2021! This award honors a student who has made sustained and outstanding contributions in leadership activities during his or her studies in the program that improve graduate student life and further the educational mission of the university or the community. The Leadership Award carries a $250 prize.