2022
May 4, 2022
UConn Today
Sandra Weller Joins American Academy of Arts & Sciences

January 25, 2022
American Society for Microbiology Press Release
Sandra Weller,  Study Identifies New Way To Attack Herpesviruses
2021
December 22, 2021
UConn Today
Peter Setlow, at 50 Years and Counting: 'I Really Like Doing Research'

June 16, 2021
UConn Today
Largest Research Grant in UConn History Awarded by the National Science Foundation to Jeffrey C. Hoch and his team.

2020
October 24, 2020
NESS 2020: The 19th Annual North Eastern Structure Symposium
9:00AM – 3:00PM EST
Virtual Event
The Structural Biology of Host-Pathogen Interactions
2019
December 17, 2019
Gianluca Arianna, MD/PhD student in Dr. Korzhnev's lab was featured in MD/PhD Student Spotlight.
August 20, 2019
UConn Today
UConn Health Has Become a Hub for Biological Computing.  NMRbox: Important Tool for Drug Discovery
February 14, 2019
Scientia
Professor Jeffrey C. Hoch – A Box in the Clouds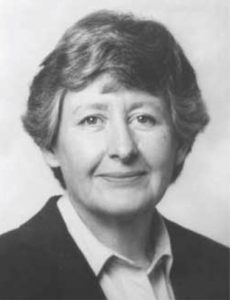 MARY JANE OSBORN (1927-2019)
Mary Jane Osborn, a prominent biomedical scientist and a trail-blazer for women in science, died on Jan. 17 in Farmington, CT. She was 91. The cause was complications following emergency surgery.
Her research career extended from the late 1950's, when women were notoriously underrepresented in all fields of science and many major university biomedical research departments had no tenured female faculty. Since then the number of female scientists in university departments has increased significantly although female faculty are still significantly underrepresented at the higher academic ranks. Although she always said she personally never felt she was professionally discriminated against, she was highly aware of the systemic problems faced by woman scientists. In recognition of this, in 2002 the University of Connecticut Medical School, where she was a faculty member for 42 years, established the annual Osborn Lectureship to celebrate women in science.
Dr. Lucy Shapiro, Director of the Beckman Center for Molecular & Genetic Medicine at Stanford University said after hearing of her death: "Mary's breadth of knowledge, scientific rigor and acute intelligence would have made her a remarkable role model of any gender, but she was a woman in a world where few women had a chance to shine. And shine she did. When she spoke, people listened. When she published, her papers became the gold standard."
In 1957, as a graduate student at the University of Washington, Dr. Osborn made her first important scientific contribution when she discovered the mechanism of action of the drug methotrexate, one of the earliest cancer chemotherapeutic agents. Methotrexate is also widely used for patients with rheumatoid arthritis and psoriatic arthritis.
Later, as a faculty member at the N.Y.U., Albert Einstein and University of Connecticut medical schools she became a leader in studies of bacterial endotoxin (also known as lipopolysaccharide). This highly toxic molecule is located on the surfaces of a large group of bacteria that include the causative agents of life-threatening diseases such as typhoid fever and meningococcal meningitis. This work prompted her to confront a puzzling paradox– many cells are capable of fabricating very large complex molecules, like endotoxin, that lie outside of the cell body despite the fact that all of the building blocks and the energy sources required for their synthesis are located in the interior of the cell. Beginning in 1972, she used a combination of bacterial genetics, biochemistry and electron microscopy to solve key aspects of this problem. The technique she described in her seminal 1972 paper that made these experiments possible is universally known as the Osborn Method and is still widely used in laboratories throughout the world.
Her research gained her international renown, leading to her election to the American Academy of Arts and Sciences, and to the National Academy of Sciences in 1978, ten years after assuming her first faculty position. She was the president of several important biomedical societies including the American Society for Biochemistry and Molecular biology and was the recipient of many other honors and awards. In 1980 she was appointed by President Jimmy Carter to the National Science Board, the governing body of the National Science Foundation, the country's major funder of basic scientific research.
In the 1990's she became interested in space science research. This culminated in her becoming the chair of a committee that produced an influential report that plotted the path for NASA's space biology research program in the first decade of the 21st century.
Dr. Osborn also had a keen interest in poetry and the arts, and often traveled to New York City several times a month to attend concerts and ballet and opera performances. She was a special fan of the Paul Taylor Dance Company, American Ballet Theater, and New York City Ballet.
In 1968 she was one of the group of founding faculty who shaped the curriculum and character of the new Medical School of the University of Connecticut in Farmington.  She remained there for the remainder of her career as Professor of Microbiology until her retirement in 2014. She served as Chair of the Department of Microbiology from1980-2002. Her first female faculty recruit, Dr. Sandra Weller, is now chair of the Department (now known as the Department of Molecular Biology and Biophysics). On learning of her death, Dr. Weller wrote, "Dr. Osborn was a remarkable woman, a fabulously successful biochemist and microbiologist who was always the smartest person in the room. She had a profound influence on my career by serving as a role model and sounding board for ideas." Dr. Lawrence Rothfield, her longtime colleague and sometime competitor, and her predecessor as department head at UConn said, "She was the jewel in the crown of this medical school and university."
2018
October 20, 2018
NESS 2018
9 a.m. to 5 p.m.
UConn Health, Cell and Genome Sciences Building, 400 Farmington Avenue, Farmington, CT
Biomolecular Design and Structure Prediction
September 24, 2018
UConn Today
Dr. Dmitry Korzhnev: news about latest research!
April 13, 2018
NBC Connecticut News
Dr. Peter Setlow in the news.
2017
October 28, 2017
NESS 2017
9 a.m. to 5 p.m.
Biology/Physics Building, University of Connecticut, 91 N Eagleville Road, Storrs, CT
Through the Looking Glass: Inspecting Biological Processes by CryoEM
Summer 2017
UConn Magazine
Dr. Peter Setlow in the news.
2016
October 14, 2016
NESS 2016
New Paradigms in Drug Discovery
9 a.m.
Grossman Auditorium, UConn Health
The subject of the 2016 North Eastern Structure Symposium (NESS) is "New Paradigms in Drug Discovery", featuring a Plenary Lecture by Dr. Brian Shoichet, UCSF, entitled "Cure for Pain". The meeting features additional investigators in drug discovery and structural biology from across the Northeast. The meeting is Friday, October 14, in the Grossman Auditorium at 400 Farmington Avenue, Farmington.
August 11, 2016
UConn Today
Molecular Biologist Sandra Weller Talks about "What's Possible"
July 17, 2016
Microbe TV for This Week in Virology (TWiV)
Dr. Sandra Weller was interviewed by Professor Vince Racaniello from the Department of Microbiology and Immunology at Columbia University. TWiV is a podcast about viruses and in this episode he interviewed Dr. Weller about her interest in science, her training and her current work in Herpses Simplex Viruses.
Dr. Weller's research was a Spotlight feature on the University of Connecticut School of Medicine website.
May 2, 2016
Group on Women in Medicine and Science's Annual Symposium and Recognition of Outstanding Women Faculty and Students
MBB faculty members Elizabeth Eipper and Sandra Weller were honored.