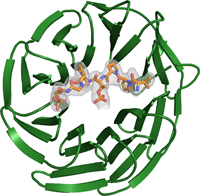 Research in the Molecular Biology and Biophysics department focuses on understanding the proteins and pathways affected in human disease. From the structural biology of cancer drug targets to the mechanistic interplay between viruses and human cells, MBB labs study the basic molecular processes underlying human illnesses.
Our department can be divided into five thematic areas:
Upcoming Events
Saturday, October 20th, 2018
12:00 AM - 11:59 PM
UConn Health400 Farmington Avenue
NESS 2018: Biomolecular Design and Structure Prediction
Monday, October 22nd, 2018
12:00 PM - 01:00 PM
UConn HealthE2036
The structure of the ubiquitin-like modifier FAT10 reveals an alternative targeting mechanism for proteasomal degradation, Aichem et al., Nature Communications (2018) 9:3321
Tuesday, October 23rd, 2018
12:00 PM - 01:00 PM
UConn HealthLow Learning Center
"Utilization of low fidelity DNA polymerases to uncover mechanisms of ribonucleotide excision repair"
All Events »
JC = Journal Club
WIP = Work in Progress talk
Quick Links
Contact Us
Department of Molecular Biology and Biophysics
UConn Health
263 Farmington Avenue
Farmington, CT 06030
Phone: 860-679-7682
Fax: 860-679-3408
Email: mbb@uchc.edu