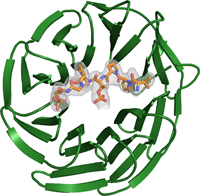 Research in the Molecular Biology and Biophysics department focuses on understanding the proteins and pathways affected in human disease. From the structural biology of cancer drug targets to the mechanistic interplay between viruses and human cells, MBB labs study the basic molecular processes underlying human illnesses.
Our department can be divided into five thematic areas:
Upcoming Events
Monday, September 25th, 2017
12:00 PM - 01:00 PM
UConn HealthE2036
Science. 2017 Jun 23;356(6344):1288-1293. doi: 10.1126/science.aaj1669. Local protein kinase A action proceeds through intact holoenzymes. Smith FD1, Esseltine JL1, Nygren PJ1, Veesler D2, Byrne DP3, Vonderach M3, Strashnov I4, Eyers CE3, Eyers PA3, Langeberg LK1, Scott JD5.
Monday, October 2nd, 2017
12:00 PM - 01:00 PM
UConn HealthE2036
Nature. 2017 Jul 13;547(7662):241-245. doi: 10.1038/nature22989. Epub 2017 Jun 21. Article title: Phase separation drives heterochromatin domain formation. Authors: Strom AR, Emelyanov AV, Mir M, Fyodorov DV, Darzacq X, Karpen GH.
Tuesday, October 3rd, 2017
12:00 PM - 01:00 PM
UConn HealthE2036
Analysis of NMR Titration Data
All Events »
JC = Journal Club
WIP = Work in Progress talk
Contact Us
Department of Molecular Biology and Biophysics
UConn Health
263 Farmington Avenue
Farmington, CT 06030
Phone: 860-679-7682
Fax: 860-679-3408
Email: mbb@uchc.edu