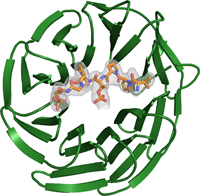 Research in the Molecular Biology and Biophysics department focuses on understanding the proteins and pathways affected in human disease. From the structural biology of cancer drug targets to the mechanistic interplay between viruses and human cells, MBB labs study the basic molecular processes underlying human illnesses.
Our department can be divided into five thematic areas:
Upcoming Events
Thursday, September 7th, 2017
12:00 PM - 01:00 PM
UConn HealthLow Learning Center
"Adjusting to life of the inside: evolution of metal homeostatic mechanisms to accommodate an organelle"
Thursday, September 21st, 2017
12:00 PM - 01:00 PM
UConn HealthLow Learning Center
All Events »
JC = Journal Club
WIP = Work in Progress talk
Quick Links
Contact Us
Department of Molecular Biology and Biophysics
UConn Health
263 Farmington Avenue
Farmington, CT 06030
Phone: 860-679-7682
Fax: 860-679-3408
Email: mbb@uchc.edu