Clinical
Clinical training is divided into dedicated outpatient and inpatient rotations. The first year of fellowship is primarily clinical, equally divided between inpatient and outpatient blocks.
Inpatient responsibilities are primarily focused on our Endocrinology and Diabetes inpatient and consult service. Our consults are primarily at the main Connecticut Children's hospital in Hartford or else at our two NICU locations.
Second year of fellowship is more heavily focused on research, with approximately 2 to 3 months of inpatient and outpatient clinical time.
Third year fellows, in combination with their scholarship oversight committee (SOC) and clinical competency committee (CCC), can opt to pursue a clinical track (with at least 6 months of the year dedicated to clinical rotations) or a research track (with 3 months of the year clinical), depending on the status of their research and guided by their career goals. Research/scholarly requirements, as well as clinical evaluations and competency, will also be taken into account.
One of the highlights of our fellowship program is not only the fact that all fellows have dedicated outpatient clinical rotations (protected from inpatient responsibilities), but also that all fellows have their own weekly endocrine and diabetes continuity clinics, which are precepted by core faculty.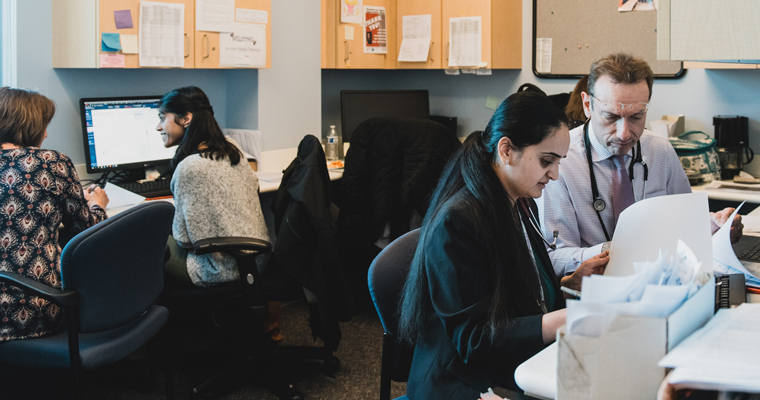 Outpatient rotations will be spent seeing patients with our endocrine faculty, including general endocrinology and diabetes clinics. Fellows participate in all subspecialty and multidisciplinary clinic offerings, which include the Center for Rare Bone Disorders, Turner Syndrome, Gender, REACH for the STARS Cancer Survivorship Program, Lipid Disorders, Weight Management, and Bariatric Programs. In-patient service coverage is shared with an advanced practice practitioners team, to allow fellows better focus on the educational aspects of urgent and complex hospital based care.
Overnight and weekend call is divided among the fellows; fellows are always supported on call by a supervising attending.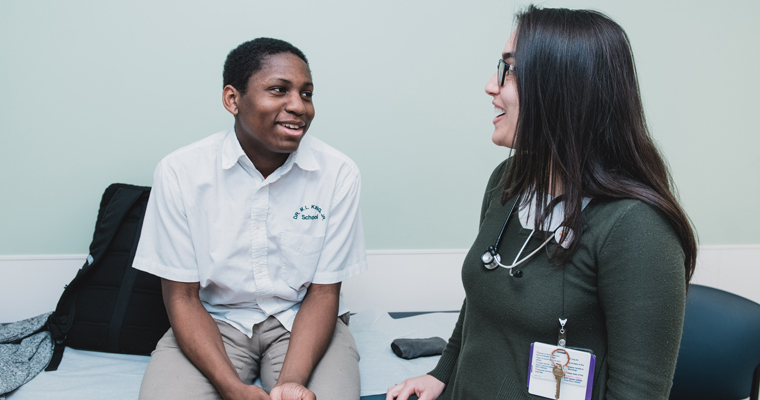 Research
Fellows in our program benefit from diverse research opportunities, whether clinical, translational and/or basic science, both within and outside of the division. Multiple well developed research programs are headed by faculty within the division. Dr. Emily Germain-Lee is a world-renowned research on rare genetic bone disorders (including osteogenesis imperfecta) and Albright hereditary osteodystrophy. Her recent work included sending mice to the International Space Station (ISS) and may have implications for preventing muscle and bone loss that is known to occur in astronauts during space travel. Dr. Cem Demirci collaborates with The Jackson Laboratory to explore the intestinal microbiome and its links to diabetes via the immune system. Dr. Rebecca Riba-Wolman is the lead of the largest collaboration site for the world's first glycogen storage disease human gene therapy trial.
Fellows publish in peer-reviewed journal and present nationally, with faculty members both within the division as well as with collaboration and mentorship at both the UConn School of Medicine and The Jackson Laboratory for Genomic Medicine.
During the first year, the fellow has 6 weeks of protected research time with an associated curriculum and direct involvement of the program director to identify a research mentor. and start development of or work on a project.
The final two years are largely focused on protected research time with 8 to 9 months the second year, and 5 months (research track) to 8 months (clinical track) as detailed in Curriculum-Clinical.
Previous research experience is a significant benefit, but is not required. Although grant submission is encouraged, the trainee's salary for the final two years will be supported even if no funding is obtained.
Interested fellows may pursue a Master of Science degree through the Graduate School's Master of Science in Clinical and Translational Research Program, or a Masters of Public Health through the UConn School of Medicine, at their own expense.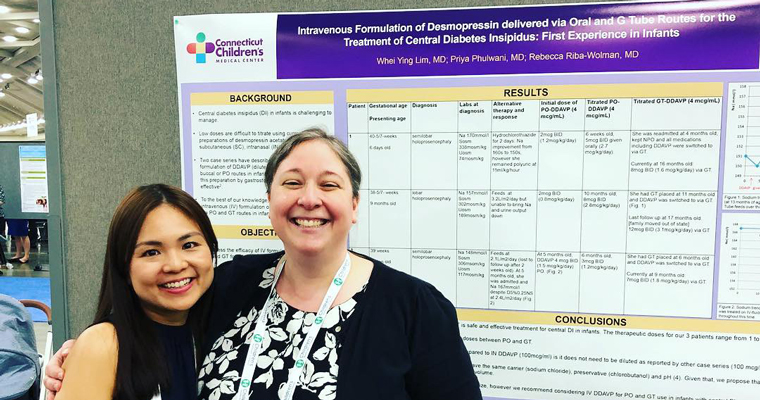 Educational Sessions
The majority of our academic conferences occur on Thursdays, which is a protected day for all fellows. On this day, all faculty and fellows are at our main location, which allows for close collaboration and discussion. In the afternoon, all fellows enjoy their own continuity clinics in either endocrinology or diabetes, which are precepted by core faculty.
Fellows participate in monthly board review, as well as clinical and basic science journal clubs. In addition, our academic sessions are comprised of didactics and case presentations on a vast array of endocrinology topics, with faculty speakers from both within the division, as well as invited speakers. Fellows also participate in multi-disciplinary conferences, including Thyroid conference, GUPPE (Differences of Sexual Development) conference, brain tumor board, and endocrine intercity grand rounds. Institutional conferences include grand rounds and translational research conferences.