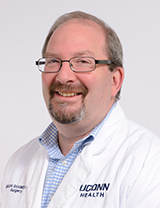 We are pleased that you are interested in the UConn General Surgery Residency Program. Our residency-training program embodies the best qualities of a university program combined with superb community based training. Our diverse clinical experience includes a high volume of complex operative cases with exposure to a large experienced faculty. We remain on the cutting edge in minimally invasive surgery, and pride ourselves in adult learning and innovation.
Residents have the opportunity to rotate at five core hospitals, each giving the resident a unique educational experience. Our core curriculum includes mandatory "pagers off" attendance at weekly teaching sessions along with monthly simulation sessions in our state of the art simulation center. The weekly curriculum includes leadership training, quality and safety education, ethics, and follows the SCORE curriculum.
The majority of residents move on to a fellowship after completing general surgery training. Our residents have matched into a wide variety of fellowships and most obtain their top fellowship choice. Residents leave our program well trained, confident, and ready to move on to the next level.
Central Connecticut is a region of natural beauty with dense woodlands and several rivers. Hartford is a quaint city half way between New York and Boston, reaping cultural benefits from both places. If our program sounds good to you, we welcome you to visit at any time! I look forward to hearing from you and if you have questions please feel free to contact me.
Brian Shames, M.D.
Program Director
UConn General Surgery Residency
Division Chief, General Surgery
UConn Surgery Residents Instagram