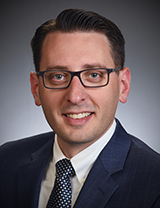 Zachary Maass, D.O., PGY4

Undergraduate: Bethel University
Medical School: Michigan State University College of Osteopathic Medicine
Residency: University of Minnesota Mankato Family Medicine
I was born and raised in Sioux Falls, South Dakota. My undergraduate education was done at Bethel University in the Twin Cities of Minnesota, where I completed degrees in Biochemistry/Molecular Biology and Chemistry. While at Bethel, I met my now wife of 7 years. From there, I went on to complete my medical school education at Michigan State University College of Osteopathic Medicine. I then returned to Minnesota to complete my family medicine residency through the University of Minnesota, in association with the Mayo Clinic Health System in Mankato, MN.
I am beyond excited to have matched to my top choice in fellowship, the UConn Primary Care Sports Medicine Fellowship. The priorities for me when looking at fellowships were the faculty and coverage opportunities.
Not only are the UConn faculty approachable and relatable, each with unique experiences and perspectives; they have an undeniable passion for teaching and mentorship and are 100% invested in the success of their fellows. I also feel that the UConn fellowship offers the ideal mix of solo and supervised coverage opportunities. From the beginning I knew I wanted solo D-I coverage with the supervised coverage being such that I would be able to be hands-on with the athletes, as opposed to being an observer. UConn has their fellows provide solo coverage for multiple UConn and local high schools teams. When supervision is required, the education and experience of the fellow is a high priority.
My future goals include being a team physician while remaining involved in academics, ideally within a Division I university. In my free time, I enjoy spending time with my wife, golfing as much as possible, and watching as much college football as humanly possible.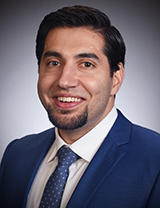 Pedram Sinai, M.D., PGY4
Undergraduate: California State University, Northridge
Medical School: St. George School of Medicine
Residency: Albany Medical College
I grew up in Southern California. I had the opportunity to enjoy the beach as well as the mountains, which meant I could be active year round. However, my true love for sports began on black top basketball courts and grassy fields where I could compete in various sports. I later developed a passion for weight lifting, which was an accessible hobby throughout college and medical school. As the years passed and I furthered my medical education, I maintained my passion for sports. As an Internal Medicine resident I had the privilege of covering Division 1 college athletics. In the clinic I found seeing physically active individuals return to their previous level of activity was enjoyable and rewarding. With these experiences I knew that a career in primary care sports medicine would be the right fit. I am now excited to begin my career in Sports Medicine, a field that is growing and burgeoning with possibility. I couldn't be happier to do it at a place like UConn where I know I will have ample opportunity to learn and grow as a physician.