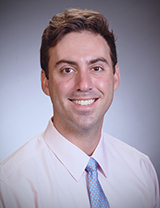 Brandon Bentley, M.D., PGY4
Undergraduate: University at Buffalo
Medical School: Jacobs School of Medicine at the University at Buffalo
Residency: FSU College of Medicine Family Medicine Residency, Fort Myers
As someone who moved around quite a bit, home is a few places to me. Originally from central Florida, I have lived in Southern California and in Buffalo, NY before returning to the Sunshine State for residency. I come from an athletic background and played most sports imaginable before pursuing baseball, where I pitched at the Division I level for the University at Buffalo Bulls. Naturally, the field of sports medicine appealed to me when I was introduced to it in medical school and I continued following this passion throughout residency and am thrilled to have the opportunity to continue my career with UConn.
The most important aspect I looked for in a fellowship was ample coverage opportunities and a diversity in patient population to best prepare me for my future. This program has an abundance of sports to cover not just at the Division I level, but also in covering USL soccer, several high school football teams, and mass participation events. What ultimately sealed the deal for me was the friendly, collegial atmosphere conveyed during my interview. This has only been confirmed since joining the fellowship. I am excited to be a part of the UConn family!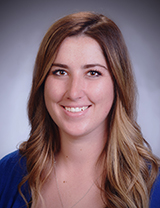 Danielle Thornsberry, D.O., PGY4
Undergraduate: Western Reserve University, Cleveland, OH
Medical School: Ohio University Heritage College of Osteopathic Medicine
Residency: Ohio Health Dublin Methodist Hospital, Dublin, OH
Having been born, raised, and trained entirely in Ohio, I never thought I'd leave. When I interviewed for fellowship at UConn, I knew that was going to change. My goal for fellowship was to train somewhere that would give me a well-rounded primary care sports medicine experience. I wanted a program that gave me real hands-on Division I athletic coverage, not just having me observe on the sidelines. UConn gives me that opportunity, and it's been an incredible experience. As a D.O., I am supported in using OMT on our athletes. The comprehensive musculoskeletal ultrasound curriculum and volume of injection experience speaks for itself. What truly sold me on this program during my interview was the collegial atmosphere and friendly environment, which is still one of my favorite parts about this fellowship. My training in these first few months has far exceeded my expectations, and it is the best career decision I have ever made to move to Connecticut and join the Husky family.