Cancer Survivorship Program
UConn Health's Multidisciplinary Survivorship Program, part of the Neag Comprehensive Cancer Center, is dedicated to helping you find expertise, education and support to help manage issues related to surviving cancer. This includes managing the risk of secondary cancers, understanding the long term effects of treatment and addressing the physical, emotional, social, spiritual and financial concerns.
Your continued needs and quality of life beyond treatment are important, and the Cancer Survivorship Program can help you move beyond treatment and on with your life.
Your cancer journey doesn't just end after your last treatment. Many survivors, such as breast cancer patient Sandy Theriault, experience late or long-term physical or emotional side effects. UConn Health has a multidisciplinary team dedicated to helping patients manage issues related to surviving cancer.
The team at UConn Health's Neag Comprehensive Cancer Center understands that cancer treatment and side effects don't end with your last treatment. The Multidisciplinary Survivorship Team works to educate survivors on prevention, detection and management of complications resulting from cancer treatment, along with focusing on health promotion, cancer prevention and supportive services. Patients are evaluated and counseled by a specialized survivorship team including a nurse practitioner, social worker, registered dietitian and physical therapist. Prior to the clinic visit, the team reviews the patient's past cancer diagnosis and treatment history.
During your personalized care visit, you can expect:
An evaluation of the ongoing effects of your cancer diagnosis and treatment
A review of your health care team and coordination of follow-up care
A summary of your background information (including genetics), type of cancer diagnosis and treatment received
A discussion about prevention of recurrence, new cancers, and potential late treatment side effects
A review of surveillance guidelines for cancer screening as well as generalized health care
An individualized treatment summary and survivorship care plan with customized recommendations in the following areas:

Individualized surveillance and screening guidelines
Health and wellness education personalized to cancer type and treatment history
Psychosocial support for survivors and their families
Exercise and lifestyle modification recommendations
Nutritional counseling

Patient-centered conversation and opportunity to receive referral based services for cancer survivors including:

Mental health providers
Health psychologist for lifestyle coaching
Genetic counseling
Smoking cessation
Lymphedema clinics
Community resources and financial assistance
Cancer support groups
Sexual health
Specialty providers (Cardio-Oncology, Neuro-Oncology, etc.)

At the conclusion of the visit, a comprehensive summary of recommendations will be provided and entered in your electronic medical record. A copy of this plan is also sent to your cancer doctor and primary care provider.
When Can a Survivorship Visit Take Place?
This usually takes place three to six months after the end of primary cancer treatment. Many patients may still be taking medications, such as hormonal therapies for breast cancer, and are still welcome to our program.
Discover Care as Unique as You
UConn Health's Cancer Survivorship Program offers personalized services to meet the unique and ongoing health care needs of cancer survivors.
"I think the Survivorship Care Plan is an excellent tool. I found after the interview, someone was going to know what I had been through and would be following me after my treatments ended. It puts all the contact information in one place rather than all the business cards in my wallet. The diagnosis and procedure information is helpful to my family to have for future reference. Thank you for developing this program for me and for all future participants." Marie W., breast cancer survivor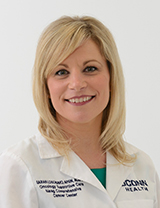 Sarah Loschiavo, DNP, APRN, FNP-C, ACHPN
Nurse Practitioner
Program Director
Email: loschiavo@uchc.edu
Inpatient Physical Therapist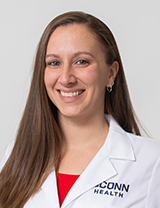 Tiffany Palmisano, PT, DPT, CLT-LANA
Rehabilitation Services
Phone: 860-679-4119
Email: tpalmisano@uchc.edu