Uterine sarcoma is a specific type of cancer that develops in the uterus. Unlike endometrial cancer which develops in the endometrium or the lining of the uterus, uterine sarcoma develops in the muscle or the tissue of the uterus. It is a very rare form of cancer that affects a tiny percentage of women.
The symptoms of uterine sarcoma include vaginal bleeding in between periods or after menopause, abdominal pain, and frequent urination. Sometimes a mass or lump in the vagina is also noticeable.
Your doctor will begin by giving you a physical exam and will ask questions about your family medical history. Next, a blood test will allow the doctor to see if there are any cancer markers in your blood. Imaging tests are also common, and they can include CT scans, PET scans, MRI, ultrasound, or the use of a scope to see inside the uterus.
The treatment options for uterine sarcoma include surgery, chemotherapy, radiation therapy, and drug therapy. The specific treatment or combination of treatments will be decided on by a team of medical professionals who will tailor the treatment plan specifically for you and your diagnosis.
Uterine sarcoma is treatable, and many patients will have a favorable outcome. As with all cancers, the earlier it is discovered and treated, the higher the rate of survival. If you think you may be at risk for uterine sarcoma, make an appointment with your doctor.
Request an Appointment
To schedule an appointment or for more information, call: Toll-free: 800-579-7822 Local: 860-679-2100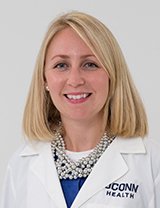 Ashley Aust, B.S.N., R.N.
Gynecologic Oncology and Genitourinary
Phone: 860-505-9104
Email: aust@uchc.edu
Fax: 860-676-3442