Endocrine neoplasia refers to growths or tumors that affect the hormone-producing endocrine system. The tumors can develop on the adrenal glands, the pituitary gland, the parathyroid glands, or the pancreas, and they can be cancerous or benign.
The Endocrine Neoplasia Program at the Neag Comprehensive Cancer Center is dedicated to the evaluation and treatment of the structural and hormonal symptoms of these disorders. Our Endocrine Neoplasia Program is the only one of its kind in Connecticut, and our uniquely experienced multidisciplinary team of experts provides clinical services in the following areas:
Thyroid cancer and thyroid nodules
Fine needle aspiration biopsy: thyroid and adrenal
Thyroid ultrasound
Thyroid carcinoma testing: Thyrogen stimulated thyroglobulin and thyroid scanning
Cancers and benign tumors of the adrenal glands
Invasive radiology including petrosal sinus sampling, adrenal vein sampling, and selective pancreatic calcium infusion
Hyperparathyroidism and parathyroid tumors
Pituitary adenomas
Dynamic endocrine testing
Nuclear medicine scanning
With expertise in a wide variety of diagnostic and therapeutic procedures, we work closely with teams of physicians from other departments to manage patients with endocrine neoplasia. Our medical professionals have backgrounds in endocrine surgery, urologic surgery, neurosurgery, neuro-ophthalmology, pathology, nuclear medicine, invasive radiology, hypertension, genetics, molecular biology, and endocrinology. They provide state-of-the-art patient care while performing fundamental and clinical research to advance treatment options.
Learn more about the specific disorders associated with endocrine neoplasia:
Request an Appointment
To schedule an appointment or for more information, call: Toll-free: 800-579-7822 Local: 860-679-2100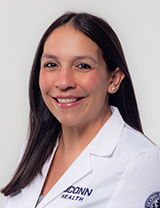 Tori-Lynn Pacelle, B.S.N., R.N.
Bile Duct, Brain, Colon, Endocrine Neoplasia, Gall Bladder, Head and Neck, Liver, Pancreatic, Rectal, Gastric
Phone: 860-466-9760
Email: pacelle@uchc.edu
Fax: 860-676-3434