Colon cancer is a digestive tract cancer that afflicts the large intestine. It is one of the most common cancers diagnosed in the United States. Colon cancer often starts as a certain type of polyp called an adenoma that can turn cancerous over time. Once the polyp becomes cancerous, it can spread to the surrounding area of the colon.
Some of the common symptoms of colon cancer are persistent changes in bowel movements, blood in the stool, bleeding or cramping in the rectum, bloating, loss of appetite, and weight loss. If you experience one or more of these symptoms, consider making an appointment with your doctor.
In addition to a thorough physical exam and blood tests, the most common test for colon cancer is a colonoscopy. During a colonoscopy, the patient is sedated, and the doctor looks at the colon with a small camera. The doctor can also take a small sample for biopsy if cancer is suspected.
Once you receive a cancer diagnosis, the cancer will be staged to determine how far it has progressed. Depending on the stage and type of cancer, your team of medical professionals will meet to discuss your cancer and devise a treatment plan specifically tailored to you. The treatment plan could include surgery, chemotherapy, radiation therapy, immunotherapy, or certain medications.
Colon cancer survival rates increase the earlier the cancer is discovered and treatment begins. The survival rate for stage 1 colon cancer can be as high as 90%. The best way to catch colon cancer early is to schedule regular colonoscopies. If you think you are at risk for colon cancer, talk to your doctor about preventative care and routine screenings.
Request an Appointment
To schedule an appointment or for more information, call: Toll-free: 800-579-7822 Local: 860-679-2100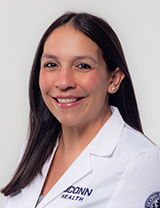 Tori-Lynn Pacelle, B.S.N., R.N.
Bile Duct, Brain, Colon, Endocrine Neoplasia, Gall Bladder, Head and Neck, Liver, Pancreatic, Rectal, Gastric
Phone: 860-466-9760
Email: pacelle@uchc.edu
Fax: 860-676-3434