Dear Future Vascular Neurology Fellow,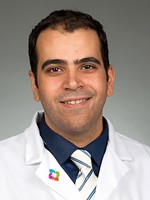 I would like to personally welcome you to our program and share with you our experience with stroke and vascular neurology training. The Vascular Neurology Fellowship at UConn provides a unique one-year training experience that covers the stroke continuum of care from acute management all the way through rehabilitation.
Training occurs at three sites, including the Comprehensive Stroke Center at Hartford Hospital. At Hartford Hospital, the entire spectrum of stroke care is experienced: neuro-critical care, neuro-interventional and neuroradiology, stroke inpatient units, stroke clinic, emergency medicine, neurosurgery, and neurosonology. In this 850+ bed urban tertiary care hospital, more than 1,000 stroke patients are seen annually that include ischemic stroke, intracerebral hemorrhage and subarachnoid hemorrhage. Harford Hospital has a unique relationship with EMS, including its own air ambulance program, LIFE STAR, that covers the state of Connecticut and many regions of its neighboring states.
At UConn Health, a 224-bed suburban hospital, stroke patients are co-managed with hospitalists in the context of a Primary Stroke Center with endovascular capabilities. Both Hartford Hospital and UConn Health are well-established and well-equipped with state-of-the-art technology, academic expertise, and educational support.
Our trainees also rotate at the Hospital for Special Care for acute rehab training and work with our physiatry colleagues to learn about poststroke recovery and the most up-to-date treatments available to our patients.
An array of complex vascular neurology cases in different settings, accompanied by our outstanding faculty, allows for an excellent educational experience. Trainees will be expected to not only become excellent clinicians, but to learn about the aspects of stroke systems of care, become stroke leaders in their communities, and participate in national and international conferences. Harford Hospital has a dedicated stroke research database and staff with abundant opportunities for research, scholarly activities, publications and participation in up-to-date clinical trials. Our trainees have consistently presented, published and excelled in their careers after graduation.
We look forward to hearing from you!
Sincerely,
Amre Nouh, M.D.
Vascular Neurology Fellowship Program Director