Program Description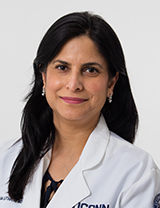 The UConn Health Endocrinology, Diabetes and Metabolism Fellowship Program is a two-year, ACGME-accredited academic training program which is divided into rotations at UConn Health, Hartford Hospital, Saint Francis Hospital and Medical Center, and The Hospital of Central Connecticut.
Applications and information are only accepted through the Electronic Residency Application Service (ERAS), and program trainees are selected through the National Resident Matching Program (NRMP). The program currently accepts two new trainees per year for a total program size of four fellows. Upon successful completion of the fellowship, graduates will be eligible to take the American Board of Internal Medicine subspecialty examination in endocrinology.
Our program is designed to be rigorous and highly selective to train exceptional clinical endocrinologists. Opportunities are also available to support additional training for those interested in a clinician-scientist career pathway. Our faculty are renowned including several national and international recognized leaders in both clinical and research endocrinology. They are committed to providing the fellows with the best possible experience while training them to be leaders in the field of endocrinology. Our faculty are enthusiastic about their teaching missions and strive to make the success of the fellowship program a priority by providing a supportive, interconnected environment to foster academic and clinical excellence.
Our program stresses lifelong learning skills and professionalism in order to prepare you for careers in academic or clinical endocrinology. Input and feedback from the fellows is encouraged and continually integrated into the program to maximize learning experiences.
Program Aims
The University of Connecticut Endocrine, Diabetes and Metabolism Fellowship Program aims to recruit and train fellows in a rigorous and highly selective learning environment. The program specifically looks to recruit well rounded individuals who have the ability to adapt to numerous patient care and educational settings including a high volume institution. We routinely solicit input and feedback from the fellows and continually integrate that into the program to maximize learning experiences. Our program stresses lifelong learning skills and professionalism. Fellows are exposed to both common and rare endocrine diseases as well as gain proficiency in performing procedures such as, thyroid ultrasounds, fine needle aspiration biopsies of the thyroid, insulin pump management and bone density interpretation. In addition, the program places a large emphasis on physician support and wellness. The program aims to expose fellows to a variety of clinical and research opportunities in order to train them to be exceptional clinical or academic endocrinologists.
I invite you to explore our website, and please feel free to contact me with any questions. I look forward to hearing from you!
Sincerely,
Pooja Luthra, M.D., FACE
Associate Professor of Medicine
Program Director, Endocrinology, Diabetes and Metabolism Fellowship
Email: luthra@uchc.edu
Annilise LaRosa, B.S.
Program Coordinator
Email: alarosa@uchc.edu