Dear Fellowship Applicant,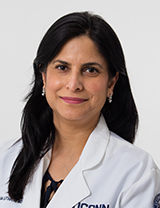 Thank you for your interest in the UConn Health Endocrinology, Diabetes and Metabolism Fellowship Program. The Division of Endocrinology in the Department of Medicine at UConn Health and affiliated hospitals offers an accredited two-year fellowship program for individuals wishing to prepare for a career in Endocrinology. Our mission is to provide a strong clinical and academic foundation that will cultivate physician leaders who are competent in the field of Endocrinology. Our fellowship program stresses life-long learning skills and professionalism in order to prepare you for a future in academic medicine or a private practice setting.
I invite you to explore our website. I think you will agree that there are great opportunities for you here at UConn. As an added benefit, Farmington and the surrounding communities are excellent, family-friendly places to live and offer a wide variety of year-round activities. Our location is enviable, with proximity to Boston, New York and the eastern shoreline and housing opportunities abound in the suburban communities. Quick trips to surrounding beaches or ski slopes allows fellows to enjoy the beauty of New England.
The area hosts a number of cultural events and sporting venues including minor league hockey and baseball, and the Travelers Championship Golf Tournament every summer. As members of the UConn community, we at UConn Health enjoy close proximity and accessibility to UConn's NCAA Division I sporting events including collegiate baseball, football and basketball.
Please feel free to contact us with any questions about the program, the University or the Hartford area. We look forward to hearing from you!
Sincerely,
Pooja Luthra, M.D., FACE
Associate Professor of Medicine
Program Director