ORTHOPAEDIC SURGERY RESIDENCY
Welcome Message from the Chairman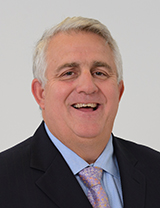 Welcome to the University of Connecticut Department of Orthopaedic Surgery Residency Program website. I would like to take this opportunity to tell you about the UConn Musculoskeletal Institute and the Department of Orthopaedic Surgery.
The UConn Musculoskeletal Institute provides a unique paradigm for musculoskeletal health care. Orthopaedic Surgery, a comprehensive spine center, an osteoporosis center and rheumatology are all housed in our state-of-the-art facility. The Department of Orthopaedic Surgery is housed in the UConn Musculoskeletal Institute which is a freestanding facility on the UConn Health campus. The fact that we have our own building completely dedicated to musculoskeletal health care demonstrates the Health Center's commitment to our growth and success. There is an ambulatory surgery center on the second floor and 10,000 square feet of laboratory space, including a Bioskills Laboratory, on the fourth floor. The UConn Musculoskeletal Institute offers patients the opportunity to have "one stop shopping" for all their musculoskeletal problems. Since all of the specialists work in close proximity to each other, this not only enhances patient care but stimulates both clinical and basic science research collaborations. Fortunately, UConn Health has provided us with the resources to accomplish these goals.
Recent faculty recruitment efforts and affiliate faculty availability, the Department of Orthopaedic Surgery has undergone extensive growth. We now have 17 clinicians covering all the orthopaedic subspecialties and 5 research scientists in the department. We have also developed a productive clinical outcomes unit to support our clinical research projects.
We have a strong residency program with a collegial working environment. The new Accreditation System (NAS), implemented in 2013 by the ACGME, generates an on-going electronic monitoring of our program. This new tool has consistently granted our program annual re-accreditation without citations since its launch. Our plan is to continue to build on these strengths. We have instituted a two-year core curriculum that is the foundation of our teaching initiatives. In addition, weekly subspecialty-based conferences, the monthly indications conference, journal club and Chairman's conference demonstrate our commitment to providing residents with a superb didactic teaching program. We continue to examine all aspects of the residency program to further enhance both the patient care experience (operative and non-operative) and the didactic opportunities of the residents. We have expanded the bioskills program; creating two bioskills sessions per month using cadaveric specimens. Our Bioskills Laboratory sessions provide the residents with a unique opportunity to learn surgical techniques at their own pace and in a controlled environment. This has been an outstanding teaching tool for our residents.
Both the clinical outcomes unit and the numerous research opportunities in the UConn Musculoskeletal Institute will provide all residents with the opportunity to be actively involved in research projects and to attain the skills to be successful in an academic career.
In order to further enhance the resident research experience, we are offering one resident per year the opportunity to take a year out during the residency to do basic science research. The goal will be to foster this individual's desire to pursue a career in academic medicine. Please let us know if you are interested in this program.
We are committed to creating the finest resident educational program in the nation. Our ultimate goal is to produce excellent orthopaedic surgeons who can enhance the quality of lives of their patients and be the future leaders in our profession. If you train at UConn, I guarantee that you will have skill set to pursue any type of orthopaedic career that you desire. I strongly encourage you to come here and do a subinternship. This experience will enable us to get to know you better and should enhance your ability to attain a position in our residency program. It is an exciting time to be an orthopaedic resident at UConn.
Augustus D. Mazzocca, M.S., M.D.
Director, UConn Musculoskeletal Institute
Chairman, Department of Orthopaedic Surgery
Harry and Helen Gray/Harry R. Gossling, M.D. Chair in Orthopaedic Surgery