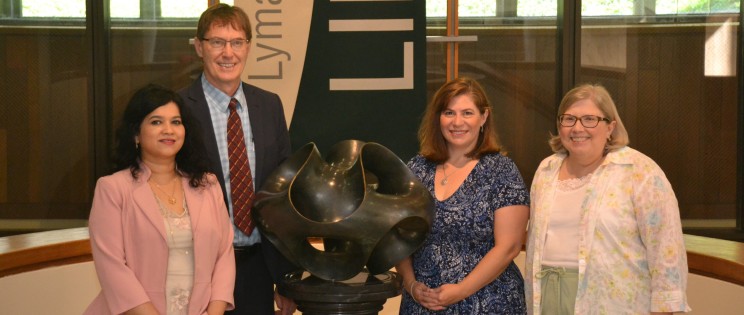 Welcome from the Training Directors
Residency is a four-year crash course in professional training. What you start in residency takes a whole career to refine. Here at the UConn Psychiatry Residency Program, we strive to support and challenge trainees through these four formative years. Residents are exposed to a broad range of experiences as they develop a discerning evidence-based approach that helps to launch their career. We attract residents who have a zeal for learning and we seek to prepare them for a rewarding, intriguing, and constantly-evolving profession. Psychiatry is an exciting field, where the commonalities and the unique characteristics of our patients are simultaneously explored, and where the science of medicine merges with the art of human interaction.
As part of a public university, UConn Health has a long-standing mission to provide public health of the highest quality to all. Along with a commitment to public service and to the community, we also make a concerted effort to care for ourselves. We foster a supportive environment for each trainee starting with voluntary resident-mentorship, and continuing with faculty mentors, research mentors, various supervisory relationships, faculty open-door policies, opportunities to engage in weekly psychotherapy and group therapy, impromptu and planned social gatherings throughout the year, and active resident participation in refining the program. Being involved in planning for the program's future helps residents to become invested in their own education and enables us to maintain a vibrant and engaged residency program that makes us all proud.
Our program is mid-sized, and offers a small-group learning environment (7 residents per class). Some unique features of our program include psychiatry rotations at four hospitals, a longitudinal research requirement, a busy ECT service, a variety of child and adolescent rotations via partnership with our Child and Adolescent Fellowship Program, UConn John Dempsey Hospital (a first-year rotation where reduced clinical obligations allow residents to focus on skill-building), and exposure to a variety of clinical practice settings including the VA system, community mental health centers, correctional mental health settings, a Huntington's Disease Clinic, Neag Comprehensive Cancer Center, and medical/dental student psychotherapy clinic, among others. In annual program evaluations, UConn residents often cite the broad range of treatment modalities and settings as valued program strengths.
We take pride in our teaching faculty's widely-respected psychopharmacologic expertise, our longstanding tradition of psychotherapeutic mentoring and teaching, and the in-depth psychosocial training experiences that occur through dyadic relationships and small interdisciplinary teams encountered throughout the four years of training. Though residents thrive and learn best from direct patient care, we provide ample opportunities for case-based learning and didactic seminars during which residents can focus on a variety of timely topics without the interference of clinical obligations. Our residents acquire cutting-edge skills unique to our profession, and they leave UConn with a strong professional identity and an ability to succeed in today's ever-changing workforce. Though they are considered top candidates for a variety of competitive fellowships and jobs throughout the region and beyond, many UConn graduates are so deeply affected by their experiences here, that they choose to stay involved as full-time or volunteer faculty after graduation.
We hope this website provides a broad overview of our Psychiatry Residency Program and shows why we are so proud to be involved in resident education at UConn. We encourage you to explore the Bioscience Connecticut and Greater Hartford area links to learn why this is such a vibrant place to live and work. Finally, we hope you apply to our program through ERAS so we might have the opportunity to meet each other in person.
With Warm Regards,

Surita Rao, M.D.
Program Director

Jon Covault, M.D., Ph.D.
Associate Program Director

Debra Forrest, M.D.
Assistant Program Director