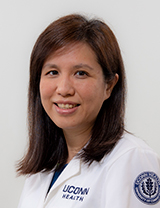 Welcome! We are glad that you are visiting the website of University of Connecticut Cardiovascular Fellowship Program at UConn Health and St. Francis Hospital and Medical Center.
Situated in central Connecticut, our program is a three-year, ACGME-approved academic fellowship that has been in existence for over 30 years. We accept three trainees per class for a total size of nine fellows. We are proud to provide training at two clinical sites with distinct characteristics. UConn Health is a small academic medical center situated on the campus of the University of Connecticut Medical School; it serves mostly suburban patients. Saint Francis Hospital and Medical Center is a tertiary care center with 615 beds and a major teaching affiliate of University of Connecticut School of Medicine. It takes care of an inner city population. Fellows receive rich attention from our seventeen full time faculty members in diverse practice settings. We provide a supportive, friendly, and structured learning environment for fellows going through some of the toughest and most rewarding period of their training
This a virtual tour of UConn Health and the University of Connecticut Medical School Campus:
Our fellowship program provides extensive education in major disciplines of non-invasive and invasive cardiology. The first two years are largely devoted to core rotations in clinical cardiology, cardiac imaging, interventional cardiology and electrophysiology. Third year fellows will have the opportunity to pursue up to six months of electives in focused areas such as interventional cardiology, electrophysiology, cardiac imaging, advance heart failure, and/or clinical research. We believe that this design provides our fellows with the breadth and depth needed to be successful in the next phase of their careers.
In summary, our program gives cardiology fellows opportunities to learn from diverse practice settings while taking care of complex patients. We strive to provide a nurturing environment with rich faculty attention. We train accomplished cardiologist who are poised to enjoy a successful career.
Sincerely,
Joyce Meng M.D.
Program Director