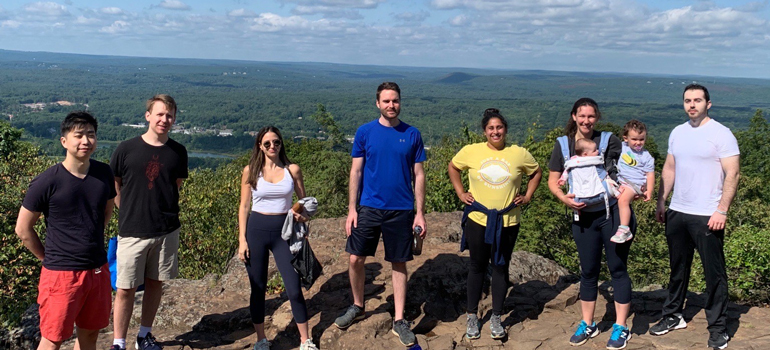 Mission Statement
Maintain the highest academic, scholarly, and professional standards in a comprehensive curriculum of academic excellence and to provide high quality advanced imaging services and outstanding patient care. In order to accomplish this, we aim to graduate radiologist who are competent in all six of the ACGME core competencies, who are highly qualified to practice as independent radiologists, who are committed to a practice of life long learning, and who demonstrate a keen awareness of service to the profession, their patients, and the health care community in the state of Connecticut and beyond.
Program Aims
Recruit top candidates from a diverse applicant pool.
Produce competent, compassionate and engaged radiologists who will care and advocate for their patients and communities in an academic or private practice setting.
Train well-rounded and versatile radiologists with the clinical skills, interpretive ability, and disciplined approach to medical problem solving in order to provide high quality care with respect and dignity and to value all patients seeking care.
Under experienced, outstanding faculty, inspire residents to develop passion and expertise within a subspecialty of radiology.
Train radiologists to have a fundamental understanding of quality improvement and patient safety.
Promote cost-effective care.
Create a learning environment that promotes a focus on wellness and resiliency.
Develop critical skills around lifelong learning.
Nurture future leaders in radiology and beyond.
Program Description
The Diagnostic Radiology Residency Program is a four-year training program that requires an internship year as a prerequisite to residency training. The program meets all requirements of the American Board of Radiology in Diagnostic Radiology and of the ACGME.
The residency is based primarily at the UConn Health in Farmington, CT, within UConn John Dempsey Hospital, which is a 234-bed facility; after the completion of a brand new hospital tower which opened in the Spring of 2016. We have an affiliation with Saint Francis Hospital and Medical Center in Hartford, CT, which is a 617-bed facility in an urban environment. This combination of sites provides for a broad array of cases and work flow to enhance your education.
Residents spend the majority of the first two years of the program at UConn John Dempsey Hospital. The small size allows for a smaller workload, giving sufficient time to each case for optimal learning. Additionally, our 1.125:1 ratio of faculty to resident provides one-on-one time at the board. Our faculty are all board-certified and largely subspecialized. We are a state facility with advanced specialized departments, thus we see quite a diversity of patients with a large variety of pathology. Additionally, we hold the state contract with the Department of Corrections, to provide advanced health care to this high-risk subpopulation.
In the last two years of the program, residents spend a majority of time at Saint Francis Hospital, which is located approximately ten miles from UConn. This busy facility is a level II trauma center and treats a diverse urban population. Residents work with 18 staff radiologists in a private practice setting, which allows for greater resident independence. Additionally, patient volume is considerably more than at UConn, so that residents quickly learn to hone their efficiency.
Residents also receive pediatric training primarily at Connecticut Children's Medical Center. This is a level I trauma center specializing in all aspects of pediatrics. Dedicated, board-certified and specialized pediatric radiologists provide exceptional education to our rotating residents.
All residents are sent to the American Institute for Radiologic Pathology (AIRP), currently in their third year. The program funds registration to AIRP ($1,800) and the resident receives a $1,000 towards travel arrangements.
Residents are given time and travel money to attend a national conference during their residency years in training. Also, if a resident has an abstract, poster or presentation accepted to a national conference, additional funding and time will be allotted for that resident to attend. Residents also enjoy financial assistance from the program for annual ABR dues and an educational fund stipend. UConn supports a group license to the online learning portals StatDX, RadPrimer, as well as e-Anatomy. Educational conferences are held at least seven times per week, with joint monthly grand rounds with outside guest speakers, as well as monthly journal clubs.
Certain critical skills regarding the business of practice after residency are often ignored while in training. This is why all residents also participate bi-annually in the American College of Radiology's Radiology Leadership Institute program. This is a several weeks' long, multi-institutional educational effort led by leaders in the field to discuss the current framework, trends and future of the radiologist's pay structure in an evolving health care ecosystem.