ORTHOPAEDIC SURGERY RESIDENCY
Where We Live and Play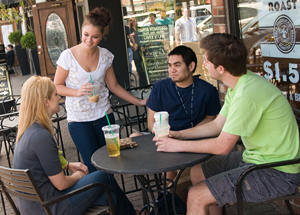 Life during residency is not all about orthopaedic surgery. The residents take advantage of the free time they have to spend with families, friends and each other. With the workload and the number of hospitals to cover, time together with residency classmates is limited, but well protected by the residents, the administration, and by the UConn team tradition.
With big city amenities in a quaint New England setting, the region offers residents unparalleled living options. From urban apartments to stately Victorian homes, there is housing for every budget. You will also find neighborhoods for every lifestyle. Many residents live in the surrounding suburban areas such as West Hartford or Farmington, both of which offer ample opportunities to rent or buy. Depending upon their interests, some have chosen to live in more urban areas with restaurants, shopping and nightlife, while others have chosen a more rural setting with spacious yards, parks and hiking trails. Whatever the choice, all are within a short drive of the Health Center and its affiliated hospitals. Farmington Valley and the Greater Hartford region is also an excellent place to raise a family. When it is time to unwind, the region offers plenty of opportunities to play. Whether you are interested in arts and culture, hiking, biking, snowboarding or the Greater Hartford region offers four seasons of living and recreation.
The region sits at the southern end of the Knowledge Corridor, a 30-mile geographical region that stretches north to Springfield, Massachusetts and is home to 32 higher education institutions including the University of Connecticut, Trinity College, University of Hartford, Amherst College and the University of Massachusetts.
Additionally, New York City, Boston, Cape Cod (beaches), Vermont (skiing, hiking), and the Adirondack Mountains are all within a two to three hour drive.
There are also a number of excellent museums in the area and other attractions including Mark Twain's House, the Basketball Hall of Fame, Six Flags, and the Mohegan Sun and Foxwoods casinos. There is also an active, young, vibrant nightlife, a busy event calendar, and a surrounding region which offers any activity you can imagine.
If you enjoy college sports, the UConn men's and women's basketball teams are highly ranked every year.
Whether you wish to spend time with friends, colleagues, family or alone, there is a place to do it in the Farmington Valley and Greater Hartford.