ORTHOPAEDIC SURGERY RESIDENCY
Conferences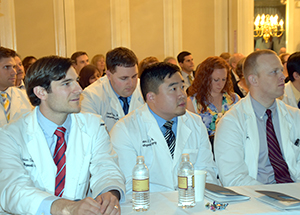 Each of our four main teaching hospitals offers a wide range of weekly subspecialty conferences. Beyond these there are several others that are attended by all the residents in the program.
Core Curriculum: This conference takes place every Friday from 8 to 10 a.m. and is the cornerstone of the resident education program. The curriculum is a rotating two year schedule of lectures and conferences that comprehensively review the clinical and basic science aspects of orthopaedic surgery.
Bioskills Lab: Twice each month, after Core Curriculum the residents spend two hours in the Bioskills Laboratory. Attendings demonstrate and practice surgical techniques on cadaveric specimens with the residents ranging from arthroscopic procedures to spine surgery to arthroplasty. Various attendings go through arthroscopy skills with the residents, and are able to practice with cadaver parts. Other surgical procedures are simulated and practiced in this space, as well.
Anatomy Lab: Anatomic dissections are an essential element of the Core Curriculum. The PGY-1 residents participate in the medical student anatomy courses each fall as laboratory preceptors.
Chairman's Conference: This is a monthly open forum to discuss a selected evidence-based medicine article. Time is also set aside to discuss important issues related to the program.
Journal Club:  Occurs on a monthly basis, After an informal dinner, residents and faculty gather to review articles from the most recent issues of Journal of Bone and Joint Surgery.
Hartford Orthopaedic Forum: Held at an off-site location, this monthly conference serves the department Grand Rounds open to the entire local orthopaedic community. The forum provides residents with not only an educational opportunity, but the chance to meet and network with surgeons in the national orthopaedic community as well as the surrounding local community. The guest speakers are frequently nationally renowned orthopaedic surgeons who, in addition to participating in the forum lecture also give a talk during the Core Curriculum session the next morning.