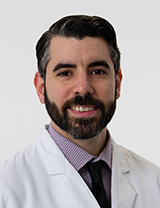 The UConn Health /Hospital for Special Care Neuromuscular Fellowship is an ACGME accredited one-year program emphasizing clinical bedside and clinical research experience. We accept one fellow every year. The primary site is based at UConn Health in Farmington, Connecticut which is an academic health center and the home of the University of Connecticut School of Medicine. UConn Health excels in teaching and research as well as clinical care.
The other major participating site is the Hospital for Special Care in New Britain, Connecticut. It offers multidisciplinary neuromuscular care in a primarily outpatient setting. Fellows will also spend time in the outpatient MDA and neuromuscular clinics at Connecticut Children's in Farmington, Connecticut. The fellowship offers a diverse experience in the emergency, inpatient and outpatient management of neuromuscular disorders as well as advanced training in nerve conduction/EMG, neuromuscular ultrasound, chemo denervation, autonomic testing, skin biopsies, and the interpretation of nerve and muscle biopsies. Neuromuscular teaching will take place through didactic sessions scheduled throughout the year, inpatient consultations, adult and pediatric EMG, and neuromuscular clinics.
Salary is very competitive and fellows enjoy a full benefits package that includes medical, dental, life and disability insurance, professional liability, and a tax sheltered investment program. Other benefits offered within the program include book and travel expenses and four weeks of paid vacation/educational leave.
Matthew Imperioli, M.D.
Fellowship Director