Welcome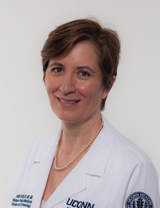 Welcome to the Maternal-Fetal Medicine (MFM) Fellowship at the University of Connecticut School of Medicine. We thank you for your interest in our fellowship program. On this website, you will find comprehensive information about our Maternal Fetal Medicine Fellowship Program, links to UConn Health, and all of its programs and information about the Greater Hartford area.
As you read about our fellowship program, you will see that our fellows receive training in all aspects of high risk obstetrics at UConn John Dempsey Hospital and our affiliate sites Hartford Hospital, Saint Francis Hospital, and Connecticut Children's. Faculty members at these affiliate sites are actively involved with fellowship training. The MFM fellow has daily one-on-one instruction in the clinical aspects of perinatology, and access to an extensive delivery and ultrasound database for perinatal research. Our MFM fellows also enjoy a close working and research relationship with the Division of Neonatology and its fellowship program and the Division of Human Genetics.
Any candidate considering fellowship training in any of the University of Connecticut School of Medicine programs must have passed Steps 1, 2, and 3 of the USMLE. In addition, please be aware that the University of Connecticut School of Medicine Graduate Medical Education programs do not sponsor "H" or "O" visas. Permanent Resident status ("green card"), J-1 visas sponsored by ECFMG, and Employment Authorization Documents are accepted.
We conduct our interviews during July, August, and early September.
We hope you enjoy learning about our Maternal-Fetal Medicine Fellowship Program. If you have any questions, please feel free to email either Pamela Brancati-Moynihan, MFM fellowship program coordinator at brancatimoynihan@uchc.edu or Andrea Shields, M.D., M.S., MFM fellowship director at ashields@uchc.edu.
We will be conducting virtual interviews on the following dates:
Saturday, July 23, 2022
Saturday, August 13, 2022
Saturday, September 10, 2022
Other important dates to remember:
Application deadline (ERAS): May 2, 2022
Single notification date for 1st interview invitations: May 16, 2022
Deadline to accept invitation and 2nd interview invitations: May 23, 2022
Program Aims
It is the aim of the fellowship to allow mastery of the principles and practices of maternal-fetal medicine, and make the graduate a life-time learner who continues to participate not only in their own education but also in the education of peers, medical students, residents, and fellows. At the completion of the fellowship, fellows should be well-trained to pursue either clinical or an academic career.
Diversity Statement
Equality is a core value of UConn Health, its affiliated hospitals, and in the medical care provided. We are dedicated to having a department and training programs that reflect the medical communities we serve. We are committed to inclusion across race, gender, age, sexual orientation and religion in which all individuals feel empowered to be their authentic selves. Our learners, employees, and patients should experience an environment free of harassment, sexual misconduct, and discrimination. We will continue to promote an inclusive culture which supports, encourages, and celebrates diversity.