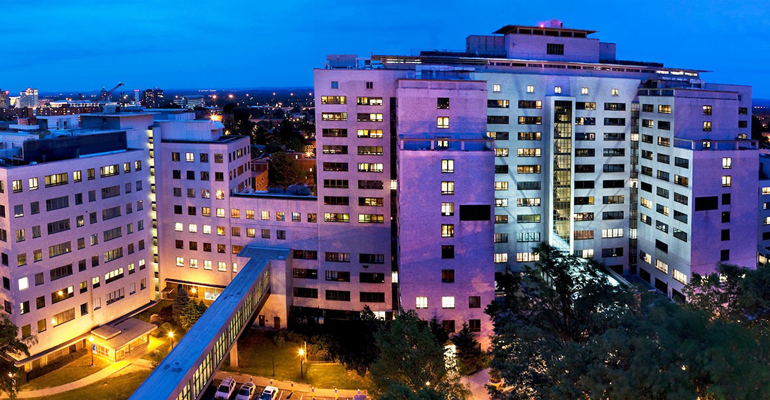 The Hartford Hospital-UConn Interventional Cardiology Fellowship Program is a one year, ACGME approved training program leading to eligibility for certification in Interventional Cardiology by the American Board of Internal Medicine. This program is based at Hartford Hospital in Hartford, CT.
Candidates must have completed an ACGME approved training program in Cardiovascular Diseases to begin the program. The duration of the program is one-year and there are three trainees per year.
Hartford Hospital is a tertiary-care referral hospital located in central Connecticut with 938 beds that was established in 1854. Training programs are offered in clinical cardiology and interventional cardiology through the University of Connecticut School of Medicine.
Cardiovascular services include comprehensive programs in invasive and interventional cardiology, noninvasive cardiology, electrophysiology, heart failure, preventive cardiology, cardiovascular surgery and cardiac transplant.
The invasive cardiology service has an annual procedural volume of more than 3,500 procedures with approximately 1,300 coronary interventional procedures. The cardiac catheterization laboratory consists of five procedural rooms. In addition, structural heart procedures are performed in two hybrid operating rooms. Procedures performed include standard coronary interventional procedures, percutaneous support devices (Impella, ECMO), aortic valvuloplasty and structural heart procedures (TAVR, MitraClip, TMVR, PVL closure, ASD/PFO closure, Watchman device etc). Almost 300 TAVRs were performed at Hartford Hospital in 2019-2020. The program performs a large number of acute interventions for myocardial infarctions because of its extensive referral network. Peripheral interventional procedures are also performed in the cardiac catheterization laboratories. There is an ongoing commitment to clinical research throughout the division and a number of pharmacologic and device trials are conducted in the department.
The interventional cardiology trainees receive a comprehensive procedural experience along with didactic training in interventional concepts. The outpatient experience consists of preprocedural evaluation and follow-up of interventional patients as well as a Vascular Medicine clinic.