Mission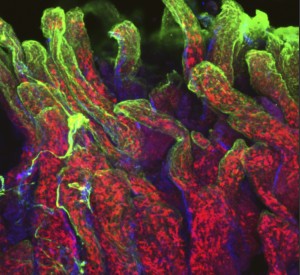 The Lowell P. Weicker, Jr. Clinical Research Center (CRC) is primarily an outpatient center, but also supports inpatient studies in the John Dempsey Hospital. The primary goal of the CRC is to execute clinical research protocols that support the National Institutes of Health. Many of these projects represent the application of basic science discoveries to clinical problems or look for better ways to combat disease and promote health. The CRC is also used for studies supported by foundations, pharmaceutical companies and companies developing diagnostic tests and devices. Projects at the CRC are carried out by faculty at the UConn School of Medicine and School of Dental Medicine, located at UConn Health, and at a number of major affiliated hospitals including Hartford HealthCare, Saint Francis Hospital (Trinity Health of New England) and Connecticut Children's.
Facilities
The Lowell P. Weicker, Jr. Clinical Research Center (CRC) is a Core resource that provides a focus for Clinical and Translational Research (CTR) at UConn Health through outpatient facilities and services that exist exclusively for the conduct of CTR. The clinical research space is 6,000 square feet, which includes 1,376 square feet for the core laboratory. In addition to an outpatient research clinic that is conveniently located near the University main hospital entrance and a Clinical Core that provides nursing and other study coordination services, the CRC includes a Molecular and Immunoassay Core Laboratory, Informatics support, and a Dental Clinical Research Center (an additional 839 square feet).
The CRC includes seven patient exam rooms, medical records room, and a processing laboratory as well as offices for the staff. The Dental Clinical Research Core includes two dental operatories fully equipped for a wide range of clinical procedures, a dispensing room, and a dental lab as well as an office for study coordinators. The CLIA-certified Core Laboratory is fully equipped for processing blood and tissue samples and performing enzyme-linked immunoassays and special molecular biology procedures. Equipment includes: -80oC freezers, tabletop refrigerated centrifuges, Elisa and multiplex equipment, PCR and RT-PCR technology and a computerized sample tracking system. The Informatics support offers REDCap, a secure, web-based application for building and managing online surveys and databases.
The center currently employs a staff of 17 who provide administrative services, nursing, laboratory and other support to clinical investigators carrying out protocols. All CRC staff have computers that are connected to a common, secured network.
Administration: Dr. Victor Hesselbrock is the Interim Program Director of the CRC. Dr. Sheila Alessi is the Assistant Program Director.  Dr. Jonathan Covault is the Interim Medical Director. Oversight of the Center is provided by a Scientific Advisory Committee (SAC chairman – Dr. Victor Hesselbrock) and all protocols are reviewed by a planning team within the CRC.