Mission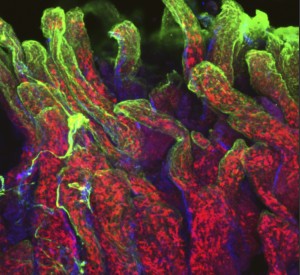 The Lowell P. Weicker, Jr. Clinical Research Center (CRC) is primarily an outpatient center, but also supports inpatient studies in the John Dempsey Hospital. The major goal of the CRC is to carry out National Institutes of Health-supported clinical research protocols. Many of these projects represent the application of basic science discoveries to clinical problems or look for better ways to combat disease and promote health. The CRC is also used for studies supported by foundations, pharmaceutical companies, and companies developing diagnostic tests and devices. Projects at the CRC are carried out by faculty at the UConn School of Medicine and School of Dental Medicine, located at UConn Health, and at a number of major affiliated hospitals including Hartford Hospital, St. Francis Hospital and Medical Center, and Connecticut Children's Medical Center.
Facilities
The Lowell P. Weicker, Jr. Clinical Research Center (CRC) is a Core resource that provides a focus for Clinical and Translational Research (CTR) at UConn Health through outpatient facilities and services that exist exclusively for the conduct of CTR. The clinical research space is 6,200 square feet, which includes 1,376 square feet for the core laboratory. In addition to an outpatient research clinic that is conveniently located near the University main hospital entrance and a Clinical Core that provides nursing and other study coordination services, the CRC includes a Molecular and Immunoassay Core and Data Management Core. The CRC Core Laboratory at UConn Health is fully equipped for processing tissue samples and performing special molecular biology procedures and immunoassays. In addition, we have a small laboratory space that is used for EZ-screen testing of urine specimens. The CRC laboratory is capable of processing and shipping samples and carcinogens. The CRC lab is CLIA certified. Equipment includes: -80o C freezer, PCR, tabletop refrigerated centrifuge, Mettler balance, gel electrophoresis and sequencing equipment, and computerized sample tracking system.
The facilities of the CRC include nine patient exam rooms (including a treatment room and a consultation room) and a computer center (Informatics Core) as well as offices for the staff. The dental Clinical Research Core includes two dental operatories fully equipped for a wide range of clinical procedures, dispensing room, dental lab as well as an office for study coordinators. The Core Laboratory of the CRC is fully equipped to carry out immunoassays and analyses of DNA and RNA using molecular biology techniques. All CRC staff (e.g., investigators, Project Coordinators, and research assistants) have PC-compatible computers running Windows XP, with 540 – 1080 megabytes of RAM, and at least 160GB or larger hard disks. All desktop computers are tied into a common network.
Our  Interactive Voice Response (IVR) system is operated at the UConn Health IVR Center of the CRC. The system supports up to 84 ports (simultaneous phone connections). As an example, one dedicated IVR server  supports 24 telephone lines. With our present capacity, outgoing calls are not delayed. Both the hardware and software are provided and supported by Telesage, Inc., of Chapel Hill, NC. We are currently running Telesage IVR software version 5.4.79, which is easily capable of controlling all aspects of an IVR protocol.
Administration: Dr. Cheryl Oncken is the Program Director of the CRC. Oversight of the Center is provided by a Scientific Advisory Committee (SAC—chairman Dr. Victor Hesselbrock) and all protocols are reviewed by a planning team within the CRC.
 Services:The center currently employs a staff of more than 20 people who provide administrative services, nursing, and other support to work with clinical investigators in carrying out protocols. The informatics core staff is available on a consultant basis to assist with protocol development, computer systems, IVR services, and data management. The Clinical Research Center (CRC) at UConn Health is also available to provide nursing, phlebotomy, dental services, laboratory, and diagnostic services, including administration of urine and blood testing.