Minimally Invasive Gynecologic Surgery
The minimally invasive gynecologic surgeons at UConn Health are dedicated to providing compassionate care in diagnosing and treating benign gynecological conditions. Our specialists have expertise in managing a wide range of gynecological conditions and minimally invasive surgical techniques.
Our surgeons prepare patients for surgery to improve patient outcomes and lead to faster recovery times and shorter hospital stays. Each patient is provided with the information they need to make informed decisions that are best for their health and goals.
Why Choose UConn Health for Your Gynecologic Care?
UConn Health is a designated Center of Excellence in Minimally Invasive Gynecology. This prestigious recognition sets us apart from the rest, as the rigorous accreditation marks the global standard for superior surgical care. We also conduct cutting-edge research, which enables us to offer our patients the most advanced procedures, and we work closely with our colleagues in other specialties, including colorectal surgery, urology, urogynecology, radiology, and physical therapy to optimize patient care and improve outcomes.
Our team has high-volume gynecologic surgeons with advanced training in managing complex diseases through minimally invasive surgical techniques. We offer both medical and surgical options for various benign gynecological conditions and use a multidisciplinary team approach to care. We work closely with our colleagues in other specialties, including colorectal surgery, urology, urogynecology, radiology, and physical therapy, to optimize patient care and improve outcomes.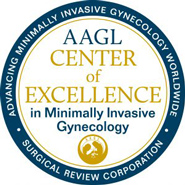 Minimally invasive techniques for the common conditions noted below can reduce recovery time as well as overall patient discomfort. In most cases, patients can return home and get back to their normal routines sooner.
These techniques involve surgery through small incisions, and allow the physician to see the relevant area enlarged on a digital screen in the room. The benefits of minimally invasive surgery include less blood loss, less scar tissue, fewer complications, and shorter hospital stays.
Safe, Effective Treatment
UConn Health offers minimally invasive surgery using advanced laparoscopy, hysteroscopy, and robotic-assisted laparoscopy and office procedures to treat:
Endometriosis: Caused when the tissue that lines the inside of the uterus (the endometrium) grows outside of the uterus, resulting in pain, heavy, irregular bleeding or impaired fertility. Laparoscopic surgery, usually an outpatient procedure, can be used to diagnose and remove the tissue.
Chronic Pelvic Pain: Pain in the lower abdomen or pelvis that can be a symptom of an underlying issue in the reproductive organs. Pelvic laparoscopy can be used for diagnosis and treatment of pelvic pain.
Ovarian Cysts: Cysts that occur in or on the ovary's surface. Usually harmless, cysts can grow large and cause discomfort, or rupture, requiring medical attention. Ovarian cysts can be treated with minimally invasive approaches without removing or impacting the ovary.
Uterine Fibroids: Noncancerous growths of the uterus that can range in number and size. While many women with fibroids experience no symptoms, fibroid signs can include heavy menstrual bleeding and pelvic pressure or pain. A number of minimally invasive approaches exist that offer alternatives to hysterectomy.
Abnormal Uterine Bleeding: Bleeding outside of the normal menstrual cycle and that is not caused by any known medical condition or pregnancy. A relatively quick hysteroscopic procedure that eliminates the uterine lining is a treatment option for women who no longer wish to become pregnant.
Adenomyosis: Is a condition that causes heavy, painful periods in women. The uterus gets larger than normal because the kind of cells that usually line the inside of the uterus start to grow into the walls of the uterus. Adenomyosis often happens along with other problems that affect the uterus, especially endometriosis.
Ectopic Pregnancy: A pregnancy that is not normal as it implants outside the uterus and, depending on location, can be managed medically or surgically.
Mullerian Anomalies: Uterine abnormalities that can lead to pelvic pain, abnormal bleeding that sometimes begins with the first period, recurrent pregnancy loss, or preterm delivery. This condition may be identified in patients, including adolescents, who present with these symptoms and require management.
Uterine/Endometrial Polyps: Mostly benign overgrowths of endometrial tissue that grow inside the uterus and sometimes cause abnormal uterine bleeding.
Hysteroscopic Surgery: A camera is placed into the uterus, and no incisions are required with minimal recovery time.
Advanced Laparoscopic Surgery: Small incisions are made in the abdomen, and advanced surgery for complex gynecologic surgery is performed. This is an effective treatment that results in shorter hospital stay, faster recovery, less postoperative pain, and faster time to return to normal function.
Robotic Surgery: This approach has the same advantages as advanced laparoscopy, and it allows surgeons to perform complex surgery through small incisions with increased precision and accuracy.
Vaginal Surgery: This is the most minimally invasive approach to major gynecologic surgery. It does not require any abdominal incisions and is associated with laparoscopic and robotic surgery while also avoiding any abdominal incisions.
UConn Health Division of Minimally Invasive Gynecology is also dedicated to research to further advance the field and to training the next generation of minimally invasive gynecologic surgeons. The primary goal of our program is to provide an exceptional education to the Minimally Invasive Gynecologic Surgery fellows. Fellows will acquire the advanced minimally invasive skills that will allow them to treat many complex gynecologic conditions. Graduating fellows will be adequately trained to pursue a career in academic medicine or clinical practice. For more information, visit the Graduate Medical Education website.