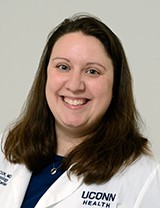 Thank you for your interest in the UConn Hematology/Oncology Fellowship Program.
The program directors and key faculty are dedicated to the personal growth and career development of our trainees. There is a strong focus on education including Boot Camp in the summer months, "core" weekly conferences given by faculty experts, weekly case-based presentations, and tumor boards. Our program offers a supportive, collegial environment to foster academic and clinical excellence as a hematologist/oncologist. This is an exciting time for clinical and translational research with the Bioscience Connecticut initiative and the installation of The Jackson Laboratory on our main campus.
The fellowship program at UConn comprises three years with board eligibility in both hematology and oncology at the completion of training. UConn adheres to ACGME duty hour requirements. There is no in-house overnight call.
The three clinical training sites are:
UConn John Dempsey Hospital, Farmington, CT (274-bed university hospital)
Hartford Hospital, Hartford, CT (600 beds)
Saint Francis Hospital and Medical Center, Hartford, CT (500 beds)
We invite you to review the rest of the website for specific details of our program.
Karen Hook, M.D.
Program Director