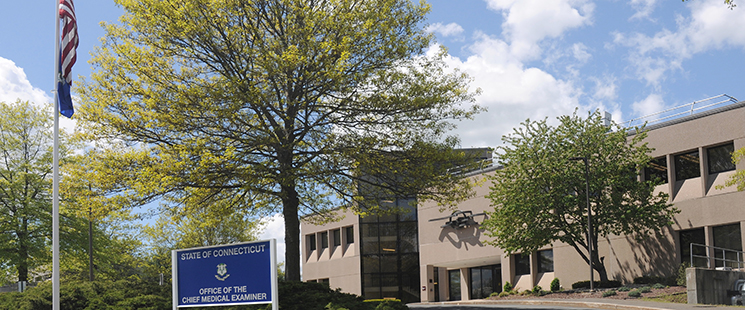 Welcome to the Office of the Chief Medical Examiner (OCME) Forensic Pathology Fellowship website! Our fellowship will develop investigative skills and "forensic thinking" by exposure to a wide range of trauma and diseases leading to death. As you read about our fellowship you will see that the primary goal of our program is to provide exceptional education to our fellows. It is assumed that after graduation fellows will become board-certified, practicing forensic pathologists.
Throughout the one year of fellowship training, the fellows will work as a junior level Medical Examiner, performing examinations at the Office of the Chief Medical Examiner in Farmington, Connecticut, under the supervision and teaching of nine experienced board certified Forensic Pathologists. The fellows will perform autopsies on all types of deaths and manners of death. Additionally, the fellows will experience dedicated rotations in toxicology, forensic science, investigations, and crime-scene investigation. The fellows will have the opportunities to observe the testimony of others and testify on their own cases. Our teaching faculty will offer the fellows additional on-site expertise in forensic anthropology, neuropathology, cardiovascular pathology and pediatric pathology.
On this website you will find comprehensive information about our OCME fellowship program, how to apply, and information about the Greater Hartford area.
We are currently accepting applications for this program. If interested in applying for this fellowship, contact Dr. James Gill at jgill@ocme.org.