Welcome from the Program Director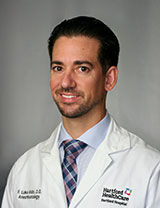 Welcome to the University of Connecticut Adult Cardiothoracic Anesthesiology Fellowship. This is a 1-year ACGME accredited fellowship. We will be accepting two fellows each year. The goal of the fellowship is to produce confident, well-trained cardiac anesthesiologists. Our team consists of 14 fellowship-trained cardiac anesthesiologists, all of who have advanced perioperative TEE certification. The majority of clinical experience during the fellowship will take place at Hartford Hospital where we have a well-diversified and exceptional cardiac program. Hartford Hospital is an 800-bed university affiliated tertiary care community hospital. The large and growing Hartford HealthCare System allows for a robust volume of complicated patients being transferred for advanced and sophisticated cardiovascular care.
Hartford Hospital performed approximately 1500 cardiac cases in 2020. We have a well-rounded program and provide anesthetic care for a wide variety of cases including CABGs, valve repair/replacements, LVADs, ECMO, heart transplants, TAVRs, TMVRs, mitral clips, PFO closures, and Watchman procedures. We place a lot of emphasis on learning the fundamentals of TEE and gaining adequate experience, so that our fellows are well prepared to pass the advanced PTEeXAM.
Our department also provides anesthesia services for the cardiac surgical program at UConn Health, the academic medical center of the University of Connecticut. Fellows will spend four weeks at UConn Health to allow them to experience institutional variations in perioperative management of the cardiac patient.
We will have weekly didactics and a weekly M&M conference, as well as journal clubs throughout the year. Our fellows are expected to take on scholarly activity during their year with us. This may include joining an ongoing research study, creating a poster presentation for a national meeting, writing an article, contributing to a book chapter, or performing a quality improvement project.
We thank you for your interest in our program.
For more information regarding the program please contact:
F. Luke Aldo, D.O.
Program Director
Patrycja Luke
Program Coordinator
UConn School of Medicine
263 Farmington Avenue, MC 1127
Farmington, CT 06030-1127
Phone: 860-679-2744
Email: pluke@uchc.edu