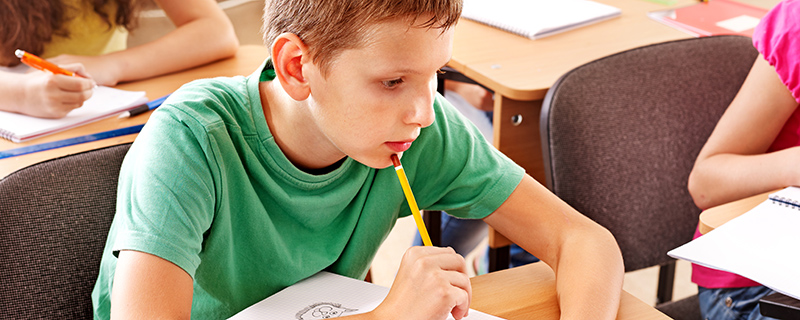 Many adopted children, who may be doing well early on, can suddenly demonstrate negative and out-of-control behaviors once they start their academic careers. School environments present a tremendous challenge to many of our adopted children due to the increase in social interactions and the demands placed on their focus, concentration, and performance.
"When kindergarteners get fired from kindergarten, we have a serious problem in our perspective of childhood behavior. The solutions that are traditionally in place for children with challenging, difficult, and even severe behaviors are not working—they are failing our children in the classroom." (from "Help for Billy")
Adopted children tend to have a high sensitivity to stress, with high states of anxiety. They become easily over-stimulated and overwhelmed. They communicate these unsettling feeling states through acting-out behaviors or by defiant and resistant behaviors.
If we punish children to try to make them behave, as we have traditionally done in our schools by taking away privileges, taking points off point charts, or giving detentions or suspensions, we simply create more stress for them. The result is a child who continues to decompensate without a chance to recover.
The solution is to understand our children and how their adoption experience has set up their systems and perspectives differently. It takes a shift and the courage to see life through the eyes of adoption. In short, it takes trusting that love, when applied in the right way, never fails.
Heather T. Forbes, L.C.S.W.
Author of "Help for Billy" and the "Beyond Consequences" series
Learn More
Hear from students themselves in this short video:
Dear Teacher: Heartfelt Advice For Teachers From Students
Featured Reading
Help for Billy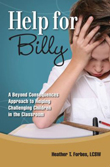 "Help for Billy," by Heather T. Forbes, L.C.S.W., is a pragmatic manual to help guide families and educators who are struggling with traumatized children. Based on the concept of the neuroscience of emotions and behavior, this manual provides detailed, comprehensive, and logical strategies for teachers and parents. This easy-to-read book, with tables, outlines and lists, clears the way for a better understanding of the true nature regarding traumatic experiences affecting the brain and learning.
AAP Lending Library
View books and DVDs on School Challenges available to borrow
Online Learning
Beyond Consequences Classroom
Online course offered by Beyond Consequences Institute
This LIVE interactive course with Heather T. Forbes, L.C.S.W., is based on her new book, Help for Billy and will guide both parents and educators on how to create a learning environment for children with trauma histories or any child exhibiting negative and difficult behaviors.
Adoption and Classroom Success: Beyond the Basics
Webinar offered by Adoption Learning Partners
Circumstances prior to adoption often cause adopted children to experience school, among other things, in a different framework than other children. Orphanage care, foster care, and prenatal exposures are all events that can affect behavior as a child grows. Heather T. Forbes, L.C.S.W., will discuss how to help your child be more successful at school, thereby easing some of the stress at home.
Articles and Websites
Adoption in the Schools: A Lot to Learn
Evan B. Donaldson Institute, September 2006
Back to School: A Guide to Making Schools and School Assignments More Adoption Friendly
Adoption Advocate No. 27, National Council for Adoption, September 2010
Children of Trauma: What Educators Need to Know
Adoption Advocate No. 63, National Council for Adoption, September 2013
Helping to Make More Schools "Adoption-Friendly"
Adoption Advocate No. 99, National Council for Adoption, September 2016
The Unique Educational Challenges Facing Youth in Foster Care
Adoption Advocate No. 51, National Council for Adoption, September 2012
Recommend an article or other resource
Special Education Resources
Capitol Region Education Council (CREC)
CREC provides a wide array of cost-effective and high-quality programs and services to meet the educational needs of the children and adults in the Capitol Region.
Connecticut Parent Advocacy Center (CPAC)
CPAC is a statewide nonprofit organization that offers information and support to families of children with any disability or chronic illness, age birth through 26. CPAC is committed to the idea that parents can be the most effective advocates for their children, given the confidence that knowledge and understanding of special education law and its procedures can bring. The agency is staffed by parents of children with disabilities who have training in, and personal experience with, the law and disability issues. In addition to speaking with parents on a daily basis, CPAC staff conducts in-service presentations for schools and service providers throughout the state so that they may better understand and serve the parents with whom they work.
SpecialEducationGuide.com
An on-line resource for parents and educators on terminology, procedures and best practices in special education.
SPED*NET, Special Education Network of Wilton, Ltd.
SPED*NET is an organization designed to educate the public about special needs, special education, and disability-related issues. It serves as an advocacy and supportive network for Connecticut families of children with special needs, especially families with IEPs and Section 504 Plans. Staff strive to empower parents, professionals, and students to become more effective advocates in their schools and communities. The organization sponsors a free yearly speaker series, providing information on the latest therapies, strategies, and research in the educational, medical, and social realms. In addition, it offers a great easy-to-read and understand guide to special education in Connecticut, Bringing Knowledge to the Table: How to be an Effective Advocate for Your Child.
Wrightslaw
Provides information about special education law, education law, and advocacy for children with disabilities. Offers The Special Ed Advocate—a free online newsletter about special education legal and advocacy topics. Subscribers learn about new cases, articles, seminars and training, special offers on books by Pete & Pam Wright, and other useful information about special education law and advocacy.
"The AAP provided prompt attention to our questions and concerns, courteous and respectful treatment, and assistance locating and securing community-based support. AAP is a very valuable and necessary resource!" – Adoptive Parent