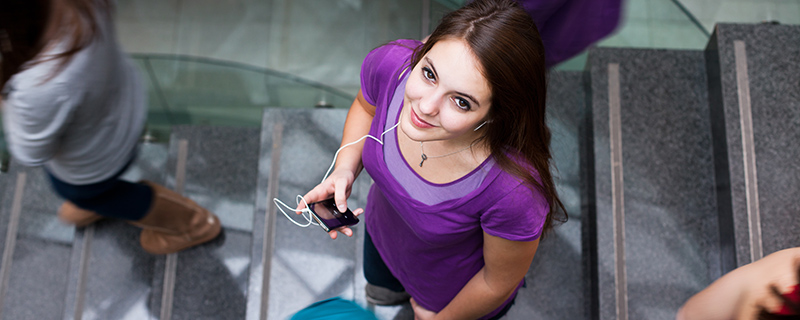 Although the age of majority is 18 in most states, a child does not automatically become an adult at that point. Rather, the acquisition of important life skills happens gradually as a young person moves from dependence on his or her family to independence. This transition to adulthood often extends into a young person's mid-20s.
An important part of parenting teenagers is creating the conditions in which they can master adult tasks and take on greater independence. Teenagers need time to gradually learn and practice adult life skills, such as finding a job, managing finances, doing laundry, preparing meals, driving a car, and arranging medical appointments. Some adopted teens need extra time, attention, and encouragement to learn adult tasks. They may not be ready for adult responsibilities at the same age as their peers.
Teens who experienced unstable living situations may not be ready to live away from their families until well past the teen years, even if they are developmentally able. Some may choose to live at home and attend a local community college rather than go to a university where they would need to live on campus. Some adopted teens have even experienced sudden drops in their grades as graduation approached, due to fears about having to leave home before they feel ready.
Teens with learning delays or disabilities will require extra time and effort to learn adult life skills. They may need to experiment with alternatives and adjustments for skills—such as driving—that are not within their reach. Very few young adults are ready for full "independent" living. We all need ongoing support and encouragement from family as we learn to negotiate the adult world. Launching adopted children from the family home brings some unique challenges. "Interdependence" rather than "independence" is a more fitting goal for young adults as they venture into the world. Base your support and expectations on your child's abilities, level of emotional security, and history—and not on their chronological age or what their peers are doing.
Despite the challenges, raising adopted teenagers can be very rewarding. With clear communication, supervision, guidance, and support, parents can help their teenagers prepare for healthy, happy, and productive adulthoods. Parents who respect their teens' histories and birth families will foster strong and lasting relationships with their young adult sons and daughters.
Child Welfare Information Gateway, 2009
Learn More
Articles and Websites
Building a Bridge: From School to Adult Life
A handbook for students and family members to help with preparation with life after high school. Published by the Connecticut Transition Task Force in 2009.
Central Connecticut State University – CARE Scholars Program
The CARE Scholars program is dedicated to providing students coming from foster care or adoption with supportive services.  Services include year-round housing, peer mentoring, academic advising, and social and emotional support.
Casey Life Skills (CLS)
CLS is a free tool that assesses the behaviors and competencies youth need to achieve their long term goals. It aims to set youth on their way toward developing healthy, productive lives. Examples of the life skills CLS helps youth self-evaluate include: maintaining healthy relationships, work and study habits, planning and goal-setting, using community resources, daily living activities, budgeting and paying bills, computer literacy, and their permanent connections to caring adults. CLS is designed to be used in a collaborative conversation between an educator, mentor, case worker, or other service provider and any youth between the ages of 14 and 21. It is appropriate for all youth regardless of whether they are in foster care, live with their biological parents, or reside in a group home.
Connecticut Bureau of Rehabilitation Services (BRS)
BRS has developed a Transition Toolkit to provide youth and young adults, their families and professionals with information to help them prepare for postsecondary education and employment.
Connecticut's Transition Planning Manual and Resource Directory
Connecticut Interagency Transition Task Force, 2004.
Easing Into Secondary Transition: A Comprehensive Guide to Resources and Services in Connecticut
A guide which provides educators, students and families throughout Connecticut an opportunity to identify and access these secondary transition planning resources. July, 2013.
United States Job Corps
Job Corps is the nation's largest career technical and education program for young people of at least 16 years of age.  A voluntary program administered by the U.S. Department of Labor, Job Corps provides eligible young men and women with an opportunity to gain the experience they need to begin a career or advance to higher education.
Recommend an article or other resource
Please note: The Adoption Assistance Program (AAP) does not promote or endorse any websites, organizations or individuals that may be linked from this site. The AAP does not guarantee the accuracy of the information or the appropriateness of advice for a particular situation. It is our intent to assist users in their search for reliable and useful sources of information pertaining to adoption, legal guardianship, and parenting.