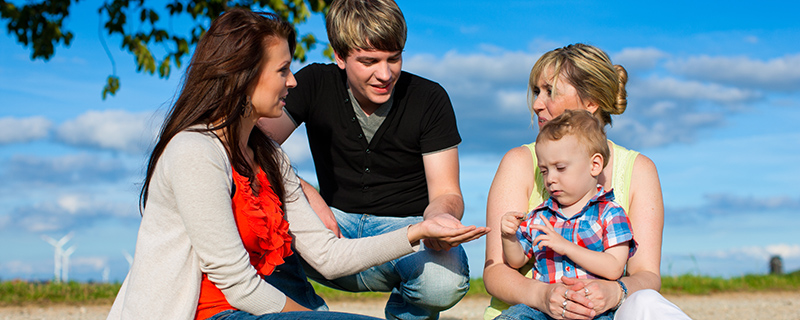 Open adoption refers to a type of adoption in which birth and adoptive families have some form of initial and/or ongoing contact. Openness in adoption can provide a child or youth with valuable connections to his or her past. No single open arrangement, however, is right for everyone. Open adoption relationships, like all relationships, change and evolve as the individuals involved reach different stages in their lives. Communication and contact may increase or decrease at different times, reflecting varying needs, interests, and life situations of the children and youth who have been adopted, birth parents, and adoptive families.
While common openness fears and myths persist, today, most adopted children and youth know that they are adopted, and many adoptive families have had some contact with birth families. A national study of adoptive families in the United States found that in approximately one-third of all adoptive families, the adoptive parents or the adopted child or youth had some contact with the birth family after the adoption. Post adoption contact occurred more often in private domestic adoption (68 percent) as compared with adoption from foster care (39 percent) and international adoption (6 percent). A more recent study among U.S. adoption agencies reported that almost all (95 percent) of their domestic infant adoptions were open.
As with any relationship, there may be bumps and challenges along the way in the relationships between birth and adoptive families. Through careful consideration of options, a clear child-focused approach, a strong support system and commitment to making it work, and you can decide what level of openness is right for your family.
Child Welfare Information Gateway. (2013)
Openness in adoption: Building relationships between adoptive and birth families. Washington, DC: U.S. Department of Health and Human Services, Children's Bureau.
Learn More
Featured Reading
The Open-Hearted Way to Open Adoption
Lori Holden, 2013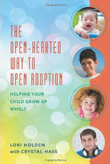 Prior to 1990, fewer than 5 percent of domestic infant adoptions were open. In 2012, 90 percent or more of adoption agencies are recommending open adoption. Yet these agencies do not often or adequately prepare either adopting parents or birth parents for the road ahead of them! The adult parties in open adoptions are left floundering.
There are many resources on why to do open adoption, but what about how? Open adoption isn't just something parents do when they exchange photos, send emails, or share a visit. It's a lifestyle that may feel intrusive at times, be difficult or inconvenient at other times. Tensions can arise even in the best of circumstances. But knowing how to handle these situations and how to continue to make arrangements work for the child involved is paramount. This book offers readers the tools and the insight to do just that. It covers common open-adoption situations and how real families have navigated typical issues successfully. Like all useful parenting books, it provides parents with the tools to come to answers on their own, and answers questions that might not yet have come up.
Through their own stories and those of other families of open adoption, Lori and Crystal review the secrets to success, the pitfalls and challenges, the joys and triumphs. By putting the adopted child at the center, families can come to enjoy the benefits of open adoption and mitigate the challenges that may arise.
More than a how-to, this book shares a mindset—a heartset—that can be learned and internalized, so parents can choose to act out of love and honesty throughout their child's growing up years, helping that child to grow up whole.
Online Learning
Maintaining Connections
Online course offered by Adoption Learning Partners
A fear of not being able to maintain connections with his/her birth families and past may cause a teen to react negatively to an adoptive family. Created by the Family Connections Project through Adoptions Unlimited, Inc., this course is designed to advise child welfare professionals on helping youth maintain contact with birth families and past connections.
Open Adoption 101: What to Consider, How to Establish, and Ways to Stay Connected
Online course offered by Adoption Learning Partners
Open adoption can be a scary and difficult relationship to understand. This course will explain open adoption, will help you to understand the expectant parent and birth parent perspectives, and will offer some strategies for making openness part of your everyday life.
Is That My Mom on Facebook?
Online course offered by Adoption Learning Partners
Online tools like Google and Facebook have revolutionized the way we look for information and connect with one another. Your teen (or even tween) may be searching for birth relatives online. He or she may also be approached online by a birth relative … or someone posing as one. This webinar will share strategies on talking to your children about searching and preparing them for possible outcomes. It will also identify safety risks and discuss how to avoid them.
Articles and Websites
A Deeper Conversation on Information Sharing in Adoption: Compromise Offers Promise and Keeps Promises
Adoption Advocate No. 46, National Council for Adoption, April 2012
Openness in Adoption: From Secrecy to Stigma to Knowledge and Connections
Evan B. Donaldson Adoption Institute, March 2012
Postadoption Contact Agreements Between Birth and Adoptive Families
Child Welfare Information Gateway, May 2011
Recommend an article or other resource
Please note: The Adoption Assistance Program (AAP) does not promote or endorse any websites, organizations or individuals that may be linked from this site. The AAP does not guarantee the accuracy of the information or the appropriateness of advice for a particular situation. It is our intent to assist users in their search for reliable and useful sources of information pertaining to adoption, legal guardianship, and parenting.