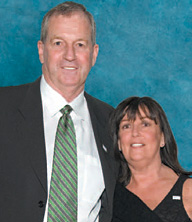 Both Pat and Jim Calhoun lost parents to heart disease. Through the years, they have put their empathy and concern for other families to work – and have generously supported cardiology research at UConn Health. In 2003, UConn officials announced that the entire cardiology program at UConn Health, including all patient services, education and research, would be named in honor of the Calhoun's generosity and friendship.
"We have to do all we can to make sure no child comes home to find a parent is no longer with them because they have died prematurely from heart disease."

Jim Calhoun
Former Coach of the UConn Men's Basketball program
For more information, call 860-679-3343.The Pat and Jim Calhoun Cardiology Center is a vibrant, active center that provides excellent care for Connecticut men and women and fosters new learning and new initiatives in cardiology research.