At UConn Health's Pat and Jim Calhoun Cardiology Center, a multidisciplinary team of cardiologists, hypertension specialists, vascular surgeons, and other medical professionals offers top quality care for diseases of the heart and blood vessels, the most prevalent diseases among Americans.
UConn cardiologists and hypertension specialists provide advanced medical approaches to help patients manage risk factors such as high cholesterol, high blood pressure, and diabetes. Patients also have access to a full range of sophisticated surgical procedures performed by some of the most highly skilled cardiac and vascular surgeons in the country.
Because UConn Health is the only university hospital in northern and central Connecticut, patients at the Pat and Jim Calhoun Cardiology Center receive the advantages of the latest research and innovations in heart health care. UConn physicians and researchers work closely together to develop new therapies and approaches in both the prevention and treatment of heart and blood vessel diseases. It's no wonder the UConn cardiology team is winning hearts.
About Pat and Jim Calhoun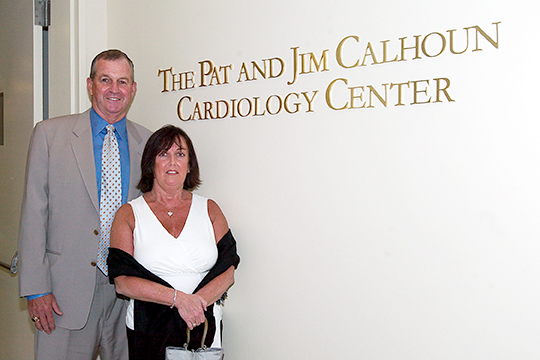 Both Pat and Jim Calhoun lost parents to heart disease and, because of this, they have been instrumental in supporting cardiology research at UConn Health. In 2003, UConn officials announced that the cardiology program, including all patient services, education, and research, would be named in honor of the Calhouns for their ongoing passion and generosity in the fight against heart disease.
Jim put it best when he said, "We have to do all we can to make sure no child comes home to find a parent is no longer with them because they have died prematurely from heart disease."
The Pat and Jim Calhoun Cardiology Center has received numerous awards for our treatment of heart failure, stroke, severe heart attacks, overall cardiovascular care, and many others.
Call To Make An Appointment
860-679-3343