The Peripheral Nerve Program at UConn Health specializes in helping those with peripheral neuropathy, a disorder causing progressive and persistent pain, weakness, or tingling in the hands and feet.
If you or your doctor suspect you may have peripheral neuropathy, our specialists will begin with an initial evaluation that includes a review of your medical history and neurological exam. Further evaluation may include laboratory testing as well as nerve conduction studies with EMG. Genetic testing may be appropriate if there is a family history of nerve disease.
We also offer advanced testing such as nerve imaging, nerve and skin biopsies, and autonomic testing to measure the functioning of your autonomic nervous system which controls breathing, blood pressure, sweating, and more. Our team includes fellowship-trained neuromuscular neurologists, a neurophysiatrist, physical therapists and occupational therapists.
The Peripheral Nerve Program also has a specialized multidisciplinary peripheral neuropathy clinic where patients will be evaluated by several members of our team during one extended visit. You will start with a visit with a neurologist, and, if necessary, you may be sent for testing or even for physical therapy all in that same visit. With a quick diagnosis and treatment plan, our goal is to stop disease progression and alleviate symptoms as quickly as possible.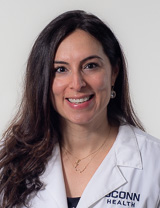 Amanda L. Hernandez, M.D., Ph.D.
Neuromuscular Disease, Neurology, Multiple Sclerosis, and Neuroimmunology