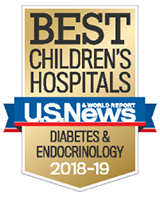 We are excited to introduce you to the Pediatric Endocrinology Fellowship at the University of Connecticut School of Medicine and Connecticut Children's.
Our fellows are an integral part of our division. The Connecticut Children's Division of Endocrinology has been ranked in the 2018-2019 U.S. News & World Report "Best Children's Hospital". Our inpatient clinical activities are based at the Connecticut Children's, a free-standing full-service children's hospital in Hartford, CT, in addition to the Neonatal Intensive Care Units in Hartford and Farmington, CT. A portion of our outpatient programs are at the main hospital location, but the division's primary home is in Connecticut Children's stand-alone ambulatory center in Farmington, CT, which is only 20 minutes from the main campus.
Our academic Department of Pediatrics as well as the primary research institution, is within the University of Connecticut School of Medicine in Farmington, Connecticut.
Our fellowship in pediatric endocrinology is three years in duration and has been designed to meet the requirements of the subspecialty board in pediatric endocrinology of the American Board of Pediatrics. The primary focus of the first year is clinical, with dedicated time over the year to develop research projects and identify a research mentor as well as any educational needs to succeed in the project. The second year is largely focused on the major clinical, translational or basic science research project of the fellow, under the mentorship of accomplished faculty. There are opportunities in the third, and final year, of the fellowship, to adjust the focus to best fit the individual fellow's career goals in and develop more specific expertise.
Our program provides a balance of excellent clinical training and research to prepare graduates for successful careers in pediatric endocrinology, whether academic or private practice.
On behalf of our faculty and staff, we thank you for your interest in our Pediatric Endocrinology Fellowship Program, and encourage you to explore our page for details.
If you have questions, or need more information, please contact our Program Coordinator, Amanda Ross at aross@connecticutchildrens.org.
Rebecca Riba-Wolman, M.D.
Program Director, Pediatric Endocrinology Fellowship
Clinical Director, Division of Endocrinology and Diabetes
Assistant Professor of Pediatrics
Emily Germain-Lee, M.D.
Chief, Division of Endocrinology and Diabetes
Professor of Pediatrics
Christine Trapp, M.D.
Assistant Program Director, Pediatric Endocrinology Fellowship
Assistant Professor of Pediatrics
Amanda Ross
Program Coordinator, Pediatric Endocrinology Fellowship