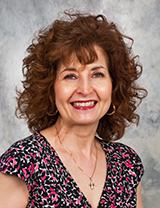 As Program Manager, Donna is responsible for managing the following for the Office of Faculty Affairs: senior rank nomination for appointment/promotion/tenure for the Senior Appointments and Promotions Committee (SAPC), post-tenure review, sixth-year reviews, department and type II center reviews for the School of Medicine, and faculty development workshops and programs.
Donna is a 29-year employee of UConn Health who started her career in the Department of Anatomy.
Donna can be reached at dpatterson@uchc.edu or 860.679.2617.