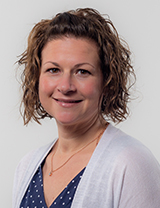 Cindy facilitates the selection of professional category process and attestations of required learning following faculty appointment.  Additionally, Cindy is responsible for assisting Donna Patterson, Program Manager for Faculty Development with work involving:
Senior Appointments and Promotions Committee (SAPC)
Department and Type II Center reviews
Faculty development workshops, programs, and events
Cindy began her career at UConn Health in 2017 as a medical assistant in General Medicine before transferring to East Hartford Internal Medicine and Women's Health in 2018. There she was instrumental in reorganizing the pain management and Suboxone programs. Prior to joining UConn Health, she worked in urgent and primary care for many years. Cindy has received a Bachelor's degree in Business Administration, Healthcare Management.
Cindy can be reached via email at cysullivan@uchc.edu or by calling 860.679.4763.