Current Members
---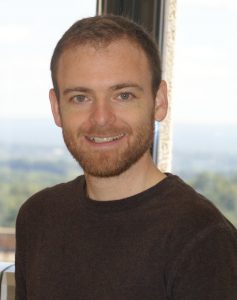 Assistant Professor (In Residence)
Phone: 860-679-2677
Email: egbert@uchc.edu
Website: https://health.uconn.edu/cell-biology/jeremy-egbert/
---

Assistant Professor (In Residence)
Phone: 860-679-2677
Email: shuhaibar@uchc.edu
Website: https://health.uconn.edu/cell-biology/leia-shuhaibar
---
Giulia Vigone
Postdoctoral Fellow
Phone: 860-679-3476
Email: vigone@uchc.edu
As a Postdoctoral fellow in the Jaffe lab, I'm participating in a project regarding the signaling mechanisms by which luteinizing hormone causes meiotic resumption in the ovarian follicle. Prior to joining this lab, I did my Master of Science and PhD research in the laboratory of Developmental Biology at the Univ. of Pavia (Italy), with Dr. Garagna and Dr. Zuccotti, where I specialized on the biology of the ovarian follicle. My research projects were mainly focused on the identification of murine follicle cell markers of the oocyte developmental competence. I'm now interested in more functional aspects of the female gamete growth and maturation.
My work has been mainly focused on the study of cAMP-hydrolyzing phosphodiesterases in granulosa cells of the preovulatory ovarian follicle. Our recent study has shown that multiple cAMP phosphodiesterases are involved in the control of cAMP levels prior to the LH surge. By suppressing spontaneous and premature cAMP elevations, these phosphodiesterases act together to prevent premature progression of meiosis and ovulation. This research contributes to our understanding of the mechanisms underlying the maintenance of meiotic arrest prior to the LH surge.
Recent Publications
Giulia Vigone, Leia C. Shuhaibar, Jeremy R. Egbert, Tracy F. Uliasz, Matthew A. Movsesian, and Laurinda A. Jaffe. (2018) Multiple cAMP phosphodiesterases act together to prevent premature
oocyte meiosis and ovulation. Endocrinology. 159: 2142-2152.
Poster About Current Research
Vigone, G, Egbert, JR., and Jaffe, LA. Synergistic activities of multiple cyclic AMP phosphodiesterases prevent premature meiotic progression, ovulation and progesterone signaling in mouse ovarian follicles. Gordon Research Seminar and Conference "Fertilization and Activation of Development", Holderness School, Holderness, NH, USA – July 15-21, 2017
---
Tracy Uliasz
Research Assistant 2
Phone: 860-679-3476
Email: tuliasz@uchc.edu
I am a research assistant in the Department of Cell Biology working jointly in the labs of Dr. Laurinda Jaffe and Dr. Lisa Mehlmann. Both labs are interested in the signaling pathways that regulate meiotic cell cycling. In the Jaffe lab, I have been involved in the study of the regulation and activity of guanylyl cyclase (NPR2) and its ligand CNP, which function to maintain high levels of cGMP in the ovarian follicle and meiotic arrest of the oocyte. We are investigating how luteinizing hormone regulates this system to cause meiosis to resume. In the Mehlmann lab the work I am involved in is focused on how the signaling pathway of the constitutively active GPR3 receptor regulates cAMP levels which is also involved in the maintenance of meiotic arrest.
---
      
Past Lab Members
Seth Lapuk (Postbac, 1982-1983), Pediatric Cardiologist, Connecticut Children's Medical Center, Hartford, CT, and Associate Clinical Professor of Pediatrics UConn School of Medicine
Ana Iglesias (Postbac, 1983-1984), Professor, Universidad Politechnica de Madrid, Spain
Lyanne Schlichter (Postdoc, 1983-1984), Professor, University of Toronto, Canada
Lavinia (Muncy) Ross (Research Assistant, 1984-1990, 2001-2003), Musician, Sweet Home, OR
Doug Kline (Postdoc, 1985-1988), Professor, Kent State University
Paul Turner (Ph.D., 1987), Field Applications Specialist, Affymetrics
Kazuyoshi Chiba (Postdoc, 1988-1989), Professor, Ochanomizu University, Tokyo, Japan
Fraser Shilling (Postdoc, 1991-1993), Co-Director, Road Ecology Center, University of California, Davis
Chris Gallo (Postdoc, 1991-1995), Director, BioProcess Research and Development, Pfizer, Andover, MA
David Carroll (Ph.D., 1996), Professor, Florida Institute of Technology
David Serwanski (Research Assistant, 1995-2002), Retired
Linda Runft (Ph.D., 2000), Medical Writing Senior Manager, Amgen Inc.
Lisa Mehlmann (Postdoc, 1996-2001), Associate Professor, UConn Health Center, CT
Andrew Giusti (Postdoc, 2000-2002), Deceased
Rebecca Kalinowski (Ph.D., 2004), Director at Expense Reduction Analysts, Hartford. Specializing in Medical, Pharmaceutical, and Laboratory Cost Reduction
Leon Freudzon (Postbac, 2004-2005), Assistant Professor, Anesthesiology, Yale School of Medicine
Marina Freudzon (Undergraduate Honors Student and Postbac, 2005-2007), Resident in Dermatology, Yale School of Medicine
Mikhail Tsesis (Postbac, 2009-10), Dentist, Putnam, CT
Rachael Norris (Ph.D., 2009), Postdoc, UConn Health Center, CT
William Ratzan (Ph.D., 2011), Postdoc, Montana State University, MT
Valentina Baena (Postbac, 2013-2015), Graduate Student, UConn Health Center