Monday, May 7, 2018
Commencement Address Guest Speaker: Lorne Golub, D.M.D., M.Sc.
UConn Health Commencement Speaker and Honorary Degree Recipient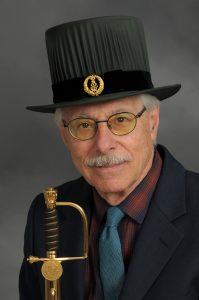 Lorne Golub, D.M.D., is a leading innovator in the development of medicines promoting oral health and treating chronic inflammatory diseases. A Distinguished Professor of Oral Biology and Pathology at Stony Brook University School of Dental Medicine, Dr. Golub ushered in a new way of thinking about and treating one of the most prevalent human diseases, periodontitis - a major cause of tooth loss in adults world-wide.
A Fellow of the National Academy of Inventors, Dr. Golub's research innovations are largely related to his discoveries and development of therapeutic medications as inhibitors of tissue-destructive enzymes called the matrix metalloproteinases (MMPs). These novel medications have shown evidence of efficacy in a variety of oral and systemic diseases including periodontitis, dermatitis, arthritis, diabetes, cancer, and cardiovascular and lung diseases.
Dr. Golub holds 55 United States patents and 104 international patents. His discoveries led to the development of Periostat (CollaGenex Pharmaceuticals, Newtown, Pa.), the first systemic agent to gain the U.S. Food and Drug Administration's market approval as a collagenase-inhibitor drug, for the treatment of progressive periodontal disease. Another drug, Oracea®, also resulted from his research, and is used to treat chronic inflammatory skin disease. Dr. Golub's current research and patent efforts focus on newer-generation MMP-inhibitor drugs.
A native of Winnipeg, Manitoba, Canada, Dr. Golub received his DMD degree in 1963 from the University of Manitoba, Winnipeg, where he also completed his master's degree in oral biology. Dr. Golub completed his certification in periodontology at the Harvard School of Dental Medicine and has taught at the State University of New York at Stony Brook School of Dental Medicine since 1973.
Dr. Golub has published more than 300 scientific articles over his 50 years of funded research. He has received numerous national and international distinctions including the following: National Institutes of Health 10-year (NIH) MERIT award (1987); the Helsinki Medal (1991); the Distinguished Scientist award from the International Association of Dental Research (1998); an honorary doctorate (Medicine) from the University of Helsinki (2000); the Distinguished Alumnus Award from the University of Manitoba (2002); the Outstanding Inventor Award from the SUNY Research Foundation (2002); the Gold Medal for Excellence in Research from the American Dental Association (2006); Fellowship in the National Academy of Inventors, NAI (2017); 2018 recipient of the ADEAGies Foundation Gies Award for Innovation-Dental Educator.