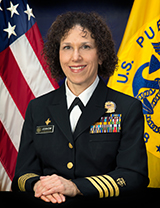 Renée W. Joskow, D.D.S., M.P.H.
Captain, U.S. Public Health Service
Special Advisor, National Institutes of Health
Dr. Renée Joskow is a dentist and a medical epidemiologist who has dedicated her life to service and leading change.  She has inspired others through teaching and mentoring and has provided high quality clinical care and public health expertise in the U.S. and abroad. Dr. Joskow holds the rank of Captain in the U.S. Public Health Service whose mission is "protecting, promoting, and advancing the health and safety of the Nation."
Dr. Joskow graduated from Columbia University's dual-degree Doctor of Dental Surgery and Master of Public Health program and completed both a hospital-based General Practice Residency and the National Institutes of Health (NIH) Dental Public Health Residency/ Intramural Fellowship.  She spent the first half of her professional career integrating teaching, clinical care, and public health. As faculty and course director at Columbia University's College of Dental Medicine and as an Attending Dentist at two hospitals, she cared for patients, taught, and mentored medical and dental students as well as residents. Concurrently, Dr. Joskow maintained a private dental practice in New York and founded a quality assurance and quality control consulting business working with several healthcare entities in the tri-state region.
After nearly 15 years in the academic, corporate, and clinical sectors, Dr. Joskow was commissioned in the U.S. Public Health Service (USPHS) at the Centers for Disease Control and Prevention in Atlanta, Georgia as an Epidemic Intelligence Service (EIS) Officer, or "disease detective". After her EIS assignment, Dr. Joskow joined the Office of the Surgeon General where she served as the Medical Readiness Manager/Training and Education Chief for the USPHS Commissioned Corps, responsible for the training of over 6,100 physicians, dentists, nurses, pharmacists, scientists, and other health professionals. She went on to serve as a Senior Medical Epidemiologist and Program Manager in the Department of Homeland Security's Science and Technology Directorate. Dr. Joskow later returned to the NIH providing subject matter expertise and program management for a multi-million-dollar Clinical Translational Science Award research program to promote and accelerate the translation of scientific research discoveries into clinical practice and then community practice to improve health. Leveraging her diverse experience and depth of expertise, Dr. Joskow was then recruited to the Health Resources and Services Administration (HRSA), a federal agency in the U.S. Department of Health and Human Services, as their Chief Dental Officer. She spent 10 years at HRSA working across health disciplines and building public private partnerships to lead health care systems improvement, health professions training, and integration efforts. In 2021, she accepted a position as Senior Advisor to the Director of NIH's National Institute of Dental and Craniofacial Research (NIDCR). In addition, she was appointed as the inaugural Director of NIDCR's new three-year Dental Public Health Residency and Research Fellowship Program and Acting Director of the Office of Science Policy and Analysis.
Throughout her years of service, Dr. Joskow has responded to environmental and infectious disease outbreaks and has led medical, dental, and public health response teams during natural and man-made disasters.
Dr. Joskow has been recognized with numerous awards and honors for her service, achievements, mentoring, and leadership including two Surgeon General's Exemplary Service Medals. She holds leadership positions in numerous professional organizations and is a Diplomate of the American Board of Dental Public Health. Dr. Joskow is also a Fellow in the Academy of General Dentistry, the American College of Dentists, the International College of Dentists, and the New York Academy of Dentistry.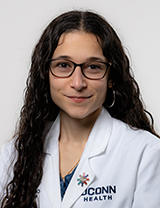 School of Medicine: Celina Caetano
Celina Caetano is a native of Waterbury, CT, being an active member of the community throughout her life and graduating President and Valedictorian of her high school class. However, she says that she has two homes; the first being Waterbury where she grew up, and the second being Portugal where her parents and the rest of her family are from. She graduated with her Bachelor of Science from the University of Connecticut in 2019 as an Honors Scholar in both Molecular & Cellular Biology and Physiology & Neurobiology. During this time, she realized that she had a passion for learning about the health sciences from a comprehensive approach—from the smallest details of basic science research to the patient interaction during clinical opportunities. She started at UConn School of Medicine (her top choice for medical school) that fall. During her time there, she achieved various honors, including the Gold Humanism Honor Society Membership and the Taylor Chenail Award, and a total of seven different publications. In addition, she maintained leadership in numerous activities on campus, including the Disabilities Interest Group and the Urban Service Track. She will be attending residency at Yale-New Haven Hospital for internal medicine, where she hopes to develop into either a primary care physician or a hospitalist. Despite her achievements, Celina has a core set of values for which she lives by. "I call them my 'Four F's,'" she says, "They are, faith, family, food, and futebol (the last means "soccer" in Portuguese to fit the saying). I have been blessed with so many wonderful people and opportunities at UConn. The friends I met are part of my family. The physicians I learned from are who I aspire to become. And I want to thank my mother, father, and brother Fabio for their unfailing love and support, putting up with my stories about yet another strange thing I saw in clinic, and believing in me every single day."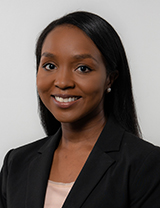 School of Dental Medicine: Flaviah Muchemi
Flaviah Muchemi was born in Nairobi, Kenya, and moved to the United States with her family when she was 10. She graduated from Quinnipiac University in 2016 with a Bachelor of Science in Nursing (BSN) and thereafter worked in the intensive care unit (ICU) at the St. Mary's Hospital in Waterbury and in the cardiac ICU at The Mount Sinai Hospital in New York City. In pursuit of a life-long dream to become a dentist, Flaviah swapped critical nursing for the University of Connecticut School of Dental Medicine in 2019. During her time in dental school, Flaviah served as co-president and national delegate of Student National Dental Association/ Hispanic Student Dental Association (SNDA/HSDA), a student organization that focuses on service in underrepresented communities. After commencement, Flaviah will be continuing her education in an Oral and Maxillofacial Surgery residency at Case Western Reserve University, where she hopes to continue learning and making a positive impact in the lives of her patients.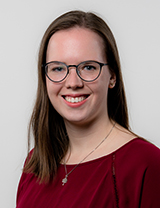 The Graduate School: Emily Fabrizio-Stover
Emily Fabrizio-Stover, 26, was born in Greenwich, Connecticut, but spent most of her time moving between Connecticut and Hong Kong, China until graduating from high school. Emily graduated from Wesleyan University in 2018 with a bachelor's in biology. She is a Ph.D. student in the Neuroscience department at UConn Health Biomedical Science. Her dissertation research focuses on developing an objective test for tinnitus that can be used in both animal research models and human patients. During her research career at UConn Health, Emily has been invited to give talks at international research conferences and has published in international research journals. During her time at UConn Health, Emily has been active in the Graduate Student community as a member of the Graduate Student Organization. She is dedicated to promoting mental health wellness and mental health resources for all graduate students. To this end, Emily has sat on the student behavioral health committee as a student representative. Emily was the first graduate student to attend the student wellness committee to promote sharing of mental health resources between the Medical and Dental Schools with The Graduate School. After graduation, Emily has a position as a research postdoc at the Medical University of South Carolina studying how auditory processing changes with age. Her ultimate goal is to continue to work in academia and teach and continue to inspire love for research in the next generations of scientists. In her free time, Emily enjoys watching movies, doing yoga, knitting, and baking.