Monday, May 8, 2017
Commencement Address Guest Speaker: Dr. Joan Argetsinger Steitz
World-Renowned Researcher of Autoimmune Diseases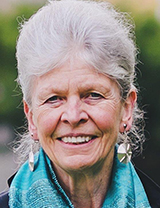 As a college student in the 1960s, Joan Steitz never imagined herself as a top-flight scientist. Certainly, she was fascinated by science. She even assisted senior scientists in laboratories at the Massachusetts Institute of Technology, where she was befriended by James D. Watson, co-discoverer of the DNA double helix, and at the Max Planck Institute in Germany. But when it came time to choose a career path, she had never seen a female professor or head of lab. So, she never aspired to such goals.
Today, Dr. Steitz is a Sterling Professor of Molecular Biophysics and Biochemistry at Yale University, and one of the leading scientists in her field. She is best known for her pioneering work in RNA. She and her student Michael Lerner discovered and defined the function of small ribonucleoproteins (snRNPs) in pre-messenger RNA—the earliest product of DNA transcription—and was the first to learn that these cellular complexes (snRNPs) play a key role in processing messenger RNA by excising noncoding regions and splicing together the resulting segments. Her breakthroughs into the previously mysterious splicing process have clarified the science behind the formation of proteins and other biological processes, including the intricate changes that occur as the immune system and brain develop. Because of this, her research has played a key role in improving the diagnosis and treatment of autoimmune diseases.
Dr. Steitz earned her Ph.D. from Harvard in 1967. After completing postdoctoral work in Cambridge, England, she joined the Department of Molecular Biophysics and Biochemistry at Yale as an assistant professor and later became an associate and full professor, as well as chair of the department.
An Investigator in the Howard Hughes Medical Institute at Yale, Dr. Steitz has published nearly 300 manuscripts, many in the highest-tier journals such as Science, Cell and Proceedings of the National Academy of Science. Her research has been funded by the National Institutes of Health for over 40 years. Currently, she serves as an associate editor for RNA and the Journal of Cell Biology and a member of the editorial board for Genes and Development.
Dr. Steitz has been honored over her career with many prestigious awards and is a member of the National Academy of Sciences, the Institute of Medicine, and a fellow of the American Association for the Advancement of Science and the American Academy of Microbiology.
In addition to her stature as a world-renowned molecular biologist, Dr. Steitz is highly regarded for her excellence as a teacher, a mentor of graduate students and postdoctoral fellows and a staunch advocate of women in science. Dr. Steitz is also recognized as a leader in the state of Connecticut. She has been inducted into the Connecticut Women's Hall of Fame and received the Connecticut Medal of Science.
---
Student Address: Carolyn Bradford, UConn School of Dental Medicine, Class of 2017
Delayed Gratification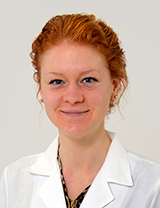 For Carolyn Bradford, graduating from the UConn School of Dental Medicine means there's one last stop before she steps off the educational train and into the real world.
Chosen as commencement speaker for the Classes of 2017 at UConn Health, Bradford says she and many of her classmates are embracing the trend of seeking higher and higher education.
"We're delaying the point at which we enter the workforce by gaining these higher certifications and degrees to ultimately make our world a better place," says Bradford, who will go to Virginia Commonwealth University for a two-year residency in orthodontics. "Our world needs doctors, dentists, and Ph.D.s, all these people who are in this graduating class. It's certainly not an easy path, but we need some people to do it."
It's a path Bradford was convinced she'd take since her early teens.
"I had a lot of cavities as a kid," she says. "I really, really liked my dentist. I figured having as much dental work done as I did, I was either going to love my dentist or just hate going to the dentist, and I loved it. So I knew that was what I wanted to do."
Bradford grew up in the small upstate New York town of Canastota, which she says is known for little other than the International Boxing Hall of Fame. From there it was downstate to Ithaca to study biological sciences, focusing on genetics and development, at Cornell University.
When it was time for dental school, she was ready for a smaller school again. She was drawn to UConn by the class size—43 are graduating this year—and by how the faculty knew and interacted with the students.
"And I really liked how much of an emphasis they put on the biological sciences in the early years to really help draw that in to clinical practice," Bradford says. "Now that I'm up treating patients, I really appreciate having that knowledge, even though it made me a little stressed out for those first two years."
Bradford considers several members of the UConn School of Dental Medicine faculty as mentors, including Drs. Jacqueline Duncan and Ajay Dhingra, whom she credits with providing the exact amount of help needed to shape her as a dental provider, and Dr. Sarita Arteaga, who conducted her admissions interview and encouraged her to apply to be commencement speaker.
Bradford says she'd like to return to the Northeast after her residency, and after some experience on her own, she hopes to be a preceptor in a dental school residency program.
"I really do want to have that academic impact," she says. "I can think of so many instances in my education where clinical faculty have really helped me or told me something that really changed the way I do things for the better, and I'd like to be able to share what I learned with future orthodontists."
As for the Class of 2017, Bradford will remember it as a group that was mostly younger students straight out of undergrad, but with enough older students who entered from different careers. She says that mix brought valuable perspectives.
"I feel like we're all really supportive of each other," Bradford says. "We've grown a lot, and we've grown a lot together."
And her most memorable moment with them?
"During second year, my classmates and I were a bit surprised and super nervous when we learned that we would be practicing local anesthesia administration on each other before offering our numbing services to the general public," Bradford says. "That year, the day that the faculty chose for us to practice injecting each other happened to be my birthday. As it turned out, everything went smoothly, with no teeth, tongues, cheeks, or friendships damaged. And my birthday dinner still tasted delicious!"