Commencement Address Guest Speaker: Peter J. Deckers, M.D.
Peter J. Deckers, M.D., is a surgical oncologist and Dean Emeritus at UConn Health. He served as Dean of the School of Medicine from 1995-2008 and Executive Vice President for Health Affairs from 2000-2008. A graduate of the College of the Holy Cross, Deckers earned his medical degree from the Boston University School of Medicine and Medical Center, where he received the Outstanding Physician Award. He completed his residency in general surgery, a fellowship in surgical oncology in the Surgical Branch of the National Cancer Institute at the NIH, and was a U.S. Public Health Service trainee in academic surgery at Boston University where he began his career and advanced to the position of professor and vice-chair for surgical education. He joined the Health Center in 1987 after three years as Director of Surgery at Hartford Hospital.
Deckers' honors are many, and they include the Sanctae Crucis Award of Holy Cross College, the Kaiser-Permanente Teaching Award, the Carole and Ray Neag Medal of Honor, and the Robert U. Massey Award for Distinguished Service to name just a few. Dr. Deckers is a past President of the New England Cancer and New England Surgical Societies. He received an Honorary Degree from Assumption College. Deckers also has an award at UConn Health bearing his name, the Dr. Peter J. Deckers Employee Appreciation Award. This award recognizes one outstanding employee, annually, who consistently demonstrates commitment and passion, strong leadership, exemplary professional skills, and commendable personal attributes, all in support of the UConn Health mission. This is among the highest honors awarded to UConn Health employees.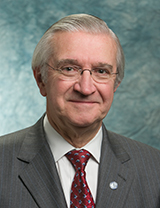 Graduate School: Spencer Keilich
For the past five years, Spencer Keilich has been studying a very common and deadly virus. Before the coronavirus changed our world, influenza was the disease of most concern each year as it especially threatens our older population.
Keilich and his research mentor Dr. Laura Haynes, a renowned immunologist, wanted to know why older adults become disabled when they get the flu and how that can be prevented.
"It just kind of blossomed and worked out really well," he says. "We just got a paper accepted that shows how the loss of certain muscle fibers during flu infection can lead to disability but with vaccination you can prevent these events from happening."
Keilich, who is being awarded a Ph.D. in biomedical science with a concentration in immunology, says he's always had a "scientific brain." When he told his parents – both computer programmers – that he liked science but not computers, they were supportive.
"They were fine with whatever I wanted to pursue, whatever I was most passionate about," says Keilich, who grew up in Windsor.
That acceptance of his changing interests continued in college. While earning his undergraduate degree in Biomedical Engineering at Worcester Polytechnic Institute, he began taking biology classes as a minor. "It bloomed into an understanding of viruses and the immune system which fascinated me with how complicated it was and all the moving parts."
Which led him to UConn and its highly ranked immunology program. "I shopped around for graduate schools all over the country," Keilich says. "It seemed like the research was most interesting here and I felt better connections with the professors and faculty. For me it just seemed like a better fit."
Keilich is already pursuing the next stage of his career. He's a staff scientist at QCD-x LLC in Farmington, part of the technology incubation program at UConn Health, where he's investigating how to isolate and identify rare tumor cells in patient's blood to detect early cancers.
"My goal was always to try and use my engineering skills and my knowledge of immunology and biology to fix some of the things going on in diseases or in conditions such as cancer," he says. "So my work at QCD-x is really the perfect opportunity for me."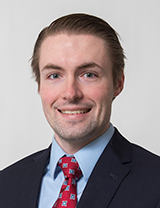 Dental School: Erica Quinones
Erica Quinones was only 8 years old when she told her parents she wanted to be a dentist when she grew up. She gives her mom, a dental hygienist, full credit for the decision.
"I was with her in the office a lot as a kid and I saw how much she loved the profession," says Quinones. "Even though she encouraged me to look at other careers, I held steadfast and it's worked out. But it was 100% because of my mom."
So it was extra special that Quinones was able to share her greatest experience in dental school with her mother. When Quinones led a service trip to Puerto Rico last year, her mom came along and they helped provide much needed dental care for residents still suffering after Hurricane Maria hit the island in 2017.
"My mom was doing cleanings and I was working on patients," explains Quinones. "I am Puerto Rican and I have family on the island so I'm glad we had the opportunity to help. Many dentists left the island after the hurricane so there are still a lot of access to care issues especially in the rural areas."
Quinones is from Trumbull and received her undergraduate degree from Hartford's Trinity College. When she started applying to dental schools, she was pleased to learn that one of the best was in her own backyard. Even so, proximity wasn't the reason she decided on UConn.
"It's really about the community that UConn brings together," she explains. "Being smaller all the faculty know you, you're not just a number."
Quinones says the COVID-19 pandemic has made it clear what a good decision that was.
"From the very start of the crisis, the faculty got together with the fourth year students and said 'no matter what happens, you're going to be okay, we have your back.' Deans and department heads have been in constant communication – making sure we complete assignments and satisfy graduation requirements."
As Quinones prepares next for her general practice residency at New York Medical College, she's grateful for her time at UConn. "Having that small community is a really big thing, especially when you're going through something as tough as finishing dental school during a pandemic."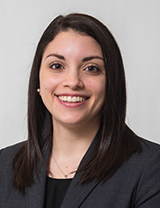 Medical School: Kathryn Topalis
For Kathryn Topalis and her classmates, the final weeks of medical school have been drastically different than what they expected before the coronavirus changed our world. And for many of them, including Topalis, they'll soon be among the front-line providers battling COVID-19.
Topalis is doing her residency in family medicine at Thomas Jefferson University Hospital in Philadelphia. She will be doing her first rotation in the hospital at about the same time coronavirus cases are expected to peak there.
Topalis has been volunteering a couple of days a week in UConn Health's Emergency Department but she realizes it will be much more intense when she's the primary provider. "I'll go from not having major responsibilities and just helping out to suddenly it's all on you - this is your job now."
Because of coronavirus concerns, the class of 2020 is the first to have a virtual Match Day and Commencement ceremony. But it will also be remembered as the first class to embark on the school's new MDelta curriculum which focuses on team-based learning and advanced clinical skills training.
"It's always hard being the first of anything but I don't think I would have gotten to know my classmates as well if we hadn't been interacting so closely in the classroom," says Topalis. "It really is a valuable and forward-thinking approach. You can see it in action now as health care providers across the spectrum are teaming up to battle the coronavirus."
Topalis grew up in Simsbury and says even though both of her parents work in health care – her mom is a nurse and father a pharmacist – her decision to enter medicine was not an easy one.
"I was always a person who was interested in a million different things," she explains. "I wanted to be a marine biologist and I also considered environmental engineering. I didn't want to give up any of the things I loved."
Some of her experiences during and after college focusing on sustainability and public health issues made her realize that medicine was an avenue where she could pursue all of her interests.
"Going into medicine I could continue looking into environmental issues from the public health perspective and really learning about people's lives, their backgrounds, where they live and how that impacts their health and overall well-being," she says. "My dream is to remain a clinical provider but also to eventually have a large public health research component to my practice."
A goal we can appreciate as we all face the deadly challenges of a global pandemic.
"It's impossible now to unlink medicine and public health," she adds. "It's one and the same. And even though we try to remain in our silos, I think we can see that we need a strong public health system now more than ever."