Monday, May 7, 2018
Commencement Address Guest Speaker: Lorne Golub, D.M.D., M.Sc.
UConn Health Commencement Speaker and Honorary Degree Recipient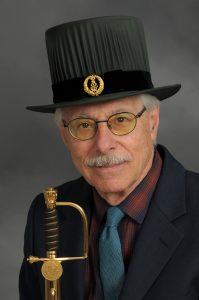 Lorne Golub, D.M.D., is a leading innovator in the development of medicines promoting oral health and treating chronic inflammatory diseases. A Distinguished Professor of Oral Biology and Pathology at Stony Brook University School of Dental Medicine, Dr. Golub ushered in a new way of thinking about and treating one of the most prevalent human diseases, periodontitis - a major cause of tooth loss in adults world-wide.
A Fellow of the National Academy of Inventors, Dr. Golub's research innovations are largely related to his discoveries and development of therapeutic medications as inhibitors of tissue-destructive enzymes called the matrix metalloproteinases (MMPs). These novel medications have shown evidence of efficacy in a variety of oral and systemic diseases including periodontitis, dermatitis, arthritis, diabetes, cancer, and cardiovascular and lung diseases.
Dr. Golub holds 55 United States patents and 104 international patents. His discoveries led to the development of Periostat (CollaGenex Pharmaceuticals, Newtown, Pa.), the first systemic agent to gain the U.S. Food and Drug Administration's market approval as a collagenase-inhibitor drug, for the treatment of progressive periodontal disease. Another drug, Oracea®, also resulted from his research, and is used to treat chronic inflammatory skin disease. Dr. Golub's current research and patent efforts focus on newer-generation MMP-inhibitor drugs.
A native of Winnipeg, Manitoba, Canada, Dr. Golub received his D.M.D. degree in 1963 from the University of Manitoba, Winnipeg, where he also completed his master's degree in oral biology. Dr. Golub completed his certification in periodontology at the Harvard School of Dental Medicine and has taught at the State University of New York at Stony Brook School of Dental Medicine since 1973.
Dr. Golub has published more than 300 scientific articles over his 50 years of funded research. He has received numerous national and international distinctions including the following: National Institutes of Health 10-year (NIH) MERIT award (1987); the Helsinki Medal (1991); the Distinguished Scientist award from the International Association of Dental Research (1998); an honorary doctorate (Medicine) from the University of Helsinki (2000); the Distinguished Alumnus Award from the University of Manitoba (2002); the Outstanding Inventor Award from the SUNY Research Foundation (2002); the Gold Medal for Excellence in Research from the American Dental Association (2006); Fellowship in the National Academy of Inventors, NAI (2017); 2018 recipient of the ADEAGies Foundation Gies Award for Innovation-Dental Educator.
---
Graduate School: James Fink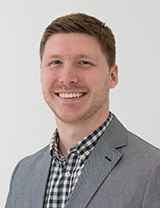 James Fink soon will go from being a lifelong student to a senior scientist at a Boston biotechnology company, where he'll try to advance potential treatments for patients with brain development disorders such as autism.
Fink, 29, spent the last four and a half years studying neurons derived from patients' skin and blood samples in the laboratory of neuroscience professor Eric Levine. These samples can spawn induced pluripotent stem cells, which can convert to neurons, enabling experimentation on genetic replicas of a patient's neurons in the lab setting.
A dual major in biology and psychology at UConn with a minor in neuroscience, Fink followed his undergraduate studies in Storrs with a master's in neuroscience from the University of Hartford. This January he defended his dissertation and leaves UConn Health with a Ph.D. in biomedical sciences.
"I have this sense that the world has a lot of huge problems that we're going to face, and no clear answer on how to solve them," Fink says. "I think keeping your foot to the pedal to try to get these things figured out, that's going to require continued momentum and work."
---
Dental School: Andrew Robert Emery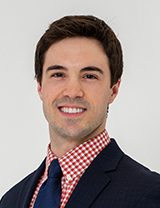 Andrew Emery is a lifelong New Englander who wouldn't be surprised if his career path led him back to his native Maine.
That path would go through Boston first, and with it comes a lot of time to explore other options. This summer he starts a six-year residency in oral and maxillofacial surgery at the Massachusetts General Hospital in Boston.
Emery stayed in Maine through college, earning a degree in medical biology from the University of New England in Biddeford. It was about halfway through his undergraduate studies when he decided to pursue dentistry, influenced by his older sister, who is in private practice in Augusta.
With parents and relatives still in the Winthrop area, family is a big consideration for where he'll end up practicing. But it's not the only consideration.
"I've always thought Maine was an underserved state, so it would be nice to go back," Emery says. "There's obviously a lot of need, and the average age of a dentist is getting up there to the retirement age, so going back would be a pretty suitable option. I think I could maximize my contribution to dentistry by doing that."
---
Medical School: Jonathan Brian Lis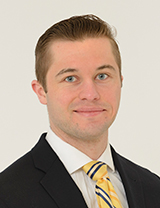 UConn Health is proud to say that many of its medical and dental students end up staying in the state to care for Connecticut's residents. Jonathan Lis plans to be one of them.
Raised in West Hartford, Jonathan received his undergraduate degree in chemistry at Wesleyan University in Middletown. He decided on a career in medicine because it combined his interest in science and his desire to connect and care for people.
Jonathan will spend the next three years at Yale-New Haven doing an internal medicine residency with a focus on primary care.
"I like primary care because of its diversity, you're not pigeonholed into one specific area of medicine. And also the continuity of care and establishing long-lasting relationships with your patients."
Jonathan received numerous honors during medical school, including being chosen by his peers for the Inspiration Award and elected to the Gold Humanism Society.
Jonathan recently married his high school sweetheart, Michaela, who will also be graduating from UConn this spring as an advanced practice registered nurse. After his residency, Jonathan hopes to join a primary care practice or start one of his own - right here in Connecticut.