Suggestions for Postdocs Starting at UConn Health
Training Required
You will be required to come for a "New Hire Orientation" that will be a whole morning/afternoon (usually from 7:45 a.m. - 2 p.m.). While there, feel free to ask questions about anything you would like to know (vacation time, benefits, retirement plans and health insurance plans). You can always ask to bring the paperwork home so you can take your time to study and decide your health insurance/retirement plan.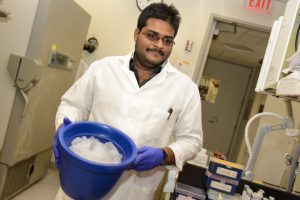 The next day you will be required to come for a "Diversity Awareness Training" which will be the whole morning (usually from 8:30 - 11:30 a.m.)
If you are an international postdoc, right after the previous training you will need to do an "International sign-up" with the responsible HR person. For this you will need all your VISA paperwork (I-94, DS-2019 and passport). At this time you can ask for an employment letter from UConn in order to apply for a Social Security Number.
If working with animals, an animal training will be required before you have access to the animal tower. This training is usually scheduled by your own department since not all postdocs will need it.
Forms to be Filled Out
You will be required to do a "pre-employment physical exam." For this, bring anything that would be relevant to your medical history and any paperwork related to your vaccination history. You will receive a form where you have to state:
History of measles, mumps, rubella immunization and positive antibody titer
History of chicken pox or varicella vaccination and positive antibody titer
History of Hepatitis B vaccination and positive HepB surface antibody titer
Proof of two PPD skin tests at least two weeks apart within the past 12 months or QuantiFERON-TB Gold test within the past 12 months
You will probably need a blood draw for antibody dosages, and you will probably receive additional shots for any vaccines you might need. If you are expected to work with animals (mice, rats, etc.) additional exams might be necessary. Let them know once you are there if this applies.
As a suggestion, always make a copy, scan or take a picture of every form you need to give to the HR department such as the health insurance, retirement plan, visa paperwork and everything else you might think is important.
As mentioned before, you will receive forms to choose your health insurance/retirement plan. You usually receive them on a Friday, as a suggestion, ask to keep them and return on next Monday, so you can take your time doing research and select the plan that fits best for you.
Things You Wished You Had Known When Starting at UConn Health
If you are an international postdoc, pay attention to the pros and cons of the VISA type you will be offered.
Also, if you are coming from abroad and have never gotten a USA driver's license, make sure you have an International Driver's license (which will allow you to drive in Connecticut for up to one year until you have a CT driver's license), or check if your country has a treaty with USA.
Suggested Places to Live
Choose Your Environment
Convenience: Located right across the street from UConn Health are a number of condominiums and apartments that are mainly occupied by medical, dental, and graduate students. Not only is the location convenient, but due to the clustering of medical students, it is easy to make new friends. Further, this set up promotes a social environment which helps to balance the rigors of studying with a pool area for the summer. There are 3 bedroom houses (where you can have roommates and share the rent) and 1 bedroom houses if you want to live by yourself.
Suburban: For those who want to live in a suburban setting, there are a number of houses, apartments, and condominiums in the surrounding towns of Farmington, New Britain, and West Hartford. All of these locations are a short drive to both UConn Health as well as to grocery stores, pharmacies and restaurants. The Westgate Apartment Homes in West Hartford has studio, 1 bedroom, and 2 bedroom options.
Urban: If an urban setting is more for you, the city of Hartford provides this opportunity. Many 'multi-family' houses allow you to rent a whole floor of a house for a reasonable price.
The UConn Off-Campus Housing Office website provides information and resources to help find housing near our campus. You can visit the main page of this website as well for other resources including a Roommates section that is available for UConn employees and students.
Information for Current and Expecting Parents
YMCA/YWCA (Youth Men's/Women's Christian Associations). They usually offer swimming, basketball, racquetball, weight-lifting and daycare.
Daycare Programs Include:
Play Days – A school year half day program that includes sustained independent and group free play, story time, arts and crafts, music and creative movement.
Sunshine Club – A summertime program with lots of outdoor play, arts and crafts, story time and special visitors such as musicians, petting zoo and more.
Tiny Tot Nursery School – A program for 3s, 4s, and Pre-K children that includes swim lessons, instructional gym, music, art, science, and kindergarten readiness.
L.A.Y. – Play and Learn at the YMCA is an afternoon enrichment program for preschoolers that includes circle time, lunch, playground time, gym, and arts and crafts.
UConn Health Creative Child Center – On-site child care for children ages 8 weeks to 5 years old.
The Connection Between UHP and Postdocs
In 2003 the postdocs at UConn Health voted narrowly to join a labor union. On March 16 of that year they voted overwhelmingly 80 to 5 to ratify what is believed to be the nation's first collective bargaining agreement specifically for postdocs. Negotiated by UConn Health and the union University Health Professionals (UHP), also known as Local 3837 of the AFL-CIO-affiliated American Federation of Teachers, the pact was hailed by both sides as fair and sensitive to postdocs' special status as both employees and trainees. It grants sharply improved pay and benefits and establishes UConn Health's first minimum postdoc salary.
The contract also guarantees a three-step grievance procedure that includes union protections and union representation, yearly written evaluations, 3-months' notice if a grant is not renewed, a "just cause" standard of dismissal and discipline following a 6-month probationary period, and the right to be considered an internal applicant for other university positions in case of layoff or non-renewal.
Aims of the Postdoctoral Association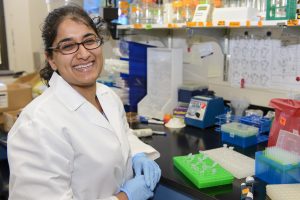 The UConn Health Postdoctoral Association (PDA) aims to foster communication, interactions and collaborations among UConn Health postdocs in order to enhance the quality of your postdoctoral experience. In addition, it strives to assist in preparing you for a successful, professional career at UConn Health and beyond. As a postdoc at UConn Health, you also are represented by the University Health Professionals (UHP) union. The UConn Health PDA works collaboratively with UHP through PDA representatives who attend union meetings to address PDA membership concerns.
The goals of the UConn Health PDA are:
To provide a supportive network for all postdocs at UConn Health
To present an opportunity for collaborations between laboratories at UConn Health
To provide opportunities and resources for career development