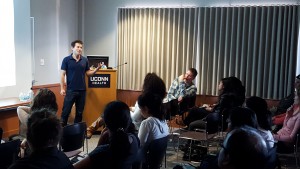 At UConn Health, the Office of Postdoctoral Affairs along with the Associate Dean of the Graduate School sponsor periodic workshops concerning career development. Various student-led interest groups also host events.
Postdocs can also visit UConn Center for Career Development for more career preparation and job search resources.
In addition, other resources can be found on this page including current opportunities for postdocs and grad students as well as other online resources for career development. Finally, all postdocs are welcome to discuss career-related goals and current plans with Dr. Heinen via appointment.
Jobs and Other Career Related Opportunities (
Postdoc positions in green

)
Job/Opportunity
Date Posted
Description
Virtual Postdoc Recruitment Event at Yale University
11/20/2023
Yale University's Office for Postdoctoral Affairs is hosting its Virtual Postdoc Recruitment Event on February 15, 2024 from 1-4pm Eastern Time on Zoom and engages scholars interested in pursuing postdoctoral training at Yale University. As part of the event, we will highlight current and future postdoctoral opportunities at Yale and how to follow up with the corresponding hiring departments and faculty.

Please find full details on our webpage, including the registration form.

Genomics Faculty Positions at the University of Kansas

11/8/2023
We are hiring three Assistant Professors in the area of Genomics or Genome Biology in
the Department of Molecular Biosciences. For more information and to apply, see this flyer.
Postdoc Positions at Rutgers Cancer Institute of New Jersey
10/24/2023
Attend our virtual recruitment event to learn what makes Rutgers Cancer Institute an exceptional environment to be a postdoc performing cancer research and launch your career! Senior PhD and MD/PhD students as well as current postdocs are invited to apply by November 8, 2023 at 5pm ET. For more information, see this flyer.
Institutional Research and Academic Career Development Postdoc Positions at Tufts University
10/20/2023
Positions are available in the Institutional Research and Academic Career Development Awards Program (IRACDA) at Tufts University. This NIH-funded program is designed to prepare talented postdoctoral scholars with the career skills needed to succeed in academic biomedical research. Scholars spend on average 75% of their time conducting research and 25% of their time in career development activities that will help them manage the multiple demands of a faculty position. Applications for Fall 2024 positions are due on February 1st. For more details, see this flyer.
Tenure Track Position at California State University Bakersfield
10/11/2023
We invite applicants for a tenure track position in Biology at the level of Assistant Professor. We are looking for a developmental biologist. Our curriculum broadly covers biology and candidates will teach courses that may include topics in support of general education and undergraduate and graduate-level courses in biology. Specific teaching assignments will be based on department needs and the successful candidate's area of expertise. A successful candidate must be capable of developing externally funded research that includes both undergraduate and graduate students (M.S. Biology). For more information and contact details, see this flyer.
Tenure Track Positions at Appalachian State
9/26/2023
The Department of Biology at Appalachian State University seeks to fill three tenure-track faculty positions at the rank of Assistant Professor to start in Fall 2024. These positions will enhance the department's teaching and research mission in the Cell and Molecular Biology Concentration in the following areas:

Developmental Biology. Area of research specialization is open. Teaching responsibilities include an upper-level course in Developmental Biology.
Immunology.Area of research specialization is open. Teaching responsibilities include an upper-level course in Immunology.
Molecular Biology.Area of research specialization is open. Teaching responsibilities include an upper-level course in Molecular Biology.

For more information, visit this link.

Tenure Track Assistant Professor at Wesleyan University
7/17/2023
The Department of Molecular Biology and Biochemistry at Wesleyan University seeks a tenure-track assistant professor beginning July 1, 2024. The candidate will develop an independent research program supported by extramural funding that integrates current biochemical or biophysical approaches to address fundamental problems in molecular biology; we are particularly interested in candidates whose research addresses RNA structure and function, membrane biology, enzyme mechanisms, infection and immunity, intrinsically disordered proteins, or metabolomics and proteomics. For more information on the position and how to apply, see this pdf.
Industry Postdoc
6/19/2023
We are seeking proposals from outstanding final-year MD and/or PhD students, as well as postdoctoral researchers who will receive their advanced postgraduate degree within three years, and who have an interest in joining a top 10 pharmaceutical company. Our partner invites young researchers to submit innovative ideas that push the boundaries of science in either of the following therapeutic areas:

cardiovascular,
renal & metabolic,
respiratory & immunology,
common infectious and rare diseases.

To learn more, contact Claire Rochat from Inospin

Program Coordinator for Genomic Novelty Postbaccalaureate Program at UConn-Storrs
5/30/2023
We are seeking a program coordinator for a new postbaccalaureate training program in genomic novelty.  This position could be a career stepping stone for a recent PhD or MS graduate (MS requires at least 1 year of additional experience) who is seeking a research-adjacent career focused on mentorship of a diverse cohort of new scientists. The program coordinator would have the opportunity to develop training materials and teach workshops on genomics, bioinformatics and professional development topics, coordinate a cohort project involving genome assembly and annotation, and provide close mentorship to trainees as they explore career and graduate school opportunities.  The position is in-person at the University of Connecticut, Storrs campus, beginning this summer.  The full position description and application information is available here
Postdoc at Texas A&M University
5/8/2023
A post-doctoral position is open in Dr. Robert Chapkin's laboratory (NCI R35 Outstanding Investigator) at the CPRIT Regional Center of Excellence in Cancer Research, Texas A&M University and the NIH-funded Program in Integrative Nutrition & Complex Diseases.  The laboratory is focused on environmental modulation of stem cell biology and its impact on chronic disease risk.  For more info, see this pdf. To apply please submit your CV and statement of current interests to:Dr. Laurie A. Davidson at L-davidson@tamu.edu.
Industry Postdoc at AstraZeneca
4/24/2023
AstraZeneca is seeking proposals from final year MD and/or PhD students or early stage Postdoctoral Researchers with a focus on cardiovascular, renal & metabolic diseases, respiratory & immunology, common infectious and rare diseases. Successful candidates will be awarded fully funded postdoctoral positions at AstraZeneca. For more information, see this pdf.
Postdoc At Brown University
4/24/2023
The laboratory of Dr. Robert W. Sobol  in the Legorreta Cancer Center at Brown University is seeking two postdoctoral research associates for a unique opportunity to apply state-of-the-art cell biology, molecular biology, and gene editing approaches to uncover mechanisms impacting DNA repair, the DNA damage response and replication stress in cancer.  Review of applications will begin immediately and will continue until the position is filled or the search is closed. Please Apply via Interfolio at http://apply.interfolio.com/120923.
Instructional Assistant Professor at the University of Florida
3/13/2023
There is an opening for an

 

Instructional

 

Assistant

 

Professor to teach undergraduate biochemistry at the University of Florida within the Department of Biochemistry & Molecular Biology. Our Department is located within the College of Medicine, and we work with highly motivated students with career interests in research, medicine, and science policy.  


The advertised position centers on, but is not limited to, teaching in our Department's four-credit undergraduate course (BCH4024: Introduction to Biochemistry & Molecular Biology). We are open to all levels of candidates, from recent Ph.D. graduates to experienced lecturers.
More information is available via this job posting link. For questions, please contact the search committee chair, Dr. Lauren Douma.
Faculty Position at the University of Albany
1/3/2023
A tenure-track Assistant Professor position is available in Artificial Intelligence in Biological Sciences for outstanding candidates who have demonstrated potential for developing and/or applying AI research, broadly defined, to any field of biology and any biological system. We welcome candidates who combine experimental and computational techniques. For more information and to apply, visit this link.
For a link to currently available postdoc positions at UConn Health, visit our Postdoctoral Jobs site.
Online Resources
Many online resources exist that can be very useful to graduate students and postdoctoral scholars during their training. The links below offer a wide variety of career resources.
Resource
Description
Individual Development Plans
Provides a planning process that identifies career objectives as well professional development needs.
ScienceCareers.org
Sponsored by Science magazine, this site contains a wide array of career related resources.
Beyond the PhD (formerly AIOG)

Beyond the PhD is a UConn Health student/postdoc-led group that supports peer-professional networking and career development in STEM.

Center for Career Development at UConn

A university-wide career readiness site providing information and resources for all campuses of the University of Connecticut.

UConn Handshake

Handshake is a web-based recruiting system which allows the Center for Career Development to manage many of the recruiting-related activities we offer to students. Students who would like to participate in on-campus interviews and/or view electronic job postings MUST register in Handshake and utilize the system to view job openings, apply for positions, and sign up for interviews.
UConn On Demand Webinars on Career Development

Topics include grant writing, searching for grants, tailoring your CV, faculty life, developing an academic job application, and CVs for industry and academic jobs.
UConn Center for Integration of Research, Teaching and Learning
UConn is a member of a network of PhD-producing universities dedicated to improving the preparation of future faculty. Webinars, workshops and other useful links can be found here.
Best Industry Positions for PhDs
A detailed description of the different kinds of job titles available in industry suited for PhDs from the Cheeky Scientist.
Whova Job Board

The job board for Whova – the official app for the NIH Career Symposium
Active Career Exploration Plan
Science article on the ACE career development plan created by students and postdocs at the University of Michigan.
Making the Right Moves
A Career Development Handbook from the Burroughs Wellcome Foundation and the Howard Hughes Medical Institute.
Grant Writing PowerPoint
Dr. Sandra K. Weller's workshop at UConn Health: "Writing Your First Independent Grant."
Center for Scientific Review at NIH
Valuable resources regarding NIH grants including a video of the mock study section.
BioCT
A cluster of bioscience professionals and industries in CT providing information, entrepreneurship and mentoring. A good place to begin exploring possible careers in biosciences in CT.
BioCT Career Center
Job listings in the state of Connecticut in the bioscience sector.
CTNext

Mentoring. Talent. Capital. Skill development. Networking. Training. Access. Whether you're 

starting

, 

building

, or 

scaling

 a business, CTNext has the 

programs

 and 

partners

 to move you forward.

Columbia Summer SHARP Program
A series of brief summer trainings on a variety of topics. For more information see this flyer.
Benchspace
Online platform for finding laboratory bench jobs including postdocs.
Doc
Website to help identify innovative careers beyond the traditional academic roles for doctors, scientists and healthcare professionals.
APHA Public Health CareerMart
A job site for public health professionals, offering a full-fledged career guidance center for employers and job seekers.
ChronicleVitae
A service of The Chronicle of Higher Education, this site offers career resources and job search capabilities for positions both inside and outside of academia.
AAAS Career Support
Designed to help scientists and engineers forge successful career paths, this site offers a variety of resources and information.
UConn Library Evaluating Journal Quality Page
This page provides information and links on how to evaluate the quality of scholarly journals to help you make good choices when its time to publish.
NIH Individual Fellowship Awards
Searchable database of individual research training opportunities (including international) available to trainees at the graduate and postdoctoral level
AAAS Congressional Fellowships
Information on a variety of fellowship opportunities available through AAAS including policy, media, leadership, and community engagement.
HHS Emerging Leaders Program
Information on the HHS Emerging Leaders Program (ELP), a competitive, two-year, paid, federal internship within HHS.
NAS Christine Mirzayan Science & Technology Policy Graduate Fellowship Program

This program provides early career individuals with the opportunity to spend 12 weeks at the Academies in Washington, DC learning about science and technology policy and the role that scientists and engineers play in advising the nation.
NIH Office of Intramural Training and Education
This site offers career resources and information for graduate student and postdoctoral fellows on careers both inside and outside of academia.