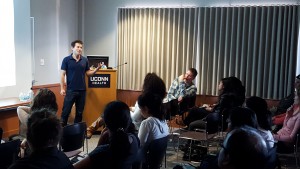 At UConn Health, the Director for Postdoctoral Affairs, Dr. Christopher Heinen, co-sponsors along with the Graduate School periodic workshops concerning career development. View our upcoming events.
In addition, individuals are encouraged to schedule individual meetings with the former Associate Dean for Postdoctoral and External Affairs and emeritus faculty member Dr. Gerald Maxwell to discuss questions regarding their specific career development. To set up an appointment, email Dr. Maxwell at gmaxwell@uchc.edu.
Online Resources
Many online resources exist that can be very useful to postdoctoral scholars during their training. The links below offer a wide variety of career resources.
| Resource | Description |
| --- | --- |
| Individual Development Plans | Provides a planning process that identifies career objectives as well professional development needs. |
| Science Next Wave | Sponsored by Science magazine, this site contains a wide array of career related resources. |
| Making the Right Moves | A Career Development Handbook from the Burroughs Wellcome Foundation and the Howard Hughes Medical Institute. |
| Grant Writing PowerPoint | Dr. Sandra K. Weller's workshop at UConn Health: "Writing Your First Independent Grant." |
| Center for Scientific Review at NIH | Valuable resources regarding NIH grants including a video of the mock study section. |
| BioCT | A cluster of bioscience professionals and industries in CT providing information, entrepreneurship and mentoring. A good place to begin exploring possible careers in biosciences in CT. |
| BioCT Career Portal | Job listings in the state of Connecticut in the bioscience sector. |
| Career Path Videos | The New York Academy of Sciences has videos from 19 Ph.D.'s who have pursued a variety of different career paths and the steps that were involved. |
| UConn Library Evaluating Journal Quality Page | This page provides information and links on how to evaluate the quality of scholarly journals to help you make good choices when its time to publish. |