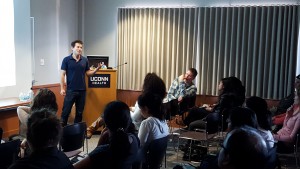 At UConn Health, the Office of Postdoctoral Affairs along with the Associate Dean of the Graduate School sponsor periodic workshops concerning career development. Various student-led interest groups also host  events.
In addition, other resources can be found on this page including current opportunities for postdocs and grad students as well as other online resources for career development. Finally, all postdocs are welcome to discuss career-related goals and current plans with Dr. Heinen via appointment.
Jobs and Other Career Related Opportunities (
Postdoc positions in green

)
| | | |
| --- | --- | --- |
| Job/Opportunity | Date Posted | Description |
| Biotechnology Postdoc at Regeneron  | 11/12/2019 | Postdoc positions are available at Regeneron, a biotech company involved in developing medicines for diseases including cancer, cardiovascular disease, inflammatory disease, infectious disease and others.  Positions are for up to four years. Applications are due by December 1st, 2019. For more information, visit this link. |
| University of Alabama at Birmingham | 11/8/2019 | Dr. Erwin G. Van Meir, Professor, Department of Neurosurgery is looking for postdoctoral fellows for NIH-funded studies on the molecular mechanisms and therapy development for brain cancer. For more information and to apply, see this flyer. |
| Science Corps Teaching Fellowships | 10/22/2019 | Fully paid internships to teach science abroad and help develop science curriculum for 4-6 months. The deadline for applications is October 31st, though you can contact them for a potential extension. For more information and to get started, see this flyer. |
| Cincinnati Children's Hospital Medical Center | 10/22/2019 | Cincinnati Children's Hospital Medical Center has a number of postdoctoral fellowships in various areas ranging from bioinformatics to cancer to genetics to immunology and others. For more information and to apply, see this job flyer. |
| The Jackson Laboratory for Genomic Medicine | 10/16/2019 | The laboratories of J. Travis Hinson and Michael Stitzel have Postdoc positions available. For more information on these positions and to see a list of other jobs available at JAX-GM, click here. |
| UMass Amherst Faculty Position | 10/15/2019 | UMass Amherst is looking to hire a full-time, tenure track Assistant Professor in the areas of T cell receptor function, cancer immunology, infectious diseases or vaccine development, or interaction with microbiota. For more information and to apply, click here. |
| University of North Dakota Faculty Position | 10/1/2019 | The Department of Biomedical Science at the University of North Dakota is looking to hire two tenure-track Assistant Professors in the broad area of host-microbe interaction. The positions come with 100% salary support and a generous start-up package funded by a P20 grant. For more information and to apply, click here. |
| Eli Lilly Visiting Scientist Fellowship | 9/26/2019 | Upcoming webinars on the Visiting Scientist Fellowship provide information on the kinds of positions available (Oct 17 or Oct 30) and the application process (Oct 2 or Oct 8).  For more information and to sign up, click here. |
| MIT | 9/9/2019 | Postdoctoral position at MIT to study genomic instability and responses to environmental damage and to develop assays to quantify DNA damage and cytotoxicity. Interested applicants should contact Bevin Engelward (Professor of Biological Engineering at MIT). |
| MD Anderson Cancer Center | 9/5/2019 | MD Anderson is currently accepting applications for the CPRIT TRIUMPH Postdoctoral Fellowship in Translational Cancer Research. This three-year fellowship provides basic, translational, and clinical training and aims to further develop talented PhD or MD/PhDs. Next cycle due dates are September 30, 2019 and December 31, 2019. Additional information regarding eligibility, application process, and current trainees and program alumni profiles are found at here. |
| Ohio State University Comprehensive Cancer Center | 8/30/2019 | The OSU Comprehensive Cancer Center has a postdoc position available on their T32 training grant on Cancer Control and Prevention. If you are interested, you can learn more information and apply here. |
| Max Planck Institute for Biology of Ageing | 8/23/2019 | Professor Adam Antebi is seeking a postdoctoral fellow for his Molecular Genetics of Ageing group to study regulatory networks that govern health and lifespan using multiple model systems including C. elegans. For more information and to apply, click here. |
| Stanford Cancer Imaging Training Program | 8/5/2019 | The SCIT program is a T32 training program at Stanford which offers a two-year fellowship that involves training in clinical/cancer sciences, imaging sciences and a mentored cancer imaging research project with a paired basic science and physician mentor. Must have MD or PhD degree and be a US citizen or permanent resident. Application due date: September 1st, 2019. Apply here. |
| Stanford Molecular Imaging Scholars Program | 8/5/2019 | The SMIS program is a three-year postdoctoral training program at Stanford that focuses on imaging of molecular and biochemical processes in living organisms. Position are co-mentored by faculty across complementary disciplines from 14 different departments in the Schools of Medicine, Engineering or Humanities and Sciences. Must have MD or PhD degree and be a US citizen or permanent resident. Application due date: October 1st, 2019. Apply here. |
| Pfizer Parenteral R&D Professional Development Program | 7/30/2019 | Pfizer supports a two-year rotational program that provides recent graduates with the opportunity to experience each stage of the product development life cycle. The program is designed to accelerate participants' personal and professional growth through hands-on experience as part of cross-functional teams, dedicated mentorship from senior leaders, and challenging assignments critical to deliver essential medicines for global health. This experience prepares PDP scientists for diverse career options at the end of the program as the next generation of leaders for Pfizer. For more info and to apply, visit the Pfizer PDP website. |
| Postdoc Opportunity at University of North Carolina School of Medicine | 7/16/2019 | Postdoc position available in the laboratory of Dr. Chad Pecot at the UNC Lineberger Cancer Center to study tumor microenvironment and metastases. For more information, see the attached form. |
| Postdoc Opportunities at the Mitchel Cancer Institute, University of South Alabama | 7/8/2019 | Multiple postdoc positions available in the laboratory of Dr. Robert Sobol to study DNA repair and cancer mechanisms. For more information, see the attached form. |
| Jobs available at Ancera | 6/25/2019 | Ancera has open roles in their biology and engineering teams at their Branford, CT location. For more information, email Athena Nomikos. |
For a link to currently available postdoc positions at UConn Health, visit our Postdoctoral Jobs site.
Online Resources
Many online resources exist that can be very useful to graduate students and postdoctoral scholars during their training. The links below offer a wide variety of career resources.
| Resource | Description |
| --- | --- |
| Individual Development Plans | Provides a planning process that identifies career objectives as well professional development needs. |
| Science Next Wave | Sponsored by Science magazine, this site contains a wide array of career related resources. |
| Center for Career Development at UConn | A university-wide career readiness site providing information and resources for all campuses of the University of Connecticut. |
| Active Career Exploration Plan | Science article on the ACE career development plan created by students and postdocs at the University of Michigan. |
| Making the Right Moves | A Career Development Handbook from the Burroughs Wellcome Foundation and the Howard Hughes Medical Institute. |
| Grant Writing PowerPoint | Dr. Sandra K. Weller's workshop at UConn Health: "Writing Your First Independent Grant." |
| Center for Scientific Review at NIH | Valuable resources regarding NIH grants including a video of the mock study section. |
| BioCT | A cluster of bioscience professionals and industries in CT providing information, entrepreneurship and mentoring. A good place to begin exploring possible careers in biosciences in CT. |
| BioCT Career Portal | Job listings in the state of Connecticut in the bioscience sector. |
| Doc | Website to help identify innovative careers beyond the traditional academic roles for doctors, scientists and healthcare professionals. |
| Career Path Videos | The New York Academy of Sciences has videos from 19 Ph.D.'s who have pursued a variety of different career paths and the steps that were involved. |
| APHA Public Health CareerMart | A job site for public health professionals, offering a full-fledged career guidance center for employers and job seekers. |
| ChronicleVitae | A service of The Chronicle of Higher Education, this site offers career resources and job search capabilities for positions both inside and outside of academia. |
| AAAS Career Support | Designed to help scientists and engineers forge successful career paths, this site offers a variety of resources and information. |
| UConn Library Evaluating Journal Quality Page | This page provides information and links on how to evaluate the quality of scholarly journals to help you make good choices when its time to publish. |
| NIH Individual Fellowship Awards | Searchable database of individual research training opportunities (including international) available to trainees at the graduate and postdoctoral level |
| AAAS Congressional Fellowships | Information on a variety of fellowship opportunities available through AAAS including policy, media, leadership, and community engagement. |
| HHS Emerging Leaders Program | Information on the HHS Emerging Leaders Program (ELP), a competitive, two-year, paid, federal internship within HHS. |
| NAS Christine Mirzayan Science & Technology Policy Graduate Fellowship Program | This program provides early career individuals with the opportunity to spend 12 weeks at the Academies in Washington, DC learning about science and technology policy and the role that scientists and engineers play in advising the nation. |
| NIH Office of Intramural Training and Education | This site offers career resources and information for graduate student and postdoctoral fellows on careers both inside and outside of academia. |