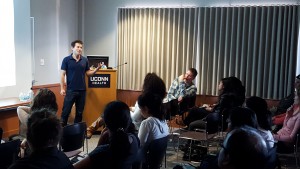 At UConn Health, the Office of Postdoctoral Affairs along with the Associate Dean of the Graduate School sponsor periodic workshops concerning career development. Various student-led interest groups also host  events.
In addition, other resources can be found on this page including current opportunities for postdocs and grad students as well as other online resources for career development. Finally, all postdocs are welcome to discuss career-related goals and current plans with Dr. Heinen via appointment.
Jobs and Other Career Related Opportunities (
Postdoc positions in green

)
Job/Opportunity
Date Posted
Description
Postdoctoral Associate at iBRAIN
11/15/2021
The Post-doctoral Associate will work directly with the Chief Innovation Officer, the Innovation Lab and other staff within the iBRAIN organization. We expect the candidate to be actively involved in experimental design, psychological assessments, IRB development/management, CEU accreditation, statistical analysis, scientific discussions, present at meetings, and also carry out additional administrative duties. Successful attributes include a background in neuroscience and/or psychology, a strong strategic focus, individual leadership in an environment that promotes innovation and continuous improvement, effective communication with key constituents and stakeholders, and accountability for results.  For more information and to apply, see this pdf. To apply, visit this link.

Biochemistry Instructor at University of St. Joseph



10/22/2021
Instructor needed to teach CHEM 240 – Biochemistry of the Human Body. This is a descriptive approach to the chemistry of the human body. Study of the structures and properties of the major classes of biomolecules, enzyme catalysis, metabolism and chemical aspects of genetics. Three hours lecture. to learn more, visit this link.  If potentially interested, please contact the Dean of the School of Arts, Science, Business and Education –  Dr. Raouf Boules by Friday, October 29th.
Postdoc in Immunology and Infectious Disease at UCF
10/4/2021
A post-doctoral research fellow position is available in the laboratory of Dr. Strutt at the Burnett School of Biomedical Sciences of the University of Central Florida, College of Medicine, Orlando. Research interests of the laboratory include various aspects of protective innate and adaptive immune responses against respiratory viruses. Please submit a CV, including three references and their contact information, along with a cover letter to Dr. Tara M. Strutt.
NICATS/FDA Translational Science Interagency Fellowship
10/1/2021
The Translational Science Interagency Fellowship (TSIF) is a new postdoctoral fellowship opportunity developed by the National Center for Advancing Translational Sciences (NCATS) and the U.S. Food and Drug Administration (FDA).  Fellows will be jointly mentored by NCATS and FDA scientists on a research project of mutual interest to both organizations. Fellows in this program will develop skills of value to future careers in academia, the pharmaceutical industry and government.  Applicants must be US citizens or permanent residents and have two years or less of postdoctoral training.  For more information, see this flyer.
Grants Officer position
9/23/2021
HRiA is seeking a recent life sciences M.A., Ph.D., or current postdoc for an exciting position in biomedical research grantmaking to join our biomedical research grantmaking division. We also have short term consulting positions available in this area. This is a great opportunity for an aspiring researcher who wants to learn more about grant funding from the funder perspective, or for someone interested in exploring an alternative career in biomedical research. For more information click here or contact, Kim Lezak, PhD.
Research Scientist positions at QCDX
9/20/2021
Research positions available with QCDX, a cancer diagnostic company in UConn's TIP incubator. A part time Research Associate and a full time Senior Research Scientist (PhD level and up) position are available.  QCDX is developing a diagnostic for cancer that detects rare cells in the blood.
Science Communications position at Ashfield Health

9/15/2021
Interested in a career in medical writing and scientific communications? Ashfield Health is currently recruiting for their AllegroWRITE program, an accelerated training program that develops talented, dynamic medical writers at Ashfield Health. The program is associated with a competitive salary and benefits package and provides the critical foundation necessary for a successful long-term career in medical writing. The program will largely be remote with the option to work in the Middletown, CT office depending on pandemic status. Candidates do not have to have formal writing experience, but must have completed their PhD before the start date of January 2022. For additional information about the position or a career in medical writing, please reach out to Uconn Health Biomedical Sciences alumna Nicole Farra , who is currently employed as a senior medical writer at Ashfield Health. Program recruitment is currently underway, so please reach out ASAP if interested. For more program and application details, please visit https://allegro.ashfieldhealth.com/ 
Sanofi, Inc.
8/17/2021
We are looking for a highly qualified and motivated scientist to join the precision neurology and neuroinflammation cluster, focused on discovering, validating, and developing therapies for rare neurologic and neurodegenerative diseases. This position is laboratory-based and will include designing and executing experiments to identify and confirm new therapeutic targets, leading project teams, and working effectively with internal and external collaborators to advance ongoing exploratory and portfolio projects. The successful candidate will have a Ph.D. and postdoctoral training in neurodegeneration, glial biology, and/or neuroimmunology either in academia or industry. A passion for drug discovery and expertise in cellular and molecular biology, protein biochemistry, proteomics, transcriptomics, CRISPR, and other approaches to identify and validate targets and pathways is highly desired. If interested, please reach out to Timothy Hammond.
Adela
8/17/2021
Adela is seeking a highly motivated and creative Director of Assay Development for a full-time position to join our New Haven, CT Laboratory team.  This is an exciting opportunity to be part of a growing, dynamic, and collaborative company focused on delivering cutting-edge technology. The Director of Assay Development will provide leadership and technical competence for developing, validating, and implementing clinical-grade molecular assays utilizing Adela's unique and powerful DNA methylation-based technology. Also, Adela is are seeking a highly motivated individual to join the Adela Team as Senior Director of Project Management. This newly created role will report directly to the Chief Operating Officer and will be charged with overall responsibility for planning and managing the strategic direction of the Project Management Office (PMO).   Interested applicants for either job please apply to: careers@adelabio.com
Postdoc at the Van Andel Institute
8/17/2021
The Van Andel Institute recently received a T32 award from the NCI to support our Cancer Epigenetics Training program. We also launched a new fellowship to support postdocs who identify as members of an underrepresented racial or ethnic group. To help prospective postdocs determine if VAI will be a good fit for them, we are offering a fully funded Postdoc Preview event in October.

Three-day competitive program that provides selected applicants the opportunity to visit VAI to learn about our postdoc training opportunities, meet one-on-one with our internationally recognized faculty and explore our extensive scientific resources
VAI will provide transportation, lodging and meals for all selected applicants. We also are pleased to offer family care grants for those caring for children or other family members
Eligibility: Applicants must be current graduate students at U.S. institutions who anticipate beginning a postdoc by Nov. 2022. Individuals who identify as members of underrepresented racial and ethnic groups are strongly encouraged to apply. Preference will be given to U.S. citizens and permanent residents
Applications due at 11:59 p.m. ET on Sept. 6
More information and the application may be found here

Postdoc at Human Nutrition Research Center on Aging, Boston, MA
5/10/2021
We are looking to recruit a postdoc to investigate bioactive dietary compounds promoting neuronal connectivity in the aging brain. The laboratory of Dr. Thomas Biederer is recruiting a postdoctoral scientist. Dr. Biederer leads a nutritional neuroscience group at the HNRCA, Boston, and a group investigating synapse biology at Yale University, New Haven. For more information and to apply, see this pdf.
Health Science Administrator at the NIH

5/5/2021
Health Science Administrators (HSAs) are a critical component to meet the mission of the National Institutes of Health (NIH). At NIH, the HSA position announcement encompasses a wide variety of scientific activities under the title, Program Officer. Program Officers support extramural scientific grants, scientific contracts, and scientific training with the goal of improving national health. Scientific Review Officers work in partnership with the scientific community to ensure that the scientific review groups (study sections) identify the most meritorious science for funding by NIH Institutes and Centers. For more information and to apply, click here.
Postdoc at Trudeau Institute

3/4/2021
Trudeau Institute, an internationally acclaimed, path-breaking research institute focused on combating infectious disease, has an immediate opening for a Postdoctoral Scientist. We are seeking highly motivated scientific professional experienced in molecular virology and immunology. In this position, the successful candidate will play an integral part in Trudeau's long-standing commitment to develop novel therapies for diseases caused by viral pathogens. For more information and to apply, see this flyer.
Research Associate Positions at Calico

3/2/2021
Senior Research Associate positions and Scientist positions are available at Calico Labs, a unique biotech company focused on the science of aging and age-related diseases. For more information and to apply, visit this link.
Scientist at Detect

3/2/2021
The Guilford, CT based biotech company Detect is recruiting for Scientist positions. They are seeking excellent molecular biologists to join their team in Guilford where they are developing at-home diagnostic testing platforms including a nucleic acid based test for COVID-19. For more information or to apply, email UConn Health grad Andrew Le at ale@detectnow.com.

Postdoc at University of California, San Diego



1/26/2021
A postdoctoral position is available in the laboratory of Dr. Nunzio Bottini in the Clinical and Translational Research Institute of the University of California, San Diego (

UCSD

), see https://apptrkr.com/2119971 The laboratory specializes in the roles of protein phosphatases in inflammation and autoimmunity. Available projects are focused on the cellular and in vivo biology of synoviocytes, a specialized joint-resident population which plays an important pathogenic role in arthritis. The position is available immediately.
Medical & Scientific Associate Positions at the Healthcare Consultancy Group

Healthcare Consultancy Group (HCG) is eager to interview and hire for their Medical and Scientific Associate role.

They seek MD or PhD in biomedical sciences or related field, including postdocs. Principal responsibilities include scientific content development based on relevant literature analysis, fact-checking, and participation in internal and external meetings in support of our pharmaceutical, biotech, and medical device clients. In this role, you will perform literature searches and evaluation to support development of various types of innovative deliverables, including their formatting, referencing, and annotation. For more information, see this pdf. Or attend their virtual information session on December 2nd, 5:00PM – 7:00PM Eastern.

Please RSVP with your resume using hashtag #HCGScience to dkiely@hcg-int.com

 Zoom Meeting Information: https://hcg-int.zoom.us/j/99302964099?pwd=eXl0cjNYYjFTR0lJM0VVbFErWDNuQT09\

Principal Investigator Position at Calico

9/20/2020
We seek a Principal Investigator with an innovative research program that addresses fundamental questions about age-associated inflammation that impact health and longevity. Principal Investigators at Calico are expected to lead independent, productive research groups in a fully-funded, highly collaborative environment with support from state-of-the art core technology, including genomics, mass spectrometry, microscopy and computational biology. For more information and to apply, click here.
Data Quality and Clinical Data Research Analyst Positions at The Tri-Com Consulting Group

8/26/2020
The data quality analysts/clinical data research analysts will review clinical data and identify where additional information is needed from the medical records in order to accurately identify possible incorrect classifications. The role would include confirmation of accuracy of reported clinical data and reviewing additional data sources to question the initial analysis. These individuals will need to analyzed data, contact medical providers, and review medical records.  Must be self-motivated and have outstanding communications and a strong work ethic. One will need strong data skills, maybe some R or SAS, the other will not.  These jobs are located in Hartford. For more information and to apply contact Dan Diaz.
Postdoc at Memorial Sloan Kettering Cancer Center

8/3/2020
Positions are available for postdoc fellows, graduate students, and technicians in the group of Dr.
Xiaolan Zhao at Memorial Sloan Kettering Cancer Center (MSK). We integrate multidisciplinary
approaches to study genome maintenance processes linked to tumorigenesis, viral infection, and
genome instability syndromes. Current focuses of the lab include i) genome replication, ii)
homologous recombination and genetic alterations, iii) SUMO- and checkpoint-mediated DNA
damage response, and iv) Smc5/6-mediated chromosomal functions. For more information, see this flyer.
Postdoc in Center for Biomedical Careers, UMass Medical School

7/24/2020
The Center for Biomedical Career Development (cBCD) within UMass Medical School's Graduate School of Biomedical Sciences (GSBS) supports the career and professional development of ~700 doctoral and postdoctoral biomedical trainees at UMass Medical School while contributing to the scholarship of the field. We are

seeking

to hire a postdoctoral fellow to join our efforts in implementing, evaluating, and disseminating career development programs for doctoral and postdoctoral scholars in the biomedical sciences. This is a full-time training position intended to prepare a scientist interested in moving into career development, academic administration, teaching, or similar career paths while bringing a scholarly perspective to their future endeavor. For more info and to apply, visit this link.

Stanford Molecular Imaging Scholars Program
6/2/2020
The SMIS program is a three-year postdoctoral training program at Stanford that focuses on imaging of molecular and biochemical processes in living organisms. Position are co-mentored by faculty across complementary disciplines from 14 different departments in the Schools of Medicine, Engineering or Humanities and Sciences. Must have MD or PhD degree and be a US citizen or permanent resident. Application due date: July 1st, 2020. Apply here.

Postdoc Positions at Benaroya Research Institute



5/4/2020
Four postdoc positions in various groups are available at the Benaroya Research Institute at Virginia Mason in Seattle, WA. BRI focuses on autoimmune and immune system disease. For more information, see this flyer.
Healtcare Consultancy Group

4/27/2020
Healthcare Consultancy Group (HCG) is a global group of scientifically rigorous healthcare communications agencies. They are seeking a PhD for a Medical and Scientific Associate position. For more information, see this flyer. To apply, use the UConn Handshake tool. Use Job #: #3664804 Medical & Scientific Associate
Lead Scientist at QCDx
2/26/2020
QCDx, a TIP company on the UConn Health campus, is urgently recruiting a Lead Scientist to supervise a team of scientists working on cancer diagnostics. Particularly desirable would be scientists with experience in cancer immunology, 3D tissue cultures or advanced microscopy. For more information on the position, see this flyer. To apply email QCDx.

Postdoc in Translational Precision Medicine and GI Cancer Prevention at Harvard Medical School

2/14/2020
The laboratories of Andrew T. Chan and David D. Drew at Mass General Hospital/Harvard Medical School are seeking a postdoctoral fellow to investigate mechanistically-informed biomarkers for precision chemoprevention and interception of GI cancers. For more information and to apply, see this flyer.

Postdoc in Molecular and Cell Biology at Bayer U.S. Crop Science 

1/21/2020
The Molecular and Cell Biology team within Bayer Crop Science is seeking a highly motivated scientist for a postdoctoral research position to help establish single cell sequencing capabilities. For more information and to apply, visit this link.

Postdoc Position in DNA Repair and Public Health at MIT

1/16/2020
An exciting postdoctoral position is now available at MIT to work on translational research related to DNA damage and repair. For more information and to apply, see this flyer.
Faculty Position at the University of Michigan Geriatrics Center

12/10/2019
Tenure track faculty positions are available in the University of Michigan Geriatrics Center for PhDs or MDs who focus on the biology of aging and the relationship of aging processes to late life diseases. They are interested in hiring new, assistant professors. For more information, see this flyer.
Weill Cornell Medicine
12/4/2019
Postdoc positions in the lab of Dr. Maria T. Diaz-Meco are available to studying cell signaling pathways that impact metabolism and inflammation in prostate cancer. For more information and to apply, see this flyer.
University of Alabama at Birmingham
11/8/2019
Dr. Erwin G. Van Meir, Professor, Department of Neurosurgery is looking for postdoctoral fellows for NIH-funded studies on the molecular mechanisms and therapy development for brain cancer. For more information and to apply, see this flyer.
For a link to currently available postdoc positions at UConn Health, visit our Postdoctoral Jobs site.
Online Resources
Many online resources exist that can be very useful to graduate students and postdoctoral scholars during their training. The links below offer a wide variety of career resources.
| Resource | Description |
| --- | --- |
| Individual Development Plans | Provides a planning process that identifies career objectives as well professional development needs. |
| ScienceCareers.org | Sponsored by Science magazine, this site contains a wide array of career related resources. |
| Beyond the PhD (formerly AIOG) | Beyond the PhD is a UConn Health student/postdoc-led group that supports peer-professional networking and career development in STEM. |
| Center for Career Development at UConn | A university-wide career readiness site providing information and resources for all campuses of the University of Connecticut. |
| UConn Handshake | Handshake is a web-based recruiting system which allows the Center for Career Development to manage many of the recruiting-related activities we offer to students. Students who would like to participate in on-campus interviews and/or view electronic job postings MUST register in Handshake and utilize the system to view job openings, apply for positions, and sign up for interviews. |
| UConn On Demand Webinars on Career Development | Topics include grant writing, searching for grants, tailoring your CV, faculty life, developing an academic job application, and CVs for industry and academic jobs. |
| Active Career Exploration Plan | Science article on the ACE career development plan created by students and postdocs at the University of Michigan. |
| Making the Right Moves | A Career Development Handbook from the Burroughs Wellcome Foundation and the Howard Hughes Medical Institute. |
| Grant Writing PowerPoint | Dr. Sandra K. Weller's workshop at UConn Health: "Writing Your First Independent Grant." |
| Center for Scientific Review at NIH | Valuable resources regarding NIH grants including a video of the mock study section. |
| BioCT | A cluster of bioscience professionals and industries in CT providing information, entrepreneurship and mentoring. A good place to begin exploring possible careers in biosciences in CT. |
| BioCT Career Portal | Job listings in the state of Connecticut in the bioscience sector. |
| Benchspace | Online platform for finding laboratory bench jobs including postdocs. |
| Doc | Website to help identify innovative careers beyond the traditional academic roles for doctors, scientists and healthcare professionals. |
| APHA Public Health CareerMart | A job site for public health professionals, offering a full-fledged career guidance center for employers and job seekers. |
| ChronicleVitae | A service of The Chronicle of Higher Education, this site offers career resources and job search capabilities for positions both inside and outside of academia. |
| AAAS Career Support | Designed to help scientists and engineers forge successful career paths, this site offers a variety of resources and information. |
| UConn Library Evaluating Journal Quality Page | This page provides information and links on how to evaluate the quality of scholarly journals to help you make good choices when its time to publish. |
| NIH Individual Fellowship Awards | Searchable database of individual research training opportunities (including international) available to trainees at the graduate and postdoctoral level |
| AAAS Congressional Fellowships | Information on a variety of fellowship opportunities available through AAAS including policy, media, leadership, and community engagement. |
| HHS Emerging Leaders Program | Information on the HHS Emerging Leaders Program (ELP), a competitive, two-year, paid, federal internship within HHS. |
| NAS Christine Mirzayan Science & Technology Policy Graduate Fellowship Program | This program provides early career individuals with the opportunity to spend 12 weeks at the Academies in Washington, DC learning about science and technology policy and the role that scientists and engineers play in advising the nation. |
| NIH Office of Intramural Training and Education | This site offers career resources and information for graduate student and postdoctoral fellows on careers both inside and outside of academia. |