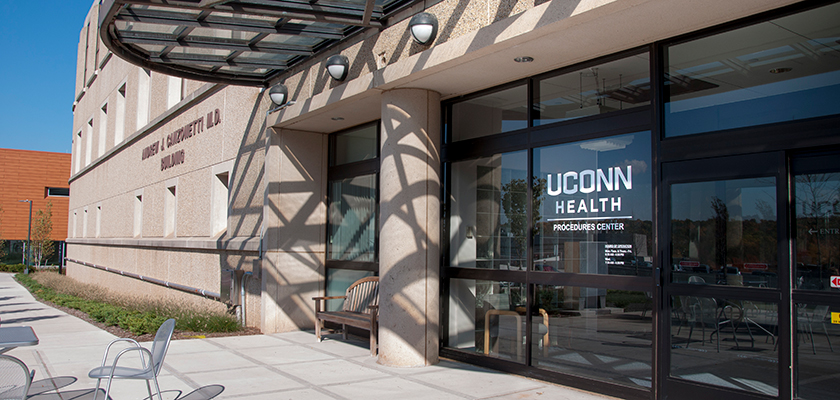 The UConn Health Procedures Center offers high quality care to patients who require hospital admission, as well as to patients who are having outpatient surgery or procedures. Our goal is to provide our patients, and their loved ones, with a safe and comfortable experience. You will be cared for by professional, highly skilled staff members utilizing the latest state-of-the-art technology.
Please note that the Procedures Center and the Surgery Center are two different locations; please double check your destination to ensure you arrive at the correct location.
Entering from Farmington Avenue, proceed on UConn Health Boulevard to the roundabout, and follow the signs to the Emergency Room. Bear right at the fork and continue up the hill to the Upper Campus. Take the first left to the Emergency Department entrance.
Parking is available on the upper level of Garage 2. The UConn Health Procedures Center entrance is to the right of the Emergency Department entrance.
UConn Health is on CTtransit bus routes 66F, 66H, 66T, 506, and also CTfastrak Route 121. CTfastrak is Connecticut's bus rapid transit system which provides frequent service and free parking in many locations. All CTtransit/CTfastrak routes are in Google Maps; plan your trip by entering your starting address and travel date/time for transit directions to UConn Health.
Also, real time bus arrival information is available in the Hartford area to make your trip even easier, just download 'TransitApp' to your iOS or Android device and you'll have accurate arrival and departure times right in your hand. For additional information on bus service, please visit the CTtransit website or call 860-525-9181.
UConn Health Procedures Center
150 Academic Way
Farmington, CT 06030