Spotlight on:
Marwa Elamin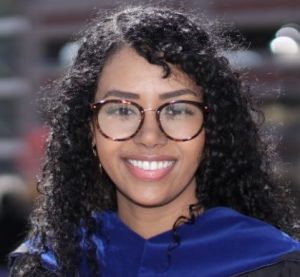 Marwa Elamin is an August 2022 graduate of the Biomedical Science PhD program in the Neuroscience Area of Concentration and current Postdoctoral Fellow in the Department of Neuroscience. She has been awarded the prestigious Faculty of the Future fellowship from the Schlumberger Foundation. Faculty for the Future fellowships are awarded to women from developing and emerging economies who are preparing for PhD or post-doctoral study in Science, Technology, Engineering and Math (STEM) disciplines to pursue advanced graduate study at top universities in their disciplines abroad.
Originally from Khartoum, Sudan, Marwa is an outspoken poet and supporter of Sudanese refugees and has been featured in multiple reputable magazines and news papers such as Vogue, Aljazeera, and BBC. In addition to her Ph.D., she has simultaneously pursued a Graduate Certificate in Human Rights from UConn's Human Rights Institute in the Office of Global Affairs.  She worked as a certified facilitator for the RISE (Reaching Inclusive Excellence) program, organized by the The Office for Diversity and Inclusion ​at UConn, conducting workshops to train incoming first-year college students on issues of psychological safety, microaggressions, and micro-inequalities. She also holds a Bachelor's degree in Medicine and Surgery from the University of Gezira Medical School and a Master's degree in Neuroscience from the University of Hartford. After completing her PhD, she intends to pursue a residency on the road to her career as a physician-scientist.
DEI Honors and Funding Awardees
Congratulations to these UConn Health faculty, postdocs, and students receiving funding/honors from DEI sources and/or who are scientists and researchers from underrepresented groups:
Dr. Royce Mohan awarded NIH Supplemental Grant to Promote Diversity in Health-Related Research
UConn Health Postdocoral Fellow Dr. Lourah Kelly recently received a K99/R00 award to develop her work on mobile health interventions for adults who struggle with binge drinking and thoughts of suicide.
Drs. Leslie Caromile and Kimberly Dodge-Kafka Receive Grant to Support Summer Research Program for Undergraduates from Historically Underrepresented Groups
Find more information about the iREM program here: iREM Smmer Program Flyer 2023
Biomedical Science PhD student Rosalie Bordett, Skeletal Biology and Regeneration Area of Concentration Received National Science Foundation Graduate Research Fellowships (NSF-GRFP)
First Gen MD/PhD Student Alexandra Goetjen Receives Diversity Award from MD/PhD National Student Conference