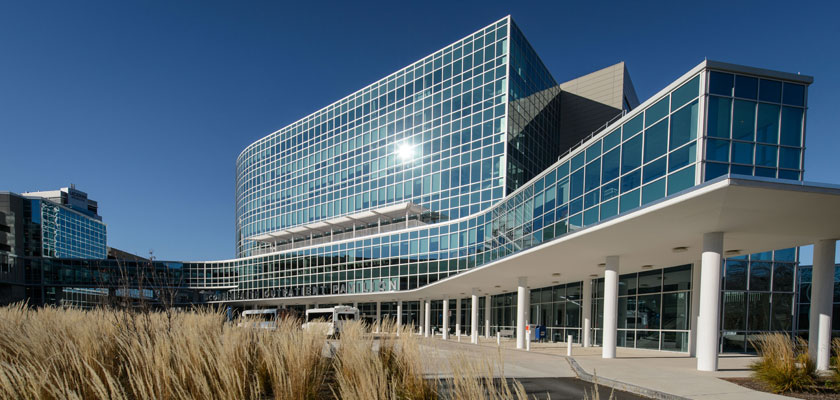 Every aspect of the Outpatient Pavilion was designed for the comfort and convenience of patients and their families. In this soothing, healing environment, UConn Health experts provide world-class care for the community.
Beekley Imaging Center
Blood Draw Station
Carole and Ray Neag Comprehensive Cancer Center
Center for Healthy Aging/Geriatrics
Comprehensive Spine Center
Ear, Nose, and Throat
Endocrinology/Diabetes Education
Gastroenterology
General Medicine
General Surgery
Harvey & Lewis Opticians
Huntington's Disease Program
Infectious Diseases
Internal Medicine
Maternal-Fetal Medicine
Neurology
Neurophysiology
Neurosurgery
Obstetrics and Gynecology
Occupational Medicine
Ophthalmology
Orthodontics
Physical Therapy and Life Therapies
Plastic and Cosmetic Surgery
Radiation Oncology
Radiology
Rheumatology
Travel Medicine
Urology and Urodynamics
Vascular Surgery
Women's Center
Entering from Farmington Avenue, proceed on UConn Health Boulevard to the roundabout and take the third exit onto Dowling Way. Follow signs to Outpatient Pavilion located on the Lower Campus.
Patient Drop-Off & Parking
Patient drop off/pick up and valet parking are located in front of the building. For self-parking, use Garage 1, across from the Outpatient Pavilion. A sky bridge is located on parking level 3 that connects to the building.
UConn Health is on CTtransit bus routes 66F, 66H, 66T, 506, and also CTfastrak Route 121. CTfastrak is Connecticut's bus rapid transit system which provides frequent service and free parking in many locations. All CTtransit/CTfastrak routes are in Google Maps; plan your trip by entering your starting address and travel date/time for transit directions to UConn Health.
Also, real time bus arrival information is available in the Hartford area to make your trip even easier, just download 'TransitApp' to your iOS or Android device and you'll have accurate arrival and departure times right in your hand. For additional information on bus service, please visit the CTtransit website or call 860-525-9181.
UConn Health Outpatient Pavilion
135 Dowling Way
Farmington, CT 06030