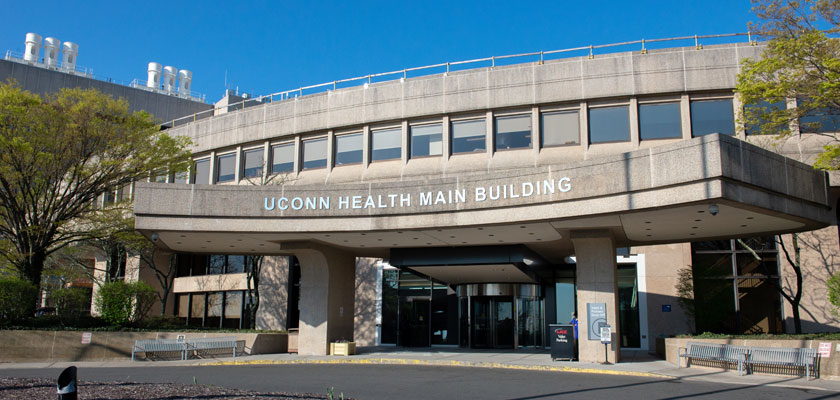 The UConn Health main building is home to the UConn John Dempsey Hospital, University Dentists, the UConn School of Medicine and School of Dental Medicine, a division of The Graduate School, and a thriving research enterprise.
Blood Draw Station
Colon Cancer Prevention Program
Dental Care Center
Nephrology
Neuromuscular Center
Pat and Jim Calhoun Cardiology Center
Psoriasis Center
Pulmonary, Critical Care and Sleep Medicine
Research Departments and Centers
School of Dental Medicine
School of Medicine
The Graduate School
Entering from Farmington Avenue, proceed on UConn Health Boulevard to the roundabout, and take the second exit to stay on UConn Health Boulevard. At the first stop sign, bear left, and continue up the hill to our Upper Campus. At the third stop sign, go straight to the Main Building.
Patient Drop-Off & Parking
Patient drop-off and valet parking are available at the entrance of UConn John Dempsey Hospital. Free parking is available in lots M1, M2, and H1. Paid parking is also available in Garage 3.
UConn Health is on CTtransit bus routes 66F, 66H, 66T, 506, and also CTfastrak Route 121. CTfastrak is Connecticut's bus rapid transit system which provides frequent service and free parking in many locations. All CTtransit/CTfastrak routes are in Google Maps; plan your trip by entering your starting address and travel date/time for transit directions to UConn Health.
Also, real time bus arrival information is available in the Hartford area to make your trip even easier, just download 'TransitApp' to your iOS or Android device and you'll have accurate arrival and departure times right in your hand. For additional information on bus service, please visit the CTtransit website or call 860-525-9181.
UConn Health Main Building
300 UConn Health Boulevard
Farmington, CT 06030