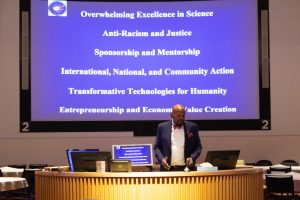 We are excited to announce a new institute. It is entitled The Cato T. Laurencin Institute for Regenerative Engineering. "This initiative is only one of the countless number of Dr. Laurencin's contributions to the development of science and engineering", says Provost Anne D'Alleva.
Regenerative engineering is a field founded by Professor Cato T. Laurencin. It is described as the convergence of advanced materials sciences, stems cell science, physics, developmental biology, and clinical translation for the regeneration of complex tissues and organ systems. The Cato T. Laurencin Institute for Regenerative Engineering represents a transdisciplinary effort at UConn with a focus on the musculoskeletal area. The Institute integrates medicine, engineering, surgery, biology, physics, chemistry, and statistics/machine learning to enable a powerful platform for addressing scientific and medical problems in the regeneration and healing of complex tissues, organs, or organ systems.
The Cato T. Laurencin Institute of Regenerative Engineering holds to the pillars developed for the first Cato T. Laurencin Institute, namely:
Excellence in Science
Anti-Racism and Justice
Sponsorship and Mentorship
International, National, and Community Action
Transformative Technologies for Humanity
Economic Value Creation
In addition to this endeavor, Dr. Laurencin has created a ground-breaking project. It is entitled, Cato T. Laurencin Innovative Convergence Ventures (CTLICV). The CTLICV invests in next-generation companies based on innovative research conducted created within the Institute and its collaborating partners across UConn and greater university and corporate communities. We seek strong co-investor syndicates to develop products across a range of categories including regenerative engineering, drugs, devices, diagnostics, and digital health. The intent is to fast-track innovative research from bench to bed, with measurable impact on public health, quality of life, reducing societal disparity, and economic development.
CTLICV's investments are directed at the seed and Series A stages, where it attracts capital and talent into the most difficult-to-fund phase of company development. When we invest, we expect to support each portfolio company through its entire financing lifecycle. We leverage the portfolio investment activity and internal/external relationships to further the mission vision and values of the Institute. Additionally, the fund taps into our experience in starting and growing companies, our expertise in the medical industry, and our network of scientific and business talent to build great companies.
The scientific and educational opportunities being pursued now and in the future at UConn will enable innovation and problem-solving beyond conventional academic boundaries. A core mission of UConn is precisely to foster new ways of thinking and new approaches to answers in medicine, science, engineering, and technology. We invite you to engage with us as we continue our work here at UConn.