Graduate Certificate of Research Experience in Biomedical Science and Master of Science in Biomedical Science Program
The only program of its kind at the University of Connecticut, the Young Innovative Investigator Program (YIIP) is a 2-year program of the Cato T. Laurencin Institute for Regenerative Engineering which aims to develop the next generation of innovative scientists by providing academic training to individuals dedicated to pursuing careers as scientists and scholars in biological and biomedical science. The program is specifically focused on recruiting underrepresented students to contribute towards developing a sustainable pipeline to increase diversity among the pool of academic scientists. YIIP provides tools for scholars to conduct research, succeed in an academic environment, and become competitive candidates for medical school or graduate school. YIIP Scholars will acquire the expertise necessary to obtain a Ph.D., M.D./Ph.D., or M.D.
YIIP is an intensive research program for college graduates comprised of graduate level coursework and supervised research in biomedical laboratories on the UConn Health campus. It provides individualized mentorship, academic support, and career guidance. YIIP Scholars are employed as Graduate Assistants who earn a stipend and also qualify for health insurance coverage. In addition, the tuition expense and fees associated with required graduate level courses are waived. Upon successful completion of year one, scholars obtain a Graduate Certificate of Research Experience in Biomedical Science. In year two, Scholars who meet the academic qualifications are invited to pursue a Master of Science in Biomedical Science involving innovative mentored research.
Mentorship
All YIIP Scholars are provided a team of mentors to guide them through their research and graduate education experience. Each scholar's Lab Mentor (PI) will coordinate their efforts with their graduate student's M1 Mentor. Additional mentors include faculty members from within and outside their department, graduate school leadership, and diversity team members.
Seminar Series
All YIIP Scholars are required to attend bi-weekly seminars presented by UConn faculty members. Seminar topics include: Biostatistics and Data Analytics, Community Engagement, Covid-19 and Effects on the Conduct of Science, CV and Personal Statement, Health Justice and Diversity in Medical School Admissions, Mentor/Mentee Relationship, Preparing for Medical and Graduate School, Presenting at Scientific Conferences, Publishing in Academic Journals, Reading Scientific Literature, Research Ethics and the Role of the Institutional Review Board, Scientific Writing, and Translational Research.
SHANIA APONTE PARIS
Master of Science Graduate,
Spring 2018
STEPHANIE CHINWO
Master of Science Graduate,
Spring 2023
"When I reflect on my two years in the Young Innovative Investigator Program (YIIP), I realize that the experience not only prepared me for my future aspirations as a physician but also exposed me to so many wonderful opportunities that allowed me to realize my desire to combine research and community service. Through classes, seminars, service and the support of my mentors and peers, I was challenged to grow personally and professionally in the field of biomedical sciences. Thanks to YIIP, I have developed skills in collaboration, communication, and innovation that will carry me through not only medical school but the rest of my career as a physician scientist."
SANDRO CLOISEAU
Master of Science Graduate,
Spring 2023
"The Young Innovative Investigator Program granted me the opportunity to conduct groundbreaking research in the field of Biomedical Science. It was a joyous experience to be around distinguished faculty, staff, and students who valued the advancement of science to positively improve the world through scientific research. In addition to the tremendous support from my mentors, the diverse and friendly environment made this a monumental experience I will never forget. I have participated in many scientific conversations with students and faculty from various backgrounds which has provided me with unique perspectives on my future aspirations of becoming a physician-scientist and an educator. I plan to apply these lessons and professional skills as I continue my academic journey. Thank you, YIIP!"
ROMOYE SOHAN
Master of Science Graduate,
Spring 2023
"My time in the Young Innovative Investigators Program (YIIP) can only be termed transformative. I entered the program as a bright-eyed, bushy-tailed undergraduate in search of scientific experience, and I gained that and more from this program. YIIP allowed me to further my education and resources and continue building my passion for medicine through various community outreach opportunities (JUMP). I also garnered a support system of colleagues and mentors that encouraged me towards a successful path, which enabled me to complete my master's degree. My YIIP journey has enhanced my growth into becoming a more confident, tenacious, and curious scholar, and I could not be more thankful."
AUNDRYA MONTGOMERY
Master of Science Graduate,
Spring 2018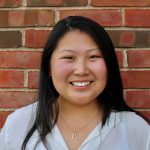 Gina Airoldi
University of Vermont
B.S.;  Biomedical Engineering