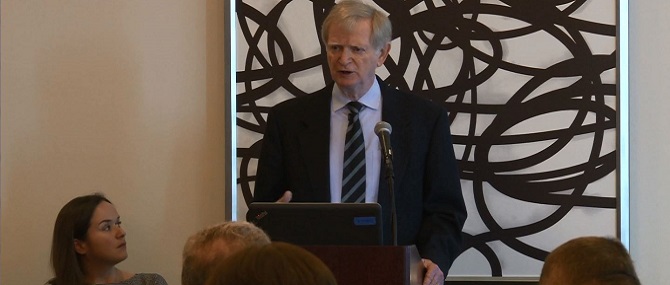 This training is based on a workshop conducted at the 17th Alcohol Policy Conference on April 6, 2016 in Arlington, VA. This workshop provided training for alcohol policy advocates interested in translating scientific evidence into effective alcohol policies that are focused on underage drinking at the local and national levels. The workshop material is based on a policy advocate's User's Manual which demonstrates how to implement the most effective policies identified in the book, Alcohol: No Ordinary Commodity (Babor et al., 2010). The publication of the User's Manual is coming.
The issues and skills addressed by the tutorial are: a) the science base for the most effective policy options, b) key policy advocacy messages, and c) ways to minimize inertia or even opposition to evidence-based policies. Special attention was given to the implementation of policies dealing with the affordability, accessibility and attractiveness of alcohol to underage drinkers. A key advocacy skill discussed was how best to frame the policy issue from a public health perspective. Other issues included forming a community coalition to conduct a policy campaign and how best to communicate with policy makers. The workshop also helps participants to identify internet resources that show how to conduct a local situation assessment.
This tutorial should be useful to anyone interested in implementing effective alcohol policies at the local or national levels.
The development of this tutorial is funded by an NIH grant to the UConn Alcohol Research Center on the Etiology and Treatment of Alcohol Dependence, NIH/NIAAA P60-AA03510.
The presentation topics, speakers and viewing times, and their accompanying slides are posted here. You can follow the presentations sequentially or go directly to a specific presentation. For the best presentation viewing experience, check the technical requirements.
Presentations/Slides
Technical Requirements
For the best presentation viewing experience with Mediasite Player on Microsoft® Windows or Apple® Mac® OS, here are some things to consider before you begin:
Playback speed control is only supported on some playback platforms, depending on the player layout, browser type and media playback element.
Remember to configure pop-up blockers to allow site pop-ups. Otherwise, presentations will not appear.
If one wants the PowerPoint slide displayed in the larger window, click the change primary content button, which is the curved double arrows in the top right corner of the larger window.
Windows Requirements
Microsoft Windows 8, Windows 2008 R2, Windows 2008, Windows 7, or Windows Vista
Microsoft Internet Explorer® 7.0 or later (including Internet Explorer 10 and 11 on Windows 8), Firefox®, or Google™ Chrome
Windows Media® Player 9.0 or later
Adobe® Flash for Smooth Streaming playback in Chrome; Microsoft Silverlight® 5 for Smooth Streaming playback in other browsers Broadband Internet or Wi-Fi connection
Mac Requirements
Apple Mac OS X 10.5.7 or later
Safari™, Firefox, or Chrome
Adobe Flash for Smooth Streaming playback in Chrome; Microsoft Silverlight® 5 for Smooth Streaming playback in other browsers
Broadband Internet or Wi-Fi connection
Note, in addition to running through the presentation in order, one can jump ahead or back. However, the speed to jump around depends on the user's connection speed and file size.
For information on screen controls in the player such as zooming slides, manipulating positions of the display or searching slides, go to navigate player or click the ? for help.