The Department of Public Health Sciences is a basic science department within the UConn School of Medicine. It consists of 24 faculty and over 25 support staff, with a research portfolio representing a total commitment of over $10 million in extramural funding. We serve the School of Medicine as the academic home of faculty in the social, behavioral, and public health sciences as well as health law and medical ethics. The Department of Public Health Sciences is also home to the Program in Applied Public Health Sciences which offers  M.P.H. and Ph.D. degrees as well as four graduate certificates.
World Food Day 2021 – Hartford
Research Connections 2021 – UConn Hartford
News and Events
Public Health Sciences welcomes new faculty member Misti Zamora.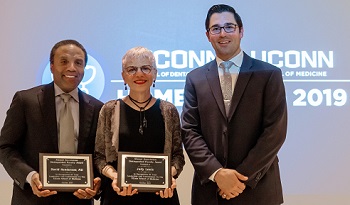 Professor Lewis Honored with Distinguished Faculty Award
Congratulations to Professor Judy Lewis who was honored with the Distinguished Faculty Award from the UConn School of Medicine Alumni Board.  She is recognized for her leadership and commitment making an exceptional impact on education at the University.
Tom Babor on the Relationship Between Exposure to Alcohol Marketing and Underage Drinking
Alcohol Ads Lead to Youth Drinking, Should be More Regulated, Experts Say is a press release describing conclusions and recommendations from a series of eight review articles published as a supplement to the Journal of Studies on Alcohol and Drugs (JSAD).  Tom Babor, editor of JSAD, was co-author of the conclusions. The full supplement is available as an open-source issue.
PHS and MPH take part in World Food Day at Keney Park in Hartford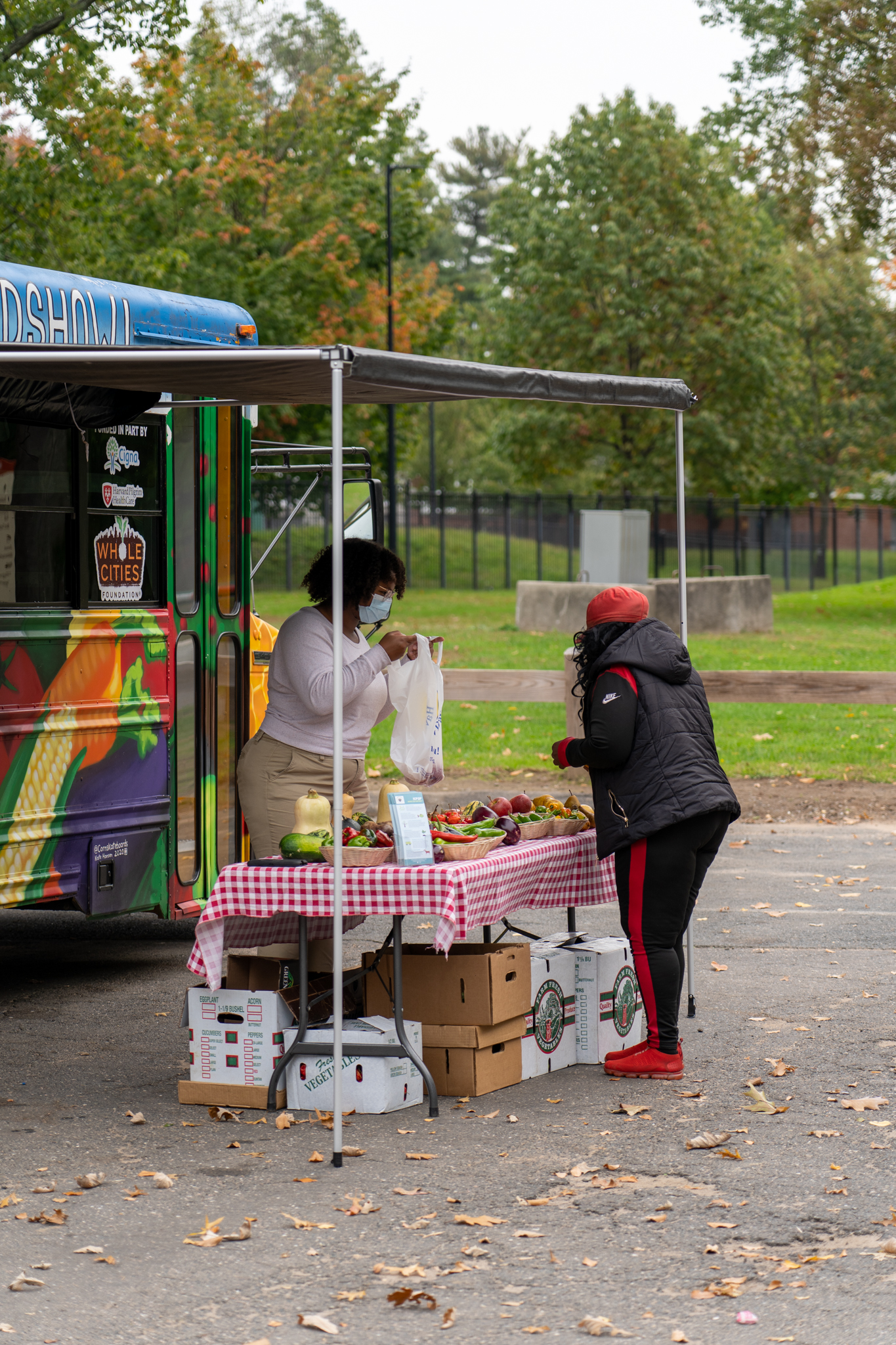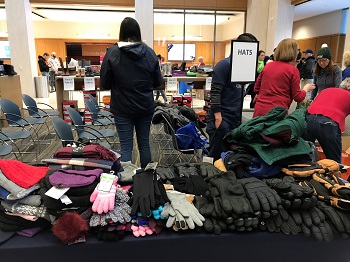 This has been another great year of generous donations by students, staff and faculty of the Department of Public Health Sciences during the holiday season!
This year we contributed to Footwear With Care, an annual event that provides boots and other essentials to the homeless. Kirsten Carew, Linda Casey, Ruth Shefraw, Barb Case and their family and friends volunteered helping distribute new boots, socks, toiletries, hats and gloves to 600 homeless!
We also collected toys for the Burgdorf Clinic.
In addition, our department again donated to HPD Officer Jimmy Barrett of the City of Hartford for the homeless. Items included bus tickets, hand warmers and other warm clothing.
Plus, clothes and toys were also delivered to the Open Door Soup Kitchen in Winsted, CT.
Thanks to all who donated!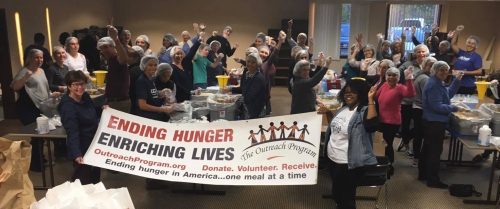 Another year that our public health students, department faculty and staff joined with University Health Professionals (UHP) as partners with End Hunger NE to package meals.  70 volunteers packaged more than 10,000 meals that have been distributed to local shelters and food pantries.  Thanks to all who volunteered!
Greg Rhee, Ph.D. cited in two recent articles
The article, In Connecticut, Drug Overdoses Doubled in Six Years, discusses that the rate of opioid overdose deaths in the state is higher than the national average and that using multiple drugs together is increasingly common. Rhee was one of the researchers who collaborated on this study.
The other article, Use of Emergency CPR Device Rises Despite Lack of Evidence, discusses recent research which found "Given the high costs of mechanical CPR devices, better evidence is needed to determine whether these devices improve clinically meaningful outcomes for patients treated for out-of-hospital cardiac arrest by emergency services professionals to justify the significant increase in their use." Rhee was one of the authors of this study published in JAMA.
Congratulations to Mayte Restrepo-Ruiz, a PhD candidate, who is a 2019-2020 Human Rights Graduate Research Grant recipient. Her topic is Intimate Partner Violence in Contexts of Armed Conflict: The Case of Colombia
Join the APHA Billion Steps Challenge between Jan. 1 and April 12. A team for UConn Public Health Sciences has been set up.  You can sign up here:  http://nphw.org/get-involved/steps-challenge
Increasing physical activity:
Lowers blood pressure and improves cholesterol levels.
Boosts your immune system and your mood.
Strengthens bones and joints.
Reduces stress.
Improves your sleep.
Educating Educators to Help Children with High-Intensity Special Needs discusses a recent $6.5 million grant awarded to Mary Beth Bruder from the U.S. Department of Education to develop a doctoral leadership program to create a workforce to focus on those with disabilities in early childhood.
Spring 2020 MPH Course Offerings announced.
Thanks to all that stopped by to visit us at our table at APHA or attended our reception at night. It was great to socialize and reconnect with old friends as well as make new acquaintances. Our many posters and presentations were well received. Adekemi Suleiman, one of our Ph.D. students, won first place in her section New researchers/practitioners in OHS poster competition. Congrats, Kemi!
Savings Lives in Haiti details the over 30 year partnership between  Assistant Clinical Professor, Bette Gebrian, and Professor Judy Lewis and their commitment to the people of Haiti and to the expansion of health care access in resource-poor locations.
Congratulations to Dr. Tara Lutz, elected by her peers to serve as a Governing Councilor representing the Public Health Education and Health Promotion Section of APHA.
We are pleased to announce our name has changed to the Department of Public Health Sciences to better convey the nature and scope of the department's teaching and research.
A recent article, Food Insecurity Leading to Type 2 Diabetes, discusses a collaborative study by a team of Connecticut researchers, including our  Dr. Angela Bermúdez-Millán, that shows there is a strong connection between food insecurity and insulin resistance, the underlying problem in type 2 diabetes.
Check out our latest newsletter, Public Health Happenings, from the Program in Applied Public Health Sciences!
Books Published By Our Faculty
Program in Applied Public Health Sciences
Employment Opportunities
Seminars
Each semester, our Program offers 12th Week seminars where students, faculty and community partners come together to examine significant public health issues, affirm our collective commitment to effective public health action and identify unique research and service opportunities. We welcome your participation in our Fall 2020 program. Here is a brief overview of topics and instructions on how to register and attend these sessions.