The Department of Public Health Sciences is a basic science department within the UConn School of Medicine. It consists of 24 faculty and over 25 support staff, with a research portfolio representing a total commitment of over $10 million in extramural funding. We serve the School of Medicine as the academic home of faculty in the social, behavioral, and public health sciences as well as health law and medical ethics. The Department of Public Health Sciences is also home to the Program in Applied Public Health Sciences which offers  M.P.H. and Ph.D. degrees as well as four graduate certificates.

Thanks to all that stopped by to visit us at our table at APHA or attended our reception at night. It was great to socialize and reconnect with old friends as well as make new acquaintances. Our many posters and presentations were well received. Adekemi Suleiman, one of our Ph.D. students, won first place in her section New researchers/practitioners in OHS poster competition. Congrats, Kemi!
Our Department is Growing ...
We are recruiting several full-time tenured faculty positions.View the details
New Department Name
We are pleased to announce our name has changed to the Department of Public Health Sciences  to better convey the nature and scope of the department's teaching and research.
Greg Rhee, Ph.D. cited in two recent articles
The article, In Connecticut, Drug Overdoses Doubled in Six Years, discusses that the rate of opioid overdose deaths in the state is higher than the national average and that using multiple drugs together is increasingly common. Rhee was one of the researchers who collaborated on this study. The other article, Use of Emergency CPR Device Rises Despite Lack of Evidence, discusses recent research which found "Given the high costs of mechanical CPR devices, better evidence is needed to determine whether these devices improve clinically meaningful outcomes for patients treated for out-of-hospital cardiac arrest by emergency services professionals to justify the significant increase in their use." Rhee was one of the authors of this study published in JAMA.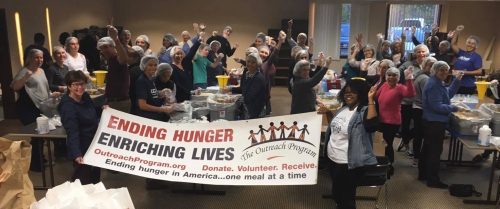 Another year that our public health students, department faculty and staff joined with University Health Professionals (UHP) as partners with End Hunger NE to package meals.  70 volunteers packaged more than 10,000 meals that have been distributed to local shelters and food pantries.  Thanks to all who volunteered!
News and Events
Spring 2020 MPH Course Offerings announced.
Savings Lives in Haiti details the over 30 year partnership between  Assistant Clinical Professor, Bette Gebrian, and Professor Judy Lewis and their commitment to the people of Haiti and to the expansion of health care access in resource-poor locations.
Congratulations to Dr. Tara Lutz, elected by her peers to serve as a Governing Councilor representing the Public Health Education and Health Promotion Section of APHA.
A recent article, Food Insecurity Leading to Type 2 Diabetes, discusses a collaborative study by a team of Connecticut researchers, including our  Dr. Angela Bermúdez-Millán, that shows there is a strong connection between food insecurity and insulin resistance, the underlying problem in type 2 diabetes.
Check out our latest newsletter, Public Health Happenings, from the Program in Applied Public Health Sciences!
Books Published By Our Faculty